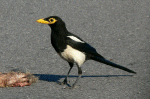 46k
Namesake:
Magpie - Any of numerous birds, especially of the genus Pica, related to the crow, but having a long graduated tail and black and white plumage, who are known for their
noisy chatter
Tommy Trampp


11194002
NR
21 Missing as Minesweeper Hits Mine and Sinks Off Korea
12 Survivors Picked Up and Taken to Pusan; Navy Sure Torpedo Was Not Responsible
The auxiliary motor minesweeper Magpie (YMS-400) sank after striking a floating mine off the east coast of Korea October 1, the Navy disclosed today.
Twenty-one men including the ship's commander, Lt. (j. g.) Warren R. Person of Pacific Grove, Calif., and three other officers are missing.
Twelve survivors were picked up by a sister ship, the auxiliary, motor mine sweeper, Merganser (AMS-26) and carried to the port of Pusan in Korea.
Image and text provided by Library of Congress, Washington, DC.
Text by Evening Star. [volume] (Washington, D.C.) 1854-1972, 05 October 1950, Image 1 courtesy of chroniclingamerica.loc.gov.