Please report any broken links or trouble you might come across to the Webmaster. Please take a moment to let us know so that we can correct any problems and make your visit as enjoyable and as informative as possible.
---
Navsource Online: Littoral Warship Photo Archive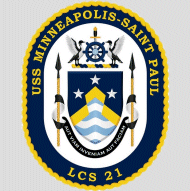 Ship's emblem courtesy of
Don McGrogan,
BMCS, USN (Ret.)

Minneapolis-Saint Paul (LCS 21)
---
"Aut Viam Inveniam Aut Faciam"
(I Will Find A Way Or Make One)
---
Specifications - LCS Littoral Combat Ship - Freedom Class (Variant 1, Flight 0, first generation):
Hull Type: Semi-planing Monohull
Displacement: 2135 tons (light), 2862 tons (full) Dead Weight: 727 tons
Length: 324 (wl), 378.9' (oa)
Beam: 43' (wl), 57' (extreme)
Draft: 13' (navigational), 14' (draft limit)
Propulsion: Two Rolls-Royce MT30 36MW gas turbines, FM Colt-Pielstick 16PA6B STC diesel engines driving four Rolls-Royce waterjets
Auxiliary Power: Four Isotta Fraschini Model V1708 ship service diesel generator sets
Speed: 45 kts
Armament: BAE Systems Land and Armaments Mk110 57mm naval gun system
Combat Management System: Lockheed Martin open architecture COMBATSS-21
Electronics: EADS TRS-3D C-band radar (air / surface surveillance, weapon assignment)
Decoy System: Soft-Kill Weapon System (SKWS) decoy launcher from Terma A/S of Denmark
Complement: 26
---
Minneapolis-Saint Paul (LCS 21) Building and Operational Data:
29 December 2010: Contract Awarded to Lockheed Martin Corp.
03 September 2015: Secretary of the Navy Ray Mabus announced LCS 21 will be named USS Minneapolis / St. Paul
22 February 2018: Keel laid at Marinette Marine Shipyard, Marinette, Wis.; keel authenticated by sponsor Jodi J. Greene, Deputy Undersecretary of the Navy for Policy and native of Northfield, Minn.
15 June 2019: Launched, christened by sponsor Jodi Greene, principal address given by U.S. Representative Betty McCollum (DFL-Minn.)

Note:
1.) The contract option awarded to Lockheed Martin Corporation is managed by Lockheed Martin's Maritime Systems and Sensors division in Moorestown, N.J. The Lockheed Martin team includes: Marinette Marine shipyard, Bollinger Shipyards, Gibbs and Cox naval architects, Izar of Spain and Blohm & Voss naval shipbuilders.

2.) The contract option awarded to General Dynamics is managed by Bath Iron Works at Bath ME. The major members of General Dynamics team are: Austal USA, based in Mobile AL; BAE Systems, Rockville MD; Maritime Applied Physics Corporation, Baltimore MD; CAE Marine Systems, Leesburg VA; Northrop Grumman Electronic Systems, Baltimore MD; General Dynamics Armament and Technical Products, Burlington VT; General Dynamics Electric Boat, Groton CT; General Dynamics Advanced Information Systems, Washington DC; and General Dynamics Canada, Ottawa, Ontario.
---
Click On Image
For Full Size Image
Size
Image Description
Contributed
By And/Or Copyright
172k
27 May 2004: Washington, D.C. - The U.S. Navy announced today that Lockheed Martin Corporation - Maritime Systems & Sensors Division, Moorestown, N.J., will be one of two defense contracting teams awarded contract options for final system design with options for detail design and construction of up to two Flight 0 Littoral Combat Ships (LCS). The LCS is an entirely new breed of U.S. Navy warship. A fast, agile, and networked surface combatant, LCS's modular, focused-mission design will provide Combatant Commanders the required warfighting capabilities and operational flexibility to ensure maritime dominance and access for the joint force. LCS will operate with focused-mission packages that deploy manned and unmanned vehicles to execute missions including, Special Operations Forces (SOF) support, high-speed transit, Maritime Interdiction Operations (MIO), Intelligence, Surveillance and Reconnaissance (ISR), and Anti-Terrorism/Force Protection (AT/FP).
(Artist concept provided to the U.S. Navy courtesy of Lockheed Martin Corporation, Photo #040527-O-0000L-003, from the Navy News Stand)
Navsource
365k
undated: Marinette, Wis. - An aerial view of Fincantieri Marinette Marine, which was founded in 1942 along the south bank of the Menominee River in Marinette, Wisconsin. The river forms the border between Wisconsin and Michigan's Upper Peninsula. Originally built to meet America's growing demand for naval construction, today FMM is one of the premier builders of vessels for the U.S. Navy and Coast Guard. From humble beginnings with a contract to build five wooden barges, FMM has grown into a world-class shipbuilder, having designed and built more than 1,500 vessels. In conjunction with the Lockheed Martin Corp., all of the planned Freedom Class LCS's will be built here, beginning in 2005 with USS Freedom (LCS 1).
(Photo courtesy of Lockheed Martin, Fincantiere Marinette Marine)
---
There is no DANFS History currently available for Minneapolis-Saint Paul (LCS 21) at Navsource
---
Additional Resources
---
Tin Can Sailors
The U.S. Navy Memorial
Destroyer Escort Sailors Association
The Destroyer Escort Historical Museum
The Destroyer History Foundation
---

Comments, Suggestions, E-mail: Webmaster.



This page created on 04 September 2015,
and is maintained by Mike Smolinski



by Paul R. Yarnall, All Rights Reserved.
Page Last Updated: 20 January 2020