NavSource Naval History
World War 1 Special Feature
The Mike Corwith Photo Collection
Images from 1916 - 1923.

---
One of the most interesting parts of this project is that every once and a while, some very special images or in this case a whole collection of special images are found and shared with me to share with the visitors of NavSource. In the case of this very special collection of images from the collection of Mike Corwith USN, Veteran of the 1st World War.
This is his personal photo collection gathered during his career. I wish to thank my friend Mr. Joe Macchia, Mike's son-in-law and himself veteran of World War II aboard the USS CARD, CVE-11. These images saved from the trash after Mike's death, capture a rare glimpse of Navy Life during the early part of the 20th century as well as some interesting places as they then appeared, all of you familiar with Guantanamo Bay Cuba will especially enjoy these images.
Please remember every old shoe box stored in the attic could hold a potential treasure chest of history. Once thrown away these snap shots of history are lost forever. I want to thank Joe for saving these priceless images and for the honor of allowing me to display them here.
---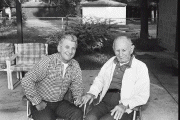 Two generations of American Sailors.
Mr. Joe Macchia W.W.II (left) and his father-in-law, Mr. Mike Corwith W.W.I (right).

This collection contains 88 images of ships, people and places Click Here To Begin Viewing These Images
---
Paul R. Yarnall
WebMaster And Manager, NavSource Naval History Project

This Page Is Created And Maintained By Paul R. Yarnall