Please report any broken links or trouble you might come across to the Webmaster. Please take a moment to let us know so that we can correct any problems and make your visit as enjoyable and as informative as possible.
---
NavSource Online Naval History
AIRCRAFT CARRIER MEMORIAL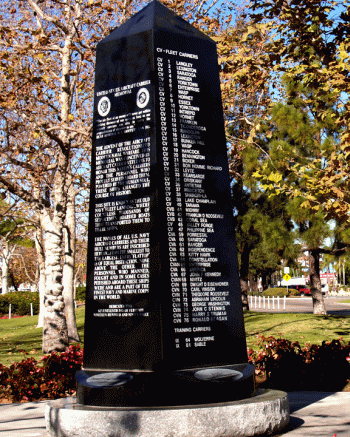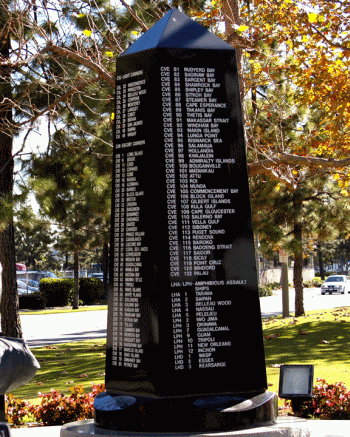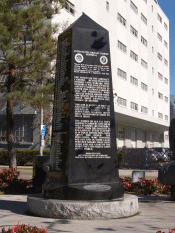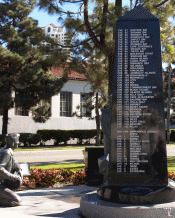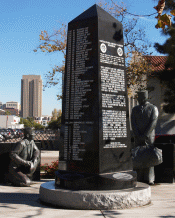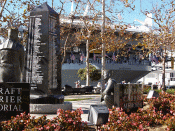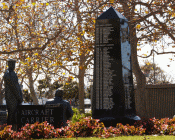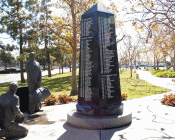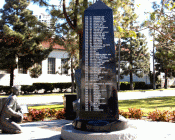 Photos by George Panos, ex-QMS 2/C
November-December 2005
Click on an image to enlarge
---
"The air fleet of an enemy will never get within striking distance of our coast as long as our aircraft carriers are able to carry the preponderance of airpower to us."
REAR ADMIRAL W. A. MOFFETT USN 1922.

THE ADVENT OF THE AIRCRAFT CARRIER REVOLUTIONIZED MODERN NAVAL WARFARE. THIS MEMORIAL WAS CONCEIVED BY AIRCRAFT CARRIER VETERANS TO HONOR THIS NATION'S CARRIERS AND THE PERSONNEL WHO PROUDLY SERVED ABOARD THEM. POWERED BY THE HUMAN SOUL, THESE SHIPS CHANGED THE COURSE OF HISTORY.

THIS SITE IS KNOWN AS THE OLD NAVY'S "FLEET LANDING"... WHERE COUNTLESS THOUSANDS OF SERVICEMEN BOARDED BOATS THAT TRANSPORTED THEM TO THEIR SHIPS.

THE NAMES OF ALL U.S. NAVY AIRCRAFT CARRIERS AND THEIR HULL NUMBERS ARE INSCRIBED HEREON... FROM THE SMALLEST TO THE LARGEST. EVERY "FLATTOP" IS OF EQUAL DISTINCTION... NONE ABOVE THE OTHER. THE PERSONNEL WHO MANNED, FOUGHT AND IN SOME CASES PERISHED ABOARD THESE SHIPS WERE AND ARE A PART OF THE FINEST NAVY AND MARINE CORPS IN THE WORLD.

DEDICATED THIS SEVENTEENTH DAY OF FEBRUARY NINETEEN HUNDRED AND NINETY THREE
---
Located at the North Embarcadero, San Diego, California, the Aircraft Carrier Memorial commemorates all the U.S. Navy's aircraft carriers and all who have served in them and flown from their decks.

Standing as the centerpiece to the Memorial is a 9-foot polished black granite obelisk engraved with the names of all 165 carriers, from USS Langley (CV-1) to USS Ronald Reagan (CVN-76):

53 Fleet Carriers
2 Training Carriers
11 Light Carriers
84 Escort Carriers
15 Amphibious Assault Ships (*)


(*) Note LHD's 4-7 had not yet been added as of December 2005

Two life-size bronze sculptures by noted artists T.J. Dixon and James Nelson were added in 1995 and 1996 and represent a sailor and a naval aviator, respectively.

The Memorial was sponsored by the Aircraft Carrier Memorial Association and dedicated on 17 February 1993.
---
---
Comments, Suggestions or Image submissions, E-mail Carrier Information
Problems and site related matters, E-mail Webmaster
This page was created and is maintained by Fabio Peña


Last update: 11 December 2005