Please report any broken links or trouble you might come across to the Webmaster. Please take a moment to let us know so that we can correct any problems and make your visit as enjoyable and as informative as possible.
---
NavSource Online: Escort Carrier Photo Archive
USS TRIPOLI (CVE-64)
(later CVU-64)
(Ex-DIDRICKSON BAY)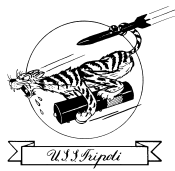 Contributed and digitally enhanced by Wolfgang Hechler
---





Flag Hoist/Radio Call Sign: November - Kilo - Victor - Tango

---
CLASS - CASABLANCA
Displacement 7,800 Tons, Dimensions, 512' 3" (oa) x 65' 2" x 22' 4" (Max)
Armament 1 x 5"/38AA 8 x 40mm, 12 x 20mm, 27 Aircraft.
Machinery, 9,000 IHP; 2 Skinner, Uniflow engines, 2 screws
Speed, 19 Knots, Crew 860.

---
Click On Image
For Full Size Image
Size
Image Description
Contributed
By And/Or Copyright
World War II


NS0306402
154k

USS Tripoli departs Hampton Roads, May 24, 1944 with Composite Squadron 6 (VC-6; 12 Avengers and 9 Wildcats) aboard. She is painted in camouflage Measure 32, Design 4A (although there are deviations from the original Bureau of Ships design drawing).

"Note the HF/DF mast for North Atlantic ASW and the flat hangar deck, indicated by the straight line of the outboard sponsons. The prominent hangar-deck sponsons were used primarily for refueling at sea, the CVEs carrying substantial loads of cargo oil for destroyers and escort destroyers."

Photo and text in quotes from U.S. Aircraft Carriers: An Illustrated Design History, by Norman Friedman.

Robert Hurst

NS0306406
57k

USS Tripoli (CVE-64) anchored at an unknown location circa 1944.

US Navy and Marine Corps Museum/Naval Aviation Museum, Photo No.1986.150.003.052.

Mike Green
The 1950s


NS0306404
53k

USS Tripoli (CVE-64) underway circa 1953, location unknown.

Robert Hurst

NS0306401
67k

Tripoli, operated by the Military Sea Transportation Service (MSTS) and with a deck load of USAF North American F-86D Sabre fighters, circa 1954.

Master Chief Boatswain's Mate Carl M. Brashear, USN, served aboard Tripoli, November 1951–March 1955. MCBM Brashear (1931–2006) was a pioneer in the Navy as the first black deep-sea diver, the first black Master Diver and the first Navy diver to be restored to full active duty as an amputee, the result of a leg injury he sustained during a salvage operation in January 1966, off the coast of Spain. His life story was immortalized on the big screen in the movie "Men of Honor" (2000).

USN

NS0306403
41k
As an aircraft transport. Ted Stone photo.
Haze Gray & Underway

NS0306405
98k

USS Tripoli (CVE/CVU-64) underway, probably during the middle 1950s, while transporting Republic F-84 Thunderjet fighters. This image was received by the Naval Photographic Center in December 1959, but was taken several years earlier.

Official U.S. Navy Photograph, from the collections of the Naval History and Heritage Command (# NH 106568).

Naval History & Heritage Command, via Robert Hurst


For more information and photos of this ship, see:
---
USS TRIPOLI CVE-64 History
View This Vessels DANFS History Entry
(Located On The Hazegray & Underway Web Site, This Is The Main Archive For The DANFS Online Project.)

---
Crew Contact
Contact:
Mr. James G Metts
Address:
1103 N 22nd St
Nederland, TX, 77627-5731
Phone:
409-722-1468
E-mail:
Remarks:
Reunion Information
---
---
---
Comments, Suggestions or Image submissions, E-mail Carrier Information
Problems and site related matters, E-mail Webmaster
This page was created by Paul Yarnall and is maintained by Fabio Peña


Last update: 29 August 2013