Please report any broken links or trouble you might come across to the Webmaster. Please take a moment to let us know so that we can correct any problems and make your visit as enjoyable and as informative as possible.
---
NavSource Online: Escort Carrier Photo Archive
USS SICILY (CVE-118)
---
Photographs from the collection of Art Zeigler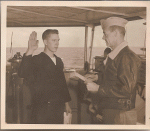 Seaman Arthur V. Zeigler is sworn in
by Captain John S. "Jimmy" Thach,
November 1950.
---
Submitted by his wife, Theresa Pinamonti Zeigler
Arthur (Art) Zeigler joined the US Navy at the age of 17 in 1947, from Grand Rapids, Michigan. He had basic training at Great Lakes Naval Station. After that he was stationed in Norfolk, VA and then was assigned to the USS
Sicily
(CVE-118.) In August of 1950, the
Sicily
was designated flagship of Carrier Division 15 and supported allied ground forces in Inchon and the withdrawal of Marines from the Chosin Reservoir. Art 'shipped' over for another five years while on duty, during the Korean War and was sworn in by Captain Thach. In February of 1951, the
Sicily
returned to San Diego. In June of 1951, Art and I met on the Island of Catalina, 27 miles from California. We married in Los Angeles, in January of 1952. Art stayed in the Navy for nine years and got out in 1956. We have three sons, Gary, Randy & Ricky and eight grandchildren. We were married 53 years when Art died on March 9, 2005. He is sorely missed by his loving family.
---
Click on thumbnail for larger image
---
USS Sicily (CVE-118)

NS-03-cve118-z02
374 Kb

NS-03-cve118-z03
448 Kb
This photo is believed to show a landing made by then LT Carl J. Seiberlich during an ASW exercise and tactics development session in 1949. (In 1969, then Captain Seiberlich was CO of USS Hornet (CVS-12) during the Apollo-11 and -12 recovery operations.)

NS-03-cve118-z04
269 Kb
Panama Canal, 1950.
VMF-214 "Black Sheep"

NS-03-cve118-z05
192 Kb

NS-03-cve118-z06
159 Kb

Marine Fighter Squadron 214 (VMF-214), "Black Sheep," flying F4U-4B Corsairs from USS Sicily, became the first unit of the First Marine Aircraft Wing to engage in combat operations in Korea — they carried out a rocket and bomb attack on Chinju on August 3, 1950.

The "Black Sheep" had already achieved fame in WW2 as one of their pilots, Major Gregory "Pappy" Boyington, became the top Marine "ace" of the war, with 28 credited victories (22 while flying Corsairs.)
The Men

NS-03-cve118-z01 (249 Kb) & NS-03-cve118-z01a (343 Kb)
"SIGNS AT SEA FOR NEW HITCH — Arthur V. Zeigler, seaman, USN, of Grand Rapids, has the honor of being the only man aboard the aircraft carrier USS Sicily who can say he re-enlisted in the navy off Wonsan, Korea. He was sworn in last November [1950] by Capt. J. S. Thach of El Dorado, Ark., commanding officer of the ship. He is the son of Mr. and Mrs. Vance A. Zeigler, 112 Celia st., SW."

NS-03-cve118-z07
388 Kb
Rev. Sullivan being transferred over to one of the British ships for a little "Afternoon Refreshment of Grog." (Thanks to Ed Smith, USS Sicily Association, who sent this information.)

NS-03-cve118-z08
201 Kb
Unknown pilot (please contact the Escort Carrier Archive Manager if you can identify him.)
NAS Norfolk, circa 1947–1948

NS-03-cve118-z09
295 Kb
A Consolidated PBY-6A Catalina assigned to Amphibian Patrol Squadron 4 (VP-AM-4.) That was an era of changes and the squadron was redesignated several times: Patrol Squadron 73 (VP-73) in May 1946, Amphibian Patrol Squadron 4 in November that year, and Patrol Squadron 34 (VP-34) in September 1948.

NS-03-cve118-z10
214 Kb
Two Sikorsky HO3S-1 Dragonfly. They have no squadron markings and might be brand new helicopters, just delivered to the Navy.
---
---
Comments, Suggestions or Image submissions, E-mail Carrier Information
Problems and site related matters, E-mail Webmaster
This page was created and is maintained by Fabio Peña


Last update: 15 April 2007