NavSource Naval History
History of H.M.S. Speaker

(Part 1: November 1943 - February 1945)
---
The following brief account of the career of H.M.S. Speaker has been compiled for the interest of some who have served in or had close connections with the present ship, to whom it may provide a framework for many unrecorded memories which the reader will be able to fill in.
In writing this story, more than two years after the ship commissioned, it has been impossible to render due thanks to all those who have given us so much assistance, kindness and hospitality, but they have none the less earned our gratitude.
OUR FORBEAR – the first "Speaker."
Built by Christopher Pitt at Woolwich and launched by Mr. Speaker on 8th April, 1650, Speaker was the biggest frigate yet designed, a 2nd-rate of 970 tons with 62 guns.
She had a distinguished career under the Commomwealth, taking part in the First Dutch War (battles of Dover, Kentish Knock, Portland, and Gabbard) and subsequent Spanish War, flying the flags of Admirals Deane, Penn, Howett and Stayner.
At the Restoration, when parliamentary titles were not in much favour, she was re-named Mary.
OUR SHIP.
Commenced at Tacoma, Washington, as a "C.3" merchantman, she was one of a large number of these vessels allocated for a standard conversion to "C.V.E." and was completed as U.S.S. Delgada by the Willamette Iron & Steel Corporation, Portland, Oregon, in November, 1943. The U.S. Government, however, handed over 38 of these ships on "Lend-Lease" to the British, and so U.S.S. Delgada became H.M.S. Speaker, and a steaming crew went to Portland to take her over. This was no inconsiderable task as the complete schedule of stores had to be embarked "boxed," with little leisure for tallying what came in, and the machinery, of quite unBritish design, had to be understood and taken over. Finally, after a day's trials, the Commander (in command) was asked to sign a receipt for a ship on loan worth something like $7,000,000
The officers who undertook their first labours were:
Act./Commander, the Hon. Robert Southwell, R.N. (ret.), (Commander) [1]
Lt. D. G. Rawcliffe, R.N.R............................... (1st Lt.)
Lt. Cdr. (E) A. H. B. Reed, D.S.C., R.N.R....... (Engineer Officer)
Lt. (E) S. E. Stockham, R.N.R.................... (Senior Engineer)
Payr. Lt. Cdr. C. L. Healy, R.N.R...................... (Paymaster)
Payr. Lt. J. N. Hedden, R.N.R..................... (Stores Officer)
Also Lieuts. Craig and Milne and a handful of junior officers, mostly engineers.
We should here record the kindness extended by the White Ensign Club and British War Relief Society of the U.S.A. and various other people in providing the ship with all sorts of gifts, including piano, gramaphones, books and comforts. Local hospitality was also most welcoming. The builders and U.S. Naval authorities were also very helpful.
Speaker formally commissioned on 20th Nov., 1943, when the White
[1] Webmaster's note: According to the Royal Navy List, December 1943, A/Capt Patrick William Wootten was appointed Commanding Officer of HMS Speaker in October 1943. Thanks to Hans Houterman, "Royal Navy (RN) Officers, 1939-1945", for pointing out this information. [Back]
— Page 3 —
---
Ensign was hoisted at a ceremony attended by the builders and the U.S. Naval authorities, and by 6th December she was ready to sail.
Commander Southwell steamed her to Vancouver British Columbia. This passage was completed in thick fog by the assistance of the radar which was personally started up and operated by Commander Southwell, no radar ratings having yet joined. Fortunately, the gyro compasses were satisfactory, as the only Magnetic Compass pointed to South the whole way. No Navigator had yet been appointed.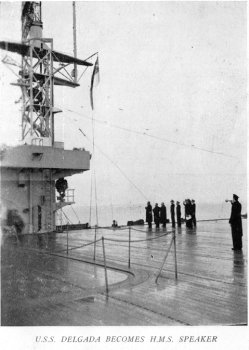 U.S.S. Delgada becomes H.M.S. Speaker
VANCOUVER (7th Dec. to 8th Feb.).
The American C.V.Es., whilst excellent ships, were found to need considerable alterations and additions to conform to British needs. Experience with the earliest deliveries had already produced a formidable list of 150 items and the situation in British dockyards made it impossible to undertake these alterations in a large number of C.V.Es. now being delivered at the rate of one a week. In these circumstances, the Canadian Government had offered to do the initial alterations at their own expense, and had invited the ship-building firm of Burrards at Vancouver to take on the job. Under the energetic lead of its President, Mr. Wallace, and General Manager, Mr. Wardle, Burrards tackled the task with a will. A commercial wharf and goods shed were, in a couple of months, converted to a dockyard run by a most miscellaneous horde of men and women, only 2% of whom had previously done ship work. But the 150 alterations were standardised and each man was taught one job and so the work advanced, night and day, mistakes getting fewer as each new ship arrived. (Speaker was the eighth.) Living on board was impossible, so the officers lived ashore and the men in H.M.S. Thane, a C.V.E. used as an accommodation ship, their main work being to keep track of the work in hand and the safeguarding of our valuable stores.
Alterations during this period included lengthening of the flight deck, fitting redesigned flying controls and fighter direction layout, modifications to hangar, accommodation and store rooms, extra safety measures, oiling at sea arrangements, gunnery and other internal communications, extra W/T and R/T, darken ship arrangements and many other necessary items. Some knotty problems arose concerning flying matters, the only officer with previous experience being the Commander, who had been a kite balloon pilot in the first world war!
In January, Acting Captain U. H. R. James assumed command and further officers and men gradually arrived to increase the complement, but both were scarce at home, and so it happened that the ships at Vancouver had to provide steaming crews to collect new C.V.Es. from U.S. ports despite their own limited resources. The Vancouver period would be nightmare memory to all concerned had it not been for the hospitality and good humour of everyone concerned. Many clubs and private citizens threw their doors open to us.
At last on 6th February, alterations were completed but as yet the engine room complement consisted of little more than officers (such was the manning situation) and it was not till two days later that the ship was sufficiently manned to move.
TRIALS AND WORKING UP (8th to 24th Feb.).
The next fortnight was spent on trials and working up, starting with a visit to the U.S. Naval Base at Bremerton to ammunition and then returning to the Straits of Georgia (between Vancouver Island and the mainland), for steaming, gunnery, radar and other trials and exercises. One or two memories of this period remain vivid: -- The discovery that the main gearing was eating into its casing and a 300 miles motor
— Page 4 —
---
drive by an expert from the builders who just put a big jack inside and pushed the casing clear! Our photographer in an R.C.A.F. plane who used up most of his films on another ship (H.M.S. Queen, 25 miles away) meanwhile telling a bewildered Speaker on the R/T, how well he was getting on! Entry into Nanoose anchorage by night when the boat left to light the mark buoy was found high and dry by its coxswain, the tide having receded, involving a paddle out in a stolen canoe just in time to guide us in! Departing from Nanoose enveloped in a blinding black cloud because a certain young engineer had left the nozzles out of the sprayers! But by 21st February we were able to return for a final visit to Vancouver and after a short stay at Esquimalt to embark Confidential Books, etc., we were on our way (24th February) to the Panama Canal and, so we thought, to the war.
By this time the Commander Flying (Lt. Cdr. H. P. Allingham, R.N.R.), Commander Operations (Lt. Cdr. L. G. Hudson, R.N.V.R.) and a nucleus of the Air Department had joined, but as yet we had no aircraft. The P.M.O. (Surg. Lt. Cdr. Hoskinson) had also joined and a few more junior officers.
PANAMA CANAL.
Reaching Balboa on 8th March we found we would only have two inches to spare either side of our Bofors platforms, going through the locks. Accordingly a gang came off and burnt off spurs and obstructions outside this limit, which were welded on again at Cristobal. The passage of the Canal was enlivened by the colourful conduct of our five American pilots. Things started by the senior one taking charge from a special centreline erection, consulting the other four, stationed at each corner of the flight deck, "Say Hank -- how does she go?" But by the end of the passage they were taking turns at the centre position whilst the other four manned the wardroom bar. As no two of them gave their orders in the same terms, the bridge had a happy day translating for the helms-man's benefit. However, the results were good -- hardly a scratch on the paintwork.
At Cristobal a number of Naval ships had arrived, all of which were bound for Norfolk, Virginia, and arrangements were made for us to proceed in company. An amusing situation arose through a difference between American and British-Canadian seniority rules which made it doubtful who was the senior officer of the group and also, who would command the escort. It was decided sensibly to let the American command in each case and the passage went smoothly enough, the group consisting of U.S.S. Tulagi, H.M.S. Empress and Speaker, two D.E.s and two Canadian Corvettes. Our most notable event was the borrowing of an Avenger from Empress, with which we did our first deck landing and take-off.
NORFOLK (18th to 24th March).
At Norfolk we had a busy week getting our various teething troubles put right. One item (signalled from Panama) caused the authorities some puzzlement. Our brass steering wheel was constantly coming to bits and we had asked for a "new wheel, preferably a wooden one," not knowing that in U.S. Dockyard parlance a 'wheel' means a propeller! Rear-Admiral Felix Gygax and his officers of the Dockyard, and Commander The Earl of Carrick, the British Naval Liaison Officer, did everything they could to help us.
NEW YORK (25th to 28th March).
We berthed at Staten Island, New York, after an exciting neck and neck race with a "C.3" merchant ship up the 23 mile searched channel. At Staten Island was situated the main depot for loading aircraft, and it was most efficiently organised by the U.S. Transportation Service. In
— Page 5 —
---
three days this service had loaded and secured 82 aircraft, some crated, some inhibited, and took on any other stores, British or American, in their stride so that, as they said, "You boys can go enjoy the city."
On the final morning our passengers arrived, 54 women and children, mostly Naval families, given the advantage of the only form of transatlantic travel at that time available. Their accommodation had been planned at Vancouver between the Commander and the Captain's wife who now was one of the passengers, but the first the ship's company had known of it was some time later when one of the cartons delivered by N.S.O. broke open revealing a number of "jerries!" Knowing that the schoolboys would need some discipline, these were instantly formed into a "boys' division," living in a berthing space, and were so well chased by the P.T.I. that they never had time to get into trouble, though the Commander did get involved in a pillow fight one night.
ATLANTIC CROSSING (28th March to 8th April).
On leaving New York we joined a large American 14 knot convoy, but though we maintained this speed, divergent routing entailed our taking 11 days to reach Liverpool. There were many U-boats at sea, and it was as well that our passengers did not have access to the U-boat plot, but no attacks took place, though one was probably prevented by our escort, as two ships in a slow convoy astern were torpedoed the day after we had had contact. Most of the passengers enjoyed the trip, and a combined concert on the last evening was a great success, the greatest applause going to two 7-year-old boys whose rendering of "Pistol Packing Momma" brought the house down.
LIVERPOOL (8th to 10th April).
Berthing at Gladstone Dock, a horde of officials and relatives boarded us and soon the passengers and their numerous belongings were being moved ashore under the surveillance of the "Public Assistance Officer." This rather surprising development was due to our passengers being classed as "refugees." They were, however, admirably looked after and housed in a hostel for the night while their various journeys were arranged for them. Aircraft were unloaded all night, but the next day we had to move out to an anchorage to complete, owing to the berth being required. This movement will not be forgotten by anyone who was on the bridge. As we passed into the narrow lock a destroyer piped to us, which was replied to by a blast with a whistle on the loud hailer. This was understood by our four tugs to mean 'stop pulling,' but luckily the pilot got them going again before we got out of control. Lt. Rawcliffe, the 1st Lieut., had unfortunately gone to hospital the day before, having broken his toe in the winch, and the Captain, uncertain whether the new fo'c'sl officer was on the top line, ordered "report when both anchors are ready for letting go." How the message arrived is not known but "rattle, rattle, rattle" went both cables and there we were, anchored in a tide rip, right in the entrance to the lock. The two forward tugs slipped their wires and ran for their lives. "Do you mind weighing those anchors," said an unmoved pilot, "and you'd better slip the after tugs as we shall have to go full astern." Next report was from the Quarterdeck "tugs' wires round our screw!" Luckily this was a false alarm, and we got safely to anchor despite a crowded river with a 4-knot tide. The pilot was Mr. A. H. Wilcox, for over 30 years the Admiralty Pilot at Liverpool. It must be remembered that we were still very new, in a strange ship.
GREENOCK (10th to 13th April).
We anchored off the Tail of the Bank (home of escort carriers) for a couple of days, to make contact with Flag Officer Carrier Training
— Page 6 —
---
(Vice-Admiral Sir Lumley Lyster, K.C.B., C.V.O., C.B.E., D.S.O.), to fuel, and join a west-bound convoy. We were allowed to hang on till the last moment to allow each watch to have one turn of night leave before returning to America and then caught up our convoy at full speed.
SECOND FERRY TRIP (13th April to 17th May).
The second trip differed little from the first except that a number of British aircraft had to be collected at the Norfolk air station before we went on to Staten Island. This gave the Captain and Commander the chance of borrowing a couple of aircraft with experienced pilots and flying out to visit U.S.S. Charger, a training carrier operating in Chesapeake Bay, to have a look at what Speaker might shortly be expected to be doing. During our subsequent visit to Staten Island two New York ladies (Mrs. Tenney and Mrs. Baker) presented us with a splendid lot of band instruments and gramaphone records which for two years now have given endless pleasure. The painting of a triptych (altar back) was also arranged through the "Citizens' Committee" which now suitably adorns our chapel. After discharging planes and passengers at Liverpool on 14th May, we returned to the Clyde and berthed in the Gareloch on 17th to await further orders.
FITTING OUT AS ASSAULT CARRIER (18th May to 11th Sept.).
We had anticipated perhaps three weeks in some dockyard to complete various unfinished alterations, but it now transpired that Speaker was to be an "Assault Carrier," one of a squadron of similar ships to be used for providing the air support for major military landings for the period until air strips ashore should be in operation. The recommendations resulting from "the South of France" landings were still being considered in the Admiralty and it became clear that it would be a big job if the four new "Assault Carriers" now allocated were to be fully equipped in accordance with the latest ideas. So it was with only a partial grasp of the requirements that we sailed for Dundee, arriving 28th May, to be taken in hand by the Caledon Shipbuilding Company (Manager — Mr. Henry Main, C.B.E.), and we certainly did not foresee spending 3.5 months in their hands. This is a period which many will look back on as a happy one. Dundee is a friendly and hospitable town with a much larger number of girls than men (owing to the jute mills, etc.), so even when not on home leave (of which everyone had five weeks) life was not too bad. From a Service point of view we could not have had greater co-operation from any dockyard, or from the N.O.I.C. and his staff (Rear-Admiral E. G. Robinson, V.C., Captain W. F. Keay, C.B.E., V.D., A.D.C., R.N.V.R. and others), with the result that we became as well fitted out for our job as any carrier afloat. The Engineer Repair Overseer, Mr. Minhinick, will always be well remembered by those who worked with him.
Among alterations were the fitting of the first prefabricated Type 277 radar, of which the skidding of the hut into the hangar was a spectacular feat, an operational telephone system of over 100 telephones, new briefing room, army plot and cabins around the "Aircraft Direction Room," so that key officers should be able to operate for days on end in the immediate vicinity of their jobs, briefing pilots, collecting intelligence, and kept in touch with events by the 15 different W/T and R/T lines to be manned during an action period. Whole villages grew up under the flight deck in which departments fought for huts to hold wireless gear, aircraft explosives, pyrotechnics, smoke gear, etc., and a triumph was getting 140 extra bunks built into the ship for the inevitable increase of complement. A great deal was also done for habitability including extra ventilation, racks and hooks and lockers, re-arrangement of and
— Page 7 —
---
increase of bathrooms and heads, and still further improvements to the bridge. Twin power-worked Oerlikons replaced nearly all the single mountings, enabling a very fine close-range hail of fire to be rapidly produced. The original 150 alterations had now risen to nearly 500, and nearly all these, and many unofficial jobs were done for us. We could not tell that many of these efforts would never, as events turn out, reap their full reward on an Assault Operation.
CHANGE OF PERSONNEL.
Admiralty decided that Assault Carriers were now to be "manned R.N." instead of the Engine-room and Supply branches being manned by officers and men under "T.124" agreement. Speaker was the first (and only) ship in which this transfer took place. Accordingly Lt. Cdr. (E) Cutlack, R.N.R., and Lt. Cdr. (S) H. R. Newton, R.N.R., joined as "Chief" and "Pay" with new staffs except for one or two officers who volunteered to turn over. Surg. Lt. Cdr. J. G. Bryson, R.N.V.R., joined us also during this period as P.M.O. and Lt. Cdr. A. Darley as "Commander Flying." Later, in December, Acting-Commander Viscount Southwell, after a year of devoted service to the ship, was relieved by Acting-Commander W. C. Hudson, R.N. More details of officers borne during the Commission will be found on page 26.
During the Dundee period the Captain had taken the opportunity of visiting the House of Commons to pay our respects to our patron the Speaker (Col. the Rt. Hon. Douglas Clifton-Brown) who was most interested in hearing news of the ship. Later, on his behalf, Sir Ralph Verney, Secretary to the Speaker for nearly 25 years, came up to Dundee to present us with a silver cigarette box and bring us the Speaker's good wishes. Sir Ralph made friends with us all and seemed to enjoy everything arranged for him including some blind flying in thick cloud at Easthaven.
ROSYTH (12th Sept. till 16th Oct.).
After a farewell ship's company dance which was a great success, Speaker left Dundee and went to Rosyth to dock and complete a few items which Dundee had been unable to finish, but by the middle of October we were ready to start our flying career.
TRAINING CARRIER (16th Oct. to 14th Dec.).
Our future Hellcat Squadron (1840) were still busily training in Northern Ireland, mainly in the Army Co-operation role in which our Army Liaison Section took a large part. They were thus not ready to embark, and it was decided to station Speaker in the Firth of Forth as a training carrier for six weeks, to fill in the gap. We were the first Training Carrier to operate on this coast for any length of time and had some initial difficulties due to every bit of accessible ocean in those parts being already allocated to someone as a training area. However, this was readily met by compromise and we embarked on a very busy and interesting job. During the week we anchored nightly at Methil and daily greeted the dawn somewhere near May Island, ready to start our day's flying. At week-ends there was usually some good reason to take us back to Rosyth, if only to clear our deck of crashed aircraft, and we established a prerogative in always securing to the Flagship's buoy.
It would take too long to describe this period in detail. 1460 deck landings took place including 160 in one day and 43 in 38 minutes. Training included deck landings for newly formed Barracuda, Swordfish and Helldiver Squadrons, and the training of "Batsmen" (D.L.C.O.s). The aircraft for the latter were provided by 768 Squadron, a fine crowd under the imperturbable leadership of Lt. Cdr. (A) J. M. Brown,
— Page 8 —
---
R.N.V.R. Their task was to make bad approaches in various types of aircraft, obeying the amateur batsmen's attempts to correct them, leaving just margin enough to make a safe landing by their own skill at the last moment. Of this squadron, Lt. P. D. C. Street completed his 1000th deck landing during the period and was then transferred to 1840 (our future) Squadron as Senior Pilot.
It was,a wonderful training time for the ship. We had several full gales, including one when we lost a fork truck which broke away from its wire lashings and dived into the sea whilst we were turning inside May Island, and when we did succeed in anchoring we dragged eight cables with two anchors down before the wind moderated enough to enable them to hold. In the middle of this, Lt. Cdr. Brown appeared in a rift in the clouds in a Swordfish, all ready to land her on, and was very hurt when he was sent to Crail which happened temporarily to have a patch of visibility!
The Air Department was quickly whipped into shape by Lt. Cdr. Darley who allowed the Aircraft Handling Party no doubts of his requirements, and they soon became pretty efficient. The batting was good and the pupil pilots really had a square deal, but of course there were lots of crashes. The remarkable thing was that we had no casualties of any kind beyond a few bruises, despite aircraft breaking in two, turning on their backs, or skidding into the sea. Pilots undoubtedly had charmed lives.
Probably the worst occasion was an attempt at night flying by a rather 'ropey' Swordfish course on a wet night during our first week. We put the best two pilots up, and both crashed, though not seriously, on landing. However, we put them up again in two more aircraft and the first one to come in flew straight into the barriers in which he left his undercarriage complete, skidded the rest of the way on his fuselage, and was only prevented from diving overboard by the jolt of knocking the port forward pillar light into the sea, with what was left of his propeller. His chum up top who had seen this, had to wait 45 minutes before he could make his attempt, which, thank God, succeeded.
We were visited, by air, during this period by Flag Officer Carrier Training (Vice-Admiral Sir Lumley Lyster) and some of his staff, by Captain C. R. V. Pugh in command of the Naval Air Station, Crail, and by Lt. Cdr. Barry Nation, our Squadron Commander. The latter was on the deck in his Hellcat within 45 minutes of telling us by R/T that he was just leaving Ireland.
During almost all our flying we were admirably attended by H.M.S. Whitshed, who picked up one crashed pilot, one midshipman (blown over the stern by propellor blast) and an attempted suicide.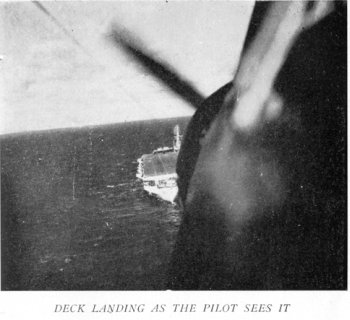 Deck landing as the pilot sees it
EMBARKING 1840 SQUADRON.
On 14th December we left Rosyth, had a rough but uneventful passage North-about, and arrived Belfast 16th Dec. to embark 1840 Squadron, commanded by Lt. Cdr. (A) Barry Nation, R.N., with Lieut. (A) Pat Street, R.N.V.R., as Senior Pilot plus 2 Canadian, 3 New Zealand, 4 Dutch and 16 British pilots. This embarkation proved a bit of a struggle as the weather was bad and one of the early arrivals fetched up in the walkways requiring some hours of work to get the aircraft inboard before embarkation could continue. However, the second day things went better and we were able to fit in four or five days deck-landing and flying drill before having to go up to Glasgow to dock. The Squadron flew to N.A.S., Ayr, and we went up-river, docking on Xmas Day.
Three days later we returned to the flying area and re-embarked the Squadron, now armed with brand-new rocket-fitted, Mk. III Hellcats.
— Page 9 —
---
Normally a period of six weeks working up should have followed, but we were told this would now be carried out in the Mediterranean instead, so we did what we could in ten days, anchoring at Lamlash or Rothesay at night, and flying whenever weather permitted. The day F.O.C.T. chose to repeat his visit, it took us six hours with steam hoses, shovels and brooms, to de-ice the flight deck and aircraft sufficiently to start flying. Our last two nights were spent at the Tail of the Bank, and, to the credit of the ship's company, we had not a single leave breaker.
PASSAGE OUT (January-February, 1945).
On 11th January we set out, Slinger (Captain B. L. Moore, Senior Officer), Khedive (Captain D. H. Magnay), and Speaker, with three destroyers. As we reached the Clyde lightship at dusk we were suddenly diverted to go North of Ireland instead of down the Irish Channel as two ships had just been sunk off Holyhead. This was the start of the Schnorkel campaign.
Our instructions were to fly as much as we could on passage in order to make up for any shortage of time for normal working up. As far as Gibraltar, however, the weather was bad, and we delayed flying until reaching the Mediterranean.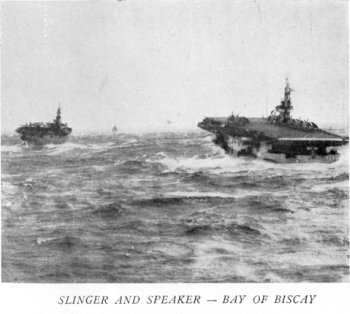 Slinger and Speaker — Bay of Biscay
GIBRALTAR (16th January).
We were ordered to close the breakwater at Gibraltar to receive copies of Mediterranean orders which we naturally expected would be bagged up and waiting. Speaker was ordered to close first, and hastened to make room for Khedive and Slinger as soon as a package had been received from a motorboat. Khedive did the same, and we were both steaming South when Slinger signalled, "Have you received package from second motorboat?" So back we went, Slinger and Khedive starting southward as soon as the second motorboat had called, leaving Speaker last. But what was our surprise when a third motorboat appeared and it was Speaker's turn to signal to her rapidly withdrawing and frankly incredulous consorts, "Have you received package from third motor boat?" However, at last we were complete and rounding Europa Point into Mediterranean waters.
It was as well we were now prepared for flying as a report was received from an American merchantman that she had sighted a submarine off the North African coast. The next morning, Slinger and Speaker started an intensive air search with rockets at the ready, covering the whole area in which the reported submarine might be sighted. This was a good exercise, even though nothing like a submarine was seen, and everyone felt that our operational period had at last commenced. Khedive was unfortunate in having a large cargo of extra aircraft to ferry, and thus was unable to fly.
ALEXANDRIA (22nd January).
After more practice flying, we reached Alexandria, where we had expected to complete our working-up under Commodore G. N. Oliver, C.B., D.S.O., in H.M.S. Royalist, flagship of the Assault Carrier Squadron. He, however, informed us that we were ordered straight on to Ceylon, where it was intended we should work up at Trincomali, though we might have to go on to Australia. He hoped to come out to the East Indies soon and collect us all together. We sailed again the same evening.
SUEZ CANAL AND RED SEA (24th to 27th Jan.).
We had a pleasant passage through the Canal, including a night at anchor in the Bitter Lake, where everyone dived in for a swim. It was
— Page 10 —
---
interesting to see the two Italian battleships, Vittorio Veneto and Italia, who had been anchored there since the Italian surrender.

A tragic episode occurred in our flying training in the Red Sea. A section was doing "follow my leader" fighter tactics when Number 4 (Sub. Lt. (A) B. Jacques, R.N.V.R.) failed to pull out of a dive and splashed into the sea about three miles from the ship. The aircraft with its pilot disappeared instantly, leaving no trace beyond small pieces of wreckage.

ADEN (28th Jan.).
Aden was only visited for fuel and we went straight on across the Indian Ocean. It was pleasant north-east monsoon weather in which flying went on very profitably. By now the Squadron was much more confident in its carrier work, though we had six aircraft needing replacement. Fortunately these could be provided from the ferry load carried in Khedive, who landed them in Cochin, whence they were flown down to Colombo.

COLOMBO (4th to 6th Feb.).
In Colombo some of the pilots were disembarked to the Race Course to await the new Hellcats. We were greeted on arrival with the news that we (Slinger and Speaker) were to go straight on to Sydney to join the British Pacific Fleet. This was upsetting in that our working-up prospects now seemed still more indefinite, and our connection with Commodore Oliver's Assault Squadron still more attenuated, but against this was the satisfaction of joining a fleet which was obviously soon to play a big part in the final campaign of the war. Accordingly we scrounged all the stores and spares our time allowed, and off we went again, our new aircraft flying out to join us as we left the Searched Channel.

CROSSING THE LINE.
Commander Hudson spent the next two days in secret session with a picked team undergoing instruction in the laws and traditions of the deep, whilst the sailmaker, parachute team, bosun's party, painter, chippies, etc., were busy on a variety of mysterious tasks.

The night before reaching the Line, His Majesty, King Neptune (C. P. O. Scollick), duly boarded the ship and called upon the Captain to be ready to receive him with all due ceremony on the morrow, and to ensure that all novices were ready to pay their homage in the traditional manner. This the Captain, with his humble duty, undertook to ensure. The next day the Lord of the Deep with a most imposing court, including his queen, clerk, doctors, bakers, barbers, police and bears, led by Speaker's famous Mobile Naval Band, rose by the foremost lift, received the obeisance of the Captain and senior officers, to whom the King graciously made suitable presentations, and then moved in procession round the flight deck so that all novices should know that they were subject to powerful forces, should they resist their initiation. Descending (despite the A.E.O. jamming the lift) to the Fore Well Deck, all and sundry followed the Captain and Commander in undergoing the sentences imposed on them, to a total of some 800 souls, by the end of which even our stalwart bears and police had almost reached their limit of endurance. The evening saw everyone — royalties, ruffians and victims — stretched out on the flight deck recovering from the exertions of a most enjoyable day.

— Page 11 —
---
History of H.M.S. Speaker
Delgada (CVE-40) / HMS Speaker Page
---
Comments and Suggestions about this page, E-mail CarrierInfo
Problems and site related matters, E-mail Webmaster



This page was created and is maintained by Fabio Peña