Please Report Any Broken Links Or Trouble You Might Come Across To The Webmaster
Please Take A Moment To Let Us Know So That We Can Correct Any Problems And Make Your Visit As Enjoyable And As Informative As Possible.
---
Navsource Online: Destroyer Escort Photo Archive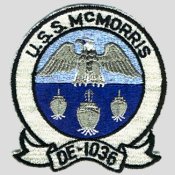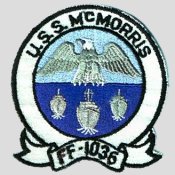 Ship's patches courtesy of Mike Smolinski (see note below)

USS McMorris (DE 1036)





Flag Hoist/Radio Call Sign:
N - E - R - M
Tactical Voice Radio Call: "Gray Warrior"
---
Awards, Citations and Campaign Ribbons

Specifications:
Class: Claud Jones
Type: SCB No. 131 / 1956-57
Number in Class: 4
Displacement: 1,314 tons (light), 1,916 tons (full)
Length: 301' (wl), 312' (oa)
Beam: 38' (extreme)
Draft: 18' (draft limit)
Propulsion: 4 Fairbanks-Morse 38ND8 Diesels, 8,852 shp, 1 shaft
Speed: 22 kts
Range: 7,000 nm @ 12 knots
Complement: 12 / 159
Guns: 2 - 3"/50 Mk 33 (2x1)
ASW Weapons: 2 - Mk 11 Hedgehog, 6 - 12.75" (324mm) Mk 32 torpedo tubes (2x3) / Mk 46 torpedos
Radars: AN/SPS-10 (surface), AN/SPS-6C (air)
Sonars: AN/SQS-4
Fire Control Systems: Mk70 Gun FCS, Mk105 Underwater Battery FCS
---
McMorris (DE 1036) Building and Operational Data:
5 November 1958: Keel laid at the American Shipbuilding Co., Lorain, Oh.
26 May 1959: Launched and christened at the Avondale Marine Ways, Inc., Westwego, La.; sponsored by Mrs. Charles H. McMorris, widow of Vice Adm. McMorris
4 March 1960: Commissioned at Charleston, S.C., Lcdr Martin Zenni in command, assigned to Escort Squadron 3 (CruDesFlot 7) at San Diego, Cal.
24 January 1965: Homeport reassigned to Pearl Harbor, Hi. as a unit of Escort Squadron 5 (DesFlot 5)
1968: Reassigned to the newly created Escort Squadron 1
30 January 1967: Collided with USS Tombigbee (AOG 11) during ASW operations off Pearl Harbor (2 crewmen killed, 7 injured)
1 July 1973: Reassigned to Destroyer Squadron 39
16 December 1974: Decommissioned at Pearl Harbor after 14.7 years of service; struck from the NVR, transferred to Indonesia, renamed KRI Ngurah Rai (D-3)
1982: Hull number changed to D-344, in service as of 1999
2 January 2003: Decommissioned from the Indonesian Navy, scrapping pending
---
Click On Image
For Full Size Image
Size
Image Description
Contributed
By And/Or Copyright
86k
Charles Horatio McMorris was born on 31 August 1890 at Wetumpka AL and was appointed midshipman in 1908 and commissioned ensign in June 1912. On 11 to 12 October 1942, as commanding officer of San Francisco, he took part in the Battle of Cape Esperance, which deflated the Japanese belief in their night fighting superiority. During the Battle, he "...fought his ship valiantly, maneuvering with the expertness of able seaman and striking at the enemy with determined and effective gunfire despite the difficulties of night combat. As captain of the flagship, he rendered valuable service to the Task Force [TF 64] Commander and contributed materially to the success of our forces." He was awarded the Navy Cross for the above cited actions. In December 1942, he assumed command of Crusier Destroyer Force 8, operating in the northern Pacific. On 26 March 1943, in the Battle of the Komandorski Islands, he used that force to prevent Japanese reinforcement of garrisons on Kiska and Attu. For his able handling of the force in the victory, he received the Distinguished Service Medal. Later, as Chief of Staff of the Commander in Chief, U.S. Pacific Fleet and Pacific Ocean Areas, he was awarded a Gold Star in lieu of a second Distinguished Service Medal for supervising "...the preparation and execution of strategic and tactical plans for Naval Operations...in the Gilberts, Marshalls, Marianas, Western Caroline Islands, Iwo Jima, and Okinawa..." Retiring as a vice admiral on 1 September 1952, he died 11 February 1954 at Valparaiso, Chile.

(For a more complete biography of Adm. McMorris, Click Here)

USS McMorris (DE 1036) (1960-1974) was the first ship named in his honor.
Navsource
154k
undated photo (Photo &copy Morper Ship Pictures)
Nick Tiberio
52k
taken from USS Ponchatoula (AO 148) in Tonkin Gulf during a 1966 - 1967 cruise
Barry Litchfield
USS Ponchatoula 1966 - 1967
60k
September 1967
-
61k
1973: Sydney Harbor
Steve Crate (EM2)
213k
18 and 25 September 1973: Auckland, N.Z. - Two views of McMorris on a port visit to Auckland (Both photos from the collection of Chris Howell)
Chris Howell
Southland Ship Stores Ltd
Port of Bluff, New Zealand
157k
---
McMorris
Memorabilia
Decommissioning Booklet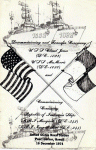 Courtesy of
Robert M. Cieri
---
View the USS McMorris (DE 1036) DANFS history entry
located on the Naval History and Heritage Command web site.
---
McMorris's Commanding Officers
Thanks to Wolfgang Hechler & Ron Reeves
Dates of Command
Commanding Officers
1.) 04 Mar 1960 - 1961
Lcdr. Martin M. Zenni
2.) 1961 - 1963
Lcdr. Ralph Glover Spencer
3.) 1963 - 1965
Lcdr. Daniel A. Lewis
4.) 1965 - 1966
Lcdr. Richard Ellis Kemble
5.) 1966 - July 1967
Lcdr. Rudolph Halouk Daus
6.) Jul 1967 - Mar 1969
Lcdr. Robert J. Steele (ret. as Radm.)
7.) Mar 1969 - Jun 1970
Lcdr. Alex Jan Viessmann
8.) Jun 1970 - Nov 1971
Lcdr. Donald Lee Hark
9.) Nov 1971 - 15 Aug 1973
Lcdr. Richard David Milligan
10.) 15 Aug 1973 - 16 Dec 1974
Lcdr. James H. Ansley
---
Crew Contact And Reunion Information
---
2012 Reunion:
18 - 21 October 2012 at Nashville, Tennessee
Holiday Inn Select Opryland / Airport

---
Contact Name: Skip Reynolds, Reunion Coordinator
Address: 1020 Pross Road, Lansdale PA 19446
Phone: (215) 855-3916
E-mail: Skip Reynolds

---
None
---
Note About Contacts
Contact information is compiled from various sources over a period of time and may, or may not, be correct. Every effort has been
made to list the newest contact. However, our entry is only as good as the latest information that's been sent to us. We list only
a contact for the ship if one has been sent to us. We do NOT have crew lists or rosters available. Please see the Frequently Asked
Questions section on Navsource's Main Page for that information.
---
Additional Resources
---
USS McMorris Website
Destroyer Escort Sailors Association
The Destroyer History Foundation
Tin Can Sailors Shipmate Registry - USS McMorris
USS McMorris Page on Military.Com
---
Note:
---
The McMorris patch as an FF above seems to be an error. The patch was purchased from a New Jersey embroidery company in the late '70's,
but... McMorris was never an FF. She was decommissioned in December 1974, and the DE reclassification took place in June of 1975. Can anyone offer an explanation?
---

Comments, Suggestions, or Image Submissions, Please E-mail: DE Info
Problems or Site Related Matters, Please E-mail: Webmaster

This Page Created And Maintained by Mike Smolinski



by Paul R. Yarnall, All Rights Reserved.
Page Last Updated 12 October 2013