Please Report Any Broken Links Or Trouble You Might Come Across To The Webmaster
\ Please Take A Moment To Let Us Know So That We Can Correct Any Problems And Make Your Visit As Enjoyable And As Informative As Possible.
---
Navsource Online: Destroyer Escort Photo Archive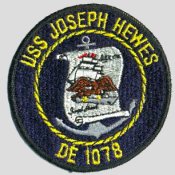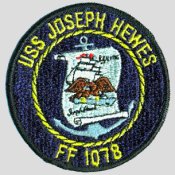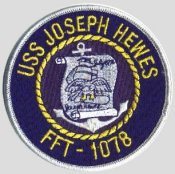 Ship's patches courtesy of Mike Smolinski


USS Joseph Hewes (DE 1078)





Flag Hoist / Radio Call Sign:
N - E - L - P
Tactical Voice Radio Call: "Gallant Steed"

---
Awards, Citations and Campaign Ribbons

---
Specifications:
Class: Knox
Type: SCB No. 199C / 1964
Number in Class: 46
Displacement: 3020 tons (std), 4065 tons (full)
Length: 415' (wl), 438' (oa)
Beam: 46' 9" (extreme)
Draft: 24' 9" (draft limit)
Propulsion: 2 Combustion Engineering 1200psi boilers; 1 Westinghouse geared turbine; 35,000 shp; 1 shaft
Speed: 27 kts
Range: 4,500 nm @ 20 knots
Complement: 16 / 211
Missiles: 1 8-tube Mk25 Sea Sparrow BPDMS in DE 1052-1069, 1071-1083, 1 8-tube Mk29 NATO Sea Sparrow IPDMS in DE 1070, Harpoon missiles from modified ASROC launcher
Guns: 1 x 5"/54 cal. DP Mk 42 (600 rds)
ASW Weapons: 1 Mk16 ASROC launcher (16 missiles), 4-12.75" (324mm) Mk 32 (4x1 fixed) tubes / Mk 46 torpedos (6)
Radars: AN/SPS-10 (surface), AN/SPS-40 (air), AN/SPS-58 threat warning in some ships
Sonars: AN/SQS-26CX, AN/SQS-35 IVDS in FF-1052, 1056, 1063-1071, 1073-1076, 1078-1097
Fire Control Systems: Mk68 Mod. 11/13/14 Gun FCS, Mk114 Mod 14/16 ASW FCS
Helicopter: 1 - SH-2 LAMPS Helicopter
---
Joseph Hewes (DE 1078) Building and Operational Data:
25 August 1966: Building contract awarded to Avondale Shipyard, Inc.
15 May 1969: Keel laid by the Avondale Shipyard, Inc., Westwego, La.
07 March 1970: Launched, sponsored by Mrs. Noel A.M. Gayler, wife of Vadm. Noel Gayler of the National Security Agency
24 April 1971: Commissioned at the Boston Naval Shipyard, Cmdr. Robert E. Klee in command, assigned to CruDesLant at Newport, R.I.
30 June 1975: Reclassified Frigate (FF 1078)
30 September 1991: Assigned to Naval Reserve Force, Atlantic, at Charleston, S.C.
15 December 1991: Reclassified Training Frigate (FFT 1078)
30 June 1994: Decommissioned at Ingleside, Tex.; Leased to Taiwan, renamed ROCS Lan Yang (FF-935)
11 January 1995: Struck from the NVR
---
Click On Image
For Full Size Image
Size
Image Description
Contributed
By And/Or Copyright
10k
Joseph Hewes was born in Kingston, New Jersey, in 1730, and was educated at what is now Princeton University. After engaging in business in Philadelphia, he moved to Edenton, North Carolina in 1763 where he became a prosperous and influential merchant skipper. He was elected to the Continental Congress in 1774, and in 1775 became a member of the Marine Committee. In this capacity Hewes played a major part in the procurement and outfitting of Continental vessels, and had the distinction of securing a commission in the Continental Navy in December 1775 for one of the sea's greatest heroes-to-be, John Paul Jones. At the beginning of the year 1776, Hewes was appointed as the first ever Secretary of the Navy. John Adams often said that Hewes "laid the foundation, the cornerstone of the American Navy." Alongside General George Washington, Hewes became one of the greatest military achievers in American history. He was also involved with the secret committee of claims, which further promoted the independence of the colonies. Hewes was one of the primary reasons why North Carolina submitted to independence before any other colony. He was also one of the few reasons why the Declaration of Independence was ever signed.Hewes continued to take an active part in the movement for independence in North Carolina. He also took part in the discussions leading to the Declaration of Independence and signed the historic document. He died 29 October 1779 shortly after his return to the Continental Congress.

USS Joseph Hewes (DE1078) (1971-1994) was the second ship to be named in his honor, she was preceded by AP 50 (1942-1942). (Engraving by James B. Longacre from the National Park Service Website)
Robert M. Cieri
367k
07 March 1970: Westwego, La. - Two shots of the future USS Joseph Hewes being side launched after being christened.
S. Dale Hargrave
373k
89k
date / location unknown
Walter Bengtson
74k
04 August 1979: Barcellona, Spain
Fabio Peña
103k
93k
525k
17 October 1987: An aerial starboard quarter view of Joseph Hewes underway. (U.S. Navy photo DVID #DN-SC-85-01564 from the Defense Visual Information Center)
Navsource
270k
17 October 1987: An aerial port bow view of Joseph Hewes underway. (U.S. Navy photo DVID #DN-SC-90-11749 by PH3 Michael Skeens from the DVIC)
138k
01 June 1991: An bow view of Joseph Hewes moored to a pier. (U.S. Navy photo DVID #DN-SC-92-03403 by OS2 John Bouvia from the DVIC)
74k
2000: At sea - port bow view of ROCS Lan Yang (FFG-935) (ex-USS Joseph Hewes FF 1078)
Perry Huang
68k
2000: Su-Ao Harbor - Lan Yang moored at a pier inboard of ROCS Fong Yang (FFG-933) (ex-USS Brewton FF 1086).
147k
2006: Keelung Harbor - port view of Lan Yang moored inport.
148k
2006: Keelung Harbor - starboard bow view of Lan Yang moored inport.
---
Joseph Hewes History
The DANFS history entry for USS Joseph Hewes (DE 1078), located on the Naval History and Heritage Command web site is not presently available.
---
Joseph Hewes's Commanding Officers
Thanks to Wolfgang Hechler & Ron Reeves
Dates of Command
Commanding Officers
1.) 24 Apr. 1971 - 30 Jun 1972
Cmdr. Robert Erhart Klee
2.) 30 Jun. 1972 - 07 Dec.1973
Cmdr. Jerry Ray Haynes
3.) 07 Dec. 1973 - 05 Sep 1975
Cmdr. Thomas Bingham Buell
4.) 05 Sep. 1975 - 16 Aug 1977
Cmdr. Zeanious Lee Newcomb
5.) 16 Aug. 1977 - 01 Aug 1979
Cmdr. Richard Fromholtz
6.) 01 Aug. 1979 - 18 Nov 1982
Cmdr. Guy R. Campbell III
7.) 18 Nov. 1982 - 05 Apr 1985
Capt. Lorry M. Hardt
8.) 05 Apr. 1985 - 05 Aug 1987
Cmdr. Carl I. Lundquist
9.) 05 Aug. 1987 - 15 Dec.1989
Cmdr. Gary S. Nelson
10.) 15 Dec.1989 - 26 Jul 1991
Cmdr. Frank Joseph Dobrydney
11.) 26 Jul. 1991 - 26 Mar 1993
Cmdr. Kristopher M. Kennedy
12.) 26 Mar. 1993 - 30 Jun 1994
Cmdr. Wayne K. Frey
---
Crew Contact And Reunion Information
---
Last Known Reunion:
September 2016 at San Diego, Cal.
USS Joseph Hewes Website
---
Note About Contacts
Contact information is compiled from various sources over a period of time and may, or may not, be correct. Every effort has been
made to list the newest contact. However, our entry is only as good as the latest information that's been sent to us. We list only
a contact for the ship if one has been sent to us. We do NOT have crew lists or rosters available. Please see the Frequently Asked
Questions section on Navsource's Main Page for that information.
---
Additional Resources
---
USS Joseph Hewes Website
Tin Can Sailors
The U.S. Navy Memorial
Destroyer Escort Sailors Association
The Destroyer Escort Historical Museum
The Destroyer History Foundation
USS Joseph Hewes Page on Military.Com
Tin Can Sailors Shipmate Registry - USS Joseph Hewes
---

Comments, Suggestions, or Image Submissions, Please E-mail: DE Info
Problems or Site Related Matters, Please E-mail: Webmaster

This Page Created And Maintained by Mike Smolinski



by Paul R. Yarnall, All Rights Reserved.
Page Last Updated 27 March 2017