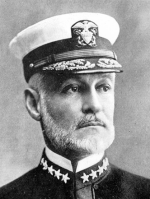 96k
William S. Sims, born in 1858 in Ontario, Canada, was appointed to the Naval Academy in 1876 and graduated in 1880. Seventeen years of sea duty were followed by assignments as Naval Attaché to Paris, St. Petersburg, and Madrid. Sims next served as Inspector of Target Practice; and, under his supervision, the naval gunnery system increased the rapidity of hits 100 percent and the general effectiveness of fire 500 percent. He also served as Naval Aide to President Theodore Roosevelt for two and one-half years.

On 11 February 1917, Sims became President of the Naval War College. In March 1917, he was designated by the Secretary of the Navy as Representative of the Navy Department in London. With the entry of the United States into World War I in April, he was ordered to assume command of all American destroyers, tenders, and auxiliaries operating from British bases. In May, he was designated as Commander of United States Destroyers Operating from British Bases, with the rank of Vice Admiral; and, in June, his title was changed to Commander, United States Naval Forces Operating in European Waters. On 10 December 1917, he assumed additional duty as Naval Attaché, London, England. The North Sea Mine Barrage was laid under his direction.

Admiral Sims again became President of the Naval War College in April 1919 and served in that capacity until his retirement on 15 October 1922. He died at Boston, Mass., on 25 September 1936.

USS Sims (DE 154) (1943-1946) was the second ship named in his honor, preceded by DD 409 (1939-1942).
Bill Gonyo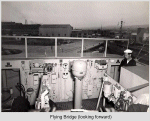 116k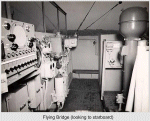 112k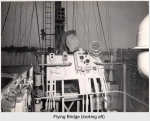 110k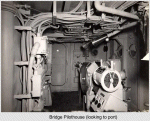 123k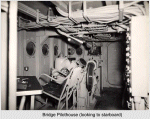 105k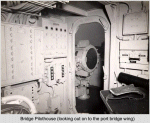 112k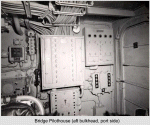 123k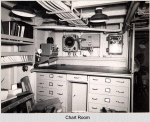 129k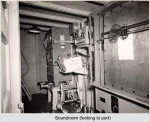 111k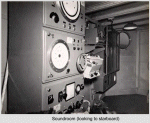 100k

circa 1943 - 1944: A ten view series of various spaces in the ship's bridge area.
(Photos from Warren J. Lusk, Ken's Dad, who was a Sims plankowner. Enlisting in the Navy on 12 December 1942 at St. Louis, Mo.; he reported aboard Sims on 24 April 1943 as a Seaman
2nd Class at the Norfolk Navy Yard. On 06 February 1946, he transferred off Sims as a Machinist Mate 2nd Class, destined for the Personnel Separation Center in St. Louis, Missouri.)
Ken Lusk