Please Report Any Broken Links Or Trouble You Might Come Across To The Webmaster
Please Take A Moment To Let Us Know So That We Can Correct Any Problems And Make Your Visit As Enjoyable And As Informative As Possible.
---
Navsource Online: Destroyer Escort Photo Archive
USS Pennewill (DE 175)





Flag Hoist / Radio Call Sign:
N - D - P - F
---
Awards, Citations and Campaign Ribbons

Specifications:
Class: Cannon
Type: DET (diesel-electric tandem motor drive, long hull, 3" guns)
Displacement: 1240 tons (light), 1620 tons (full)
Length: 300' (wl), 306' (oa)
Beam: 36' 10" (extreme)
Draft: 10' 6" (draft limit)
Propulsion: 4 GM Mod. 16-278A diesel engines with electric drive, 6000 shp, 2 screws
Speed: 21 kts
Range: 10,800 nm @ 12 knots
Armament: 3 x 3"/50 Mk22 (1x3), 1 twin 40mm Mk1 AA, 8 x 20mm Mk 4 AA, 3 x 21" Mk15 TT (3x1), 1 Hedgehog Projector Mk10 (144 rounds), 8 Mk6 depth charge projectors, 2 Mk9 depth charge tracks
Complement: 15 / 201
---
Pennewill (DE 175) Building and Operational Data:
26 April 1943: Keel laid at the Federal Shipbuilding & Dry Dock Co., Port Newark, N.J.
08 August 1943: Launched and christened, sponsored by Mrs. Lucie Reilly Pennewill
15 September 1943: Commissioned, Lt. Lt. John Edward Allen, USNR, in command
01 August 1944: Decommissioned at Natal, Brazil after 10.5 months of service; recommissioned the same day in the Brazilian Navy as CT Bertioga (BE-1).
30 June 1953: Returned to U.S. control and simultaneously transferred outright to Brazil under terms of the Mutual Defense Assistance Program
20 July 1953: Struck from the NVR
1975: Sold, scrapped
---
Click On Image
For Full Size Image
Size
Image Description
Contributed
By And/Or Copyright
75k
William Ellison "Bill" Pennewill was born in Dover, Del. on 20 February 1907. Following his graduation from Dover High School he was appointed Midshipman on 18 June 1925. He was commissioned Ensign 6 June 1929 and reported for duty under instruction in flying, at the Naval Air Station, Pensacola, Fla. His next duty was in Salt Lake City, then with Scouting Squadron 10-S, aboard Chicago. On 7 March 1932 he reported for duty with the Aircraft Scouting Force until 2 June 1934, when he was transferred to Bombing Squadron 3-B, aboard Ranger. He returned to the Naval Air Station, Pensacola and on 2 August 1941 joined the 16th Bombardment Wing. After serving at the Savannah Air Base, Savannah, Ga., until 6 March 1942, he was assigned duty involving flying in connection with the fitting out of Escort Scouting Squadron Twelve. On 29 May 1942, as Lieutenant Commander, he was in command of the squadron and while serving in this capacity, was killed, 23 June 1942, as a result of an airplane crash, while on duty at the Naval Air Station, Kodiak, Alaska. He was posthumously awarded the Distinguished Flying Cross for outstanding achievement in aerial flight in contact with the enemy, for leading his inexperienced squadron in a series of remarkable flights over strange terrain and through most severe weather conditions, and for gallantly giving his life in the service of his country. He was also awarded the Purple Heart by a grateful nation.

USS Pennewill (DE 175) (1943-1944) was the first ship to be named in his honor.
Bill Gonyo
40k
October 1943: as seen in her original configuration
-
49k
date / location unknown: as the CT Bertioga (D-21), in service with the Brazilian Navy (Official Brazilian Navy Photo)
Luiz Brazil Cotta,
FT3 (Ret. Brazilian Navy)
49k
variation of the above photo
Robert Hurst
---
Pennewill Memorabilia
Launch Button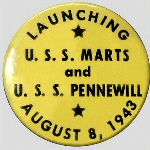 Courtesy of Tom Kermen
---
View the USS Pennewill (DE 175) DANFS history entry
located on the Naval History and Heritage Command website.
---
Pennewill's Commanding Officers
Thanks to Wolfgang Hechler & Ron Reeves
Dates of Command
Commanding Officers
1.) 15 Sep. 1943 - 01 Aug. 1944
Lcdr. John Edward Allen, USNR (comm. / decomm.)
---
Crew Contact And Reunion Information
---
None
---
Note About Contacts
Contact information is compiled from various sources over a period of time and may, or may not, be correct. Every effort has been
made to list the newest contact. However, our entry is only as good as the latest information that's been sent to us. We list only
a contact for the ship if one has been sent to us. We do NOT have crew lists or rosters available. Please see the Frequently Asked
Questions section on NavSource's Main Page for that information.
---
Additional Resources
---
Destroyer Escort Sailors Association
Tin Can Sailors
The Destroyer History Foundation
---

Comments, Suggestions, or Image Submissions, Please E-mail: DE Info
Problems or Site Related Matters, Please E-mail: Webmaster

This Page Created And Maintained by Mike Smolinski



by Paul R. Yarnall, All Rights Reserved.
Page Last Updated 20 October 2013