Please Report Any Broken Links Or Trouble You Might Come Across To The Webmaster
Please Take A Moment To Let Us Know So That We Can Correct Any Problems And Make Your Visit As Enjoyable And As Informative As Possible.
---
Navsource Online: Destroyer Escort Photo Archive
USS Sloat (DE 245)





Flag Hoist / Radio Call Sign:
N - G - Z - U
---
Awards, Citations and Campaign Ribbons

Specifications:
Class: Edsall
Type: FMR (geared diesel, Fairbanks-Morse reverse gear drive, 3" guns)
Displacement: 1200 tons (light), 1590 tons (full)
Length: 300' (wl), 306' (oa)
Beam: 36' 10" (extreme)
Draft: 20' 6" (draft limit)
Propulsion: 4 Fairbanks-Morse Mod. 38d81/8 geared diesel engines, 4 diesel-generators, 6000 shp, 2 screws
Speed: 21 kts
Range: 9,100 nm @ 12 knots
Armament: 3 x 3"/50 Mk22 (1x3), 1 twin 40mm Mk1 AA, 8 x 20mm Mk 4 AA, 3 x 21" Mk15 TT (3x1), 1 Hedgehog Projector Mk10 (144 rounds), 8 Mk6 depth charge projectors, 2 Mk9 depth charge tracks
Complement: 8 / 201
---
Sloat (DE 245) Building and Operational Data:
21 November 1942: Keel laid by the Brown Shipbuilding Co., Houston, Tex.
21 January 1943: Launched and christened, sponsored by Mrs. J. B. Deason
16 August 1943: Commissioned, Lcdr. E. E. Garcia in command
06 August 1947: Decommissioned at Green Cove Springs, Fla. after 3 years and 11⅓ months of service
02 January 1971: Struck from the NVR
05 April 1972: Sold to the Peck Equipment Co., Portsmouth, Va. for scrapping
---
Click On Image
For Full Size Image
Size
Image Description
Contributed
By And/Or Copyright

0624501
105k
John Drake Sloat was born in Sloatbury, N.Y., on 26 July 1781 and was appointed Midshipman in the United States Navy on 12 February 1800. He was sailing master of United States under Commodore Decatur and was promoted to Lieutenant for conspicuous gallantry in the capture of HMS Macedonian on 25 October 1812. He cruised in Grampus, Franklin, Washington, and St. Louis, between 1815 and 1831 and commanded the Pacific Squadron between 1844 and 1846, rendering efficient service on the coast of California in the early part of the Mexican War. Under his direction, the American flag was hoisted on 07 July 1846 above Monterey, symbolizing the conquest of that part of California by the United States. He subsequently held a number of commands ashore including making the plans for the Mare Island Navy Yard and directing the construction of the Stevens Battery in 1855. He was appointed Rear Admiral on the retired list on 25 July 1866 and died at New Brighton, Staten Island, N.Y., on 28 November 1867.

USS Sloat (DE 245) (1943-1947) was the second ship named in his honor, preceded by DD 316 (1920-1930).

(Photo from The Bancroft Library. University of California, Berkeley
Bill Gonyo
Downey, Cal.

Assoc. Researcher
Navsource

0624502
100k
undated late wartime image
-

0624503
146k
undated: Sloat crewmembers relaxing for a group photo. George's grandfather, S1c George Galioto is on the far left. Joining the U.S. Naval Reserve on 09 March 1944 at Cleveland, Oh., he reported aboard Sloat on 04 May 1944 at the New York Navy Yard. He served aboard until 01 May 1946 when Sloat returned to San Pedro, Cal. and he was transferred to the Personnel Separation Center at the Naval Training Center, Great Lakes, Ill.
George Galioto
Merritt Island, Fla.
---
Sloat
Memorabilia
Golden
Dragon Card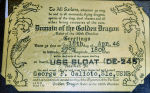 Courtesy of
George Galioto
---
Sloat History
View the USS Sloat (DE 245) DANFS history entry located on the Naval History and Heritage Command web site.
---
Sloat's Commanding Officers
Thanks to Wolfgang Hechler & Ron Reeves
Dates of Command
Commanding Officers
1.) 16 Aug. 1943 - 31 Jan. 1944
Lcdr. Edmund Ernest Garcia, USN (USNA '27) (Philadelphia, Pa.) (ret. as Radm.)
2.) 31 Jan. 1944 - .. May 1945
Lcdr. W. A. Cashman, USNR
3.) .. May 1945 - .. Jun. 1945
Lcdr. G. B. Atterbury, USNR
4.) .. Jun. 1945 - .. Feb. 1946
Lt. A. S. Lane, USNR
5.) .. Feb. 1946 -
Lt. Henry Walter Ancell
---
Crew Contact And Reunion Information
---
None
---
Note About Contacts
Contact information is compiled from various sources over a period of time and may, or may not, be correct. Every effort has
been made to list the newest contact. However, our entry is only as good as the latest information that's been sent to us. We list
only a contact for the ship if one has been sent to us. We do NOT have crew lists, rosters, or deck logs available. Please see the
Frequently Asked Questions section on NavSource's Main Page for that information.
---
Additional Resources
---
Tin Can Sailors
The U.S. Navy Memorial
Destroyer Escort Sailors Association
The Destroyer Escort Historical Museum
The Destroyer History Foundation
---

Comments, Suggestions, E-mail: Webmaster.



This Page Created And Maintained By Mike Smolinski



by Paul R. Yarnall, All Rights Reserved.
Page Last Updated: 11 May 2018