Please Report Any Broken Links Or Trouble You Might Come Across To The Webmaster
Please Take A Moment To Let Us Know So That We Can Correct Any Problems And Make Your Visit As Enjoyable And As Informative As Possible.
---
Navsource Online: Destroyer Escort Photo Archive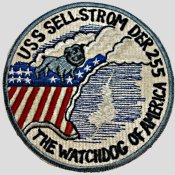 Ship's Name Tab Courtesy of Al Grazevich, Ship's Patch courtesy of Mike Smolinski

USS Sellstrom (DE 255)





Flag Hoist / Radio Call Sign:
N - F - T - M
---
Awards, Citations and Campaign Ribbons

Specifications:
Class: Edsall
Type: FMR (geared diesel, Fairbanks-Morse reverse gear drive, 3" guns)
Displacement: 1200 tons (light), 1590 tons (full)
Length: 300' (wl), 306' (oa)
Beam: 36' 10" (extreme)
Draft: 20' 6" (draft limit)
Propulsion: 4 Fairbanks-Morse Mod. 38d81/8 geared diesel engines, 4 diesel-generators, 6000 shp, 2 screws
Speed: 21 kts
Range: 9,100 nm @ 12 knots
Armament: 3 x 3"/50 Mk22 (1x3), 1 twin 40mm Mk1 AA, 8 x 20mm Mk 4 AA, 3 x 21" Mk15 TT (3x1), 1 Hedgehog Projector Mk10 (144 rounds), 8 Mk6 depth charge projectors, 2 Mk9 depth charge tracks
Complement: 8 / 201
---
Sellstrom (DE 255) Building and Operational Data:
16 March 1943: Keel laid by the Brown Shipbuilding Co., Houston, Tex.
12 May 1943: Launched and christened, sponsored by Miss Genevieve Dahl, fiancÚ of Ensign Sellstrom
12 October 1943: Commissioned, Lcdr William L. Maloney, USCG, in command
13 June 1946: Decommissioned at Green Cove Springs, Fla. after 2.7 years of service
21 October 1955: Reclassified DER 255,
01 November 1955: Moved to the Brooklyn NSY for conversion
01 October 1956: Recommissioned
June 1960: Decommissioned at the Philadelphia Naval Shipyard after 3.7 years of service
01 November 1965: Struck from the NVR with a total of 6.4 years of service
April 1967: Sold for scrapping to the Peck Iron & Metalworks, Portsmouth, Va.
---
Click On Image
For Full Size Image
Size
Image Description
Contributed
By And/Or Copyright
8k
Edward Robert Sellstrom was born in Gowrie, Iowa on 19 July 1916, and graduated from Gustavus Adolphus College, St. Peter, Minnesota in 1939. He enlisted in the Naval Reserve as Seaman second class at Minneapolis on 14 January 1941 and was appointed Aviation Cadet at Pensacola, Fla., on 20 March 1941. On 15 September 1941, he was commissioned Ensign, USNR. After duty in the Advanced Carrier Training Group, Pacific Fleet, he was assigned to Fighter Squadron 3, on board carrier Lexington. On 20 February 1942, Ensign Sellstrom intercepted an enemy four-engined bomber, determinedly pursued it through clouds and rain, and assisted in shooting it down despite heavy machine gun and cannon fire. Later that day, he intercepted and shot down another aircraft during an attack directed at his carrier by nine enemy bombers. As a result of his "skillful marksmanship and courage," he was awarded the Navy Cross. Ensign Sellstrom was killed in an airplane crash on 21 June 1942.

USS Sellstrom (DE 255) (1943-1960) was the first ship to be named in his honor.

(Photo Courtesy of the Gustavus Adolphus College Alumni Association thanks to Philly Kauffmann)
Bill Gonyo
318k
24 July 1944: off Boston, Mass. - A starboard beam view of Sellstrom taken near the Boston Navy Yard. (U.S. Navy photo #CP-DE-255 19-N-68621 from the National Archives and Records Administration, College Park, Md.; courtesy of Chris Wright)
Ed Zajkowski
77k
Rec'd 16 Sept. 1944 (Official USN photo #USN-177791 from the U.S. Coast Guard Cutter List
Mike Green
162k
undated: as DER-255
Dean J. Frazer
281k
undated: A photo of the radar picket escort ship USS Sellstrom (DER 255) underway, location unknown. Note the full-width amidships deckhouse and modified bridge. She has a unshielded twin 3"/50 mount forward, and her hedgehog is uncovered. (U.S. Navy Photo; from "The World Encyclopedia of Destroyers and Frigates" by Bernard Ireland)
Robert Hurst
99k
A Lockheed WV-2 Warning Star (BuNo 141310) of early warning squadron VW-15 flies over the radar picket destroyer escort USS Sellstrom (DER 255) off the coast of Newfoundland, Canada, in March 1957. The WV-2 141310 disappeared on 20 February 1958 300 km north of the Azores in the Atlantic Ocean. No trace of the aircraft or the crew of 22 was ever found. (U.S. Navy photo taken by Mahlon K. Miller. U.S. Navy photograph on VP Navy.
Robert Hurst
---
View the USS Sellstrom (DE 255) DANFS history entry
located on the Naval History and Heritage Command web site.
---
Crew Contact And Reunion Information
---
None
---
Note About Contacts
Contact information is compiled from various sources over a period of time and may, or may not, be correct. Every effort has been
made to list the newest contact. However, our entry is only as good as the latest information that's been sent to us. We list only
a contact for the ship if one has been sent to us. We do NOT have crew lists or rosters available. Please see the Frequently Asked
Questions section on NavSource's Main Page for that information.
---
Additional Resources
---
Destroyer Escort Sailors Association
Tin Can Sailors Shipmate Registry - USS Sellstrom
The Destroyer History Foundation
---

Comments, Suggestions, or Image Submissions, Please E-mail: DE Info
Problems or Site Related Matters, Please E-mail: Webmaster

This Page Created And Maintained by Mike Smolinski



by Paul R. Yarnall, All Rights Reserved.
Page Last Updated 23 August 2015