Please Report Any Broken Links Or Trouble You Might Come Across To The Webmaster
Please Take A Moment To Let Us Know So That We Can Correct Any Problems And Make Your Visit As Enjoyable And As Informative As Possible.
---
Navsource Online: Destroyer Escort Photo Archive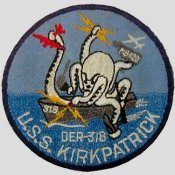 Ship's patch courtesy of Mike Smolinski

USS Kirkpatrick (DE 318)






Flag Hoist / Radio Call Sign:
N - T - L - K
---
Awards, Citations and Campaign Ribbons

Specifications:
Class: Edsall
Type: FMR (geared diesel, Fairbanks-Morse reverse gear drive, 3" guns)
Displacement: 1200 tons (light), 1590 tons (full)
Length: 300' (wl), 306' (oa)
Beam: 36' 10" (extreme)
Draft: 20' 6" (draft limit)
Propulsion: 4 Fairbanks-Morse Mod. 38d81/8 geared diesel engines, 4 diesel-generators, 6000 shp, 2 screws
Speed: 21 kts
Range: 9,100 nm @ 12 knots
Armament: 3 x 3"/50 Mk22 (1x3), 1 twin 40mm Mk1 AA, 8 x 20mm Mk 4 AA, 3 x 21" Mk15 TT (3x1), 1 Hedgehog Projector Mk10 (144 rounds), 8 Mk6 depth charge projectors, 2 Mk9 depth charge tracks
Complement: 8 / 201
---
Kirkpatrick (DE 318) Building and Operational Data:
15 March 1943: Keel laid by the Consolidated Steel Corp., Orange, Tex.
5 June 1943: Launched and christened, sponsored by Mrs. Genevieve Kirkpatrick, widow of Captain Kirkpatrick
23 October 1943: Commissioned, Lcdr V. E. Bakanas, USCG, in command
1 May 1946: Decommissioned at Green Cove Springs, Fla.
1 October 1951: Reclassified and converted DER 318
23 February 1952: Recommissioned, Lcdr George S. Davis in command
11 July 1952: Assigned to Newport, R.I. for radar picket operations on the Atlantic Barrier, the seaward extention of the Distant Early Warning (DEW) line across northern Canada
24 June 1960: Decommissioned at the Philadelphia Naval Shipyard
1 August 1974: Struck from the NVR
12 March 1975: Sold for scrapping
---
Click On Image
For Full Size Image
Size
Image Description
Contributed
By And/Or Copyright
7k
Thomas L. Kirkpatrick was born 5 July 1887, in Cozad, Nebr., and was appointed Acting Chaplain, U.S. Navy, 19 February 1918. After serving as chaplain to stations in the United States and abroad, Chaplain Kirkpatrick was assigned to USS North Dakota on 24 June 1919. For the next 20 years he served in Utah, Pittsburgh and Saratoga in addition to duty at Samoa from 1935 to 1937. He reported to USS Arizona 13 September 1940, and was commissioned Captain 1 July 1941. Captain Kirkpatrick lost his life when Arizona was sunk during the Japanese attack on Pearl Harbor 7 December 1941.

USS Kirkpatrick (DE 318) (1943 - 1960) was the first ship to be named in his honor.

(Photo courtesy of Vincent J. Vlach, from The USS Arizona BB 39 Web Site thanks to Nancy Nease)
Bill Gonyo
102k
6 July 1944: Underway off New York City (U.S. Navy photo #80-G-240423 from the Naval History and Heritage Command)
Tracy White
583k
6 July 1944: off Brooklyn, N.Y. - Two views of Kirkpatrick taken in waters near the New York Navy Yard. (U.S. Navy photos #CP-DE-318 19-N-67978 and CP-DE-318 19-N-71648 from the National Archives and Records Administration, College Park, Md.; courtesy of Chris Wright)
Ed Zajkowski
355k
114k
undated (Photo #BuAer 301389; photog. unknown from the U.S. Coast Guard Cutter List)
Mike Green
107k
undated: off Newport, R.I.
Edward R. Dube SFM3
91k
113k
---
Kirkpatrick
Memorabilia
Ship's Plaque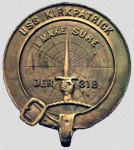 Courtesy of
Mike Smolinski
---
View the USS Kirkpatrick (DE 318) DANFS history entry
located on the Naval History and Heritage Command web site.
---
Crew Contact And Reunion Information
---
Next Reunion: 14 September 2015 at Charleston, S.C.

Reunion Contact: Harmon Meeker
Address: 19413 N. 86th Drive / Peoria AZ 85382
Phone: 623-566-6103
E-mail: Harmon Meeker

---
Note About Contacts
Contact information is compiled from various sources over a period of time and may, or may not, be correct. Every effort has been
made to list the newest contact. However, our entry is only as good as the latest information that's been sent to us. We list only
a contact for the ship if one has been sent to us. We do NOT have crew lists or rosters available. Please see the Frequently Asked
Questions section on Navsource's Main Page for that information.
---
Additional Resources
---
Destroyer Escort Sailors Association
Tin Can Sailors Shipmate Registry - USS Kirkpatrick
The Destroyer History Foundation
---

Comments, Suggestions, or Image Submissions, Please E-mail: DE Info
Problems or Site Related Matters, Please E-mail: Webmaster

This Page Created And Maintained by Mike Smolinski



by Paul R. Yarnall, All Rights Reserved.
Page Last Updated 02 August 2015