Please Report Any Broken Links Or Trouble You Might Come Across To The Webmaster
Please Take A Moment To Let Us Know So That We Can Correct Any Problems And Make Your Visit As Enjoyable And As Informative As Possible.
---
Navsource Online: Destroyer Escort Photo Archive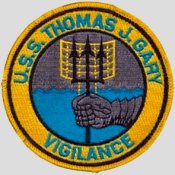 Ship's patches courtesy of Mike Smolinski

USS Thomas J. Gary (DE 326)






Flag Hoist / Radio Call Sign:
N - T - J - G
Tactical Voice Radio Call: "Trout Fishing"
---
Awards, Citations and Campaign Ribbons

Specifications:
Class: Edsall
Type: FMR (geared diesel, Fairbanks-Morse reverse gear drive, 3" guns)
Displacement: 1200 tons (light), 1590 tons (full)
Length: 300' (wl), 306' (oa)
Beam: 36' 10" (extreme)
Draft: 20' 6" (draft limit)
Propulsion: 4 Fairbanks-Morse Mod. 38d81/8 geared diesel engines, 4 diesel-generators, 6000 shp, 2 screws
Speed: 21 kts
Range: 9,100 nm @ 12 knots
Armament: 3 x 3"/50 Mk22 (1x3), 1 twin 40mm Mk1 AA, 8 x 20mm Mk 4 AA, 3 x 21" Mk15 TT (3x1), 1 Hedgehog Projector Mk10 (144 rounds), 8 Mk6 depth charge projectors, 2 Mk9 depth charge tracks
Complement: 8 / 201
---
Thomas J. Gary (DE 326) Building and Operational Data:
15 June 1943: Keel laid by the Consolidated Steel Corporation, Orange, Tex.
21 August 1943: Launched and christened, sponsored by Mrs. Willie Mae Gary, mother of Seaman 2d Class Gary
27 November 1943: Commissioned as USS Gary, Lcdr William H. Harrison, USNR, in command
01 January 1945: Name changed to Thomas J. Gary
07 March 1947: Decommissioned at Green Cove Springs, Fla.
24 July 1956: Delivered to the Philadelphia Naval Shipyard for conversion to DER
01 November 1956: Reclassified DER 326
02 August 1957: Recommissioned, assigned to Newport, R.I. as a unit of the Atlantic Barrier, a part of the North American Air Defense Command
13 Sep. 1965 - 21 May 1966: Participated in Operation "Deepfreze" as a support unit, during which she traveled "Around The World"
24 Aug. 1966 - 24 May 1967: Participated in Operation "Deepfreze" as logistics headquarters operating from Dunedin, New Zealand; again traveling "Around The World"
01 July 1967: Homeport assignment changed to Key West, Fla. as a unit of Destroyer Division 601
22 October 1973: Decommissioned and struck from the NVR
22 October 22 1973: to Tunisia, renamed President Bourguiba, later renamed Indakh
16 April 1992: Suffered a major engineroom fire, no longer operational. Now serves as Fleet headquarters and accommodation ship, berthed at Bizerte
1992-1993: Scrapped in Tunisia, her mast is preserved at the Bizerte Naval Station
---
Click On Image
For Full Size Image
Size
Image Description
Contributed
By And/Or Copyright
52k
undated wartime image
David Buell
47k
undated
Gene Spinelli
ETR-2, USNR
133k
undated: A photo of the radar picket escort ship USS Thomas J. Gary (DER 326) underway, location unknown. Note the Hedgehog in the superfiring position forward. She also has an enclosed bridge and long amidships deckhouse. (U.S. Navy Photo; from "The World Encyclopedia of Destroyers and Frigates" by Bernard Ireland)
Robert Hurst
165k
underway during the Cuban Blockade
T. Mark Graham
in honor of his Dad,
Ltjg Thomas Kent Graham
112k
1960: Ponta Delgada, Azores - Thomas J. Gary approaching the pier while visiting the Azores.
Carlos Manuel Estrela
115k
1960: Ponta Delgada, Azores - a closeup view of Thomas J. Gary's bridge superstructure.
39k
Sept - Dec 1966, Perseverance Harbor, Campbell Island, south of New Zealand (Photo &copy Gene Spinelli)
Gene Spinelli
ETR-2, USNR
101k
Underway. Otago Harbor, Dunedin, New Zealand. Sometime between Oct. 1965 and Feb. 1966 (From collection of Archie Cunningham RD2/USN)
66k
1983: Valletta, Malta - departing Grand Harbour
Robert Hurst
382k
undated: An overhead view of the Tunisian Naval Station at Bizerte and the letter that accompanied it regarding the final disposition of Thomas J. Gary.
Frederick Smallwood
Captain, USN (ret.)
former Gary Eng. Officer
---
Thomas J. Gary Memorabilia

Ship's Plaque
(painted)

Courtesy of
Gene Spinelli
Ship's Plaque
(unpainted)

Courtesy of
Mike Smolinski
---
Thomas J. Gary History
View the USS Thomas J. Gary (DE 326) DANFS history entry
located on the Naval History and Heritage Command web site.
---
Crew Contact And Reunion Information
---
Contact Name: Ron Day
Address: 5608 County Rt. 10 / Heuvelton NY 13654
Phone: use e-mail
E-mail: Ron Day

---
Note About Contacts
Contact information is compiled from various sources over a period of time and may, or may not, be correct. Every effort has been
made to list the newest contact. However, our entry is only as good as the latest information that's been sent to us. We list only
a contact for the ship if one has been sent to us. We do NOT have crew lists or rosters available. Please see the Frequently Asked
Questions section on Navsource's Main Page for that information.
---
Additional Resources
---
USS Thomas J. Gary Web Site
Tin Can Sailors
The U.S. Navy Memorial
Destroyer Escort Sailors Association
The Destroyer Escort Historical Museum
The Destroyer History Foundation
Tin Can Sailors Shipmate Registry - USS Thomas J. Gary
---

Comments, Suggestions, or Image Submissions, Please E-mail: DE Info
Problems or Site Related Matters, Please E-mail: Webmaster

This Page Created And Maintained by Mike Smolinski



by Paul R. Yarnall, All Rights Reserved.
Page Last Updated 03 July 2016