Please Report Any Broken Links Or Trouble You Might Come Across To The Webmaster
Please Take A Moment To Let Us Know So That We Can Correct Any Problems And Make Your Visit As Enjoyable And As Informative As Possible.
---
Navsource Online: Destroyer Escort Photo Archive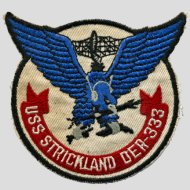 Ship's patch courtesy of Mike Smolinski

USS Strickland (DE 333)






Flag Hoist / Radio Call Sign:
N - T - M - J
---
Awards, Citations and Campaign Ribbons

Specifications:
Class: Edsall
Type: FMR (geared diesel, Fairbanks-Morse reverse gear drive, 3" guns)
Displacement: 1200 tons (light), 1590 tons (full)
Length: 300' (wl), 306' (oa)
Beam: 36' 10" (extreme)
Draft: 20' 6" (draft limit)
Propulsion: 4 Fairbanks-Morse Mod. 38d81/8 geared diesel engines, 4 diesel-generators, 6000 shp, 2 screws
Speed: 21 kts
Range: 9,100 nm @ 12 knots
Armament: 3 x 3"/50 Mk22 (1x3), 1 twin 40mm Mk1 AA, 8 x 20mm Mk 4 AA, 3 x 21" Mk15 TT (3x1), 1 Hedgehog Projector Mk10 (144 rounds), 8 Mk6 depth charge projectors, 2 Mk9 depth charge tracks
Complement: 8 / 201
---
Strickland (DE 333) Building and Operational Data:
23 August 1943: Keel laid by the Consolidated Steel Corp., Orange, Tex.
02 November 1943: Launched and christened, sponsored by Mrs. Everett Strickland
10 January 1944: Commissioned, Lcdr. A. J. Hopkins in command
15 June 1946: Decommissioned at Green Cove Springs, Fla. after 2 years and 5 months of service
29 March 1951: Towed to the Norfolk Naval Shipyard for conversion to DER
01 October 1951: Reclassified DER 333
02 February 1952: Recommissioned at Norfolk, Va., assigned to Newport, R.I. as a unit of Escort Squadron 16
July 1957: Homeport assignment changed to Pearl Harbor, Hi. after years and months of service
17 June 1959: Decommissioned after 7 years and 5 months of service
01 December 1972: Struck from the NVR with a total of 9 years and 10 months of service
13 August 1974: Sold for scrapping to the West Waterway Lumber Co., Seattle, Wash. (Bid $232,896.00 for DER 147, DER 333, and LFR 1)
---
Click On Image
For Full Size Image
Size
Image Description
Contributed
By And/Or Copyright



35k
Everett Carlton Strickland was born to Everett J. and Elizabeth (Tuttle) Strickland on 06 July 1918 in Waterport, N.Y. Prior to entering naval service he attended Lehigh University in Bethlehem, Pennsylvania. He enlisted in the United States Naval Reserve from the state of New Jersey as a seaman second class on 17 February 1941. He attended elimination flight training at Brooklyn, N.Y., and was then assigned to flight training at Jacksonville, Fla. He was promoted to ensign and assigned to active duty on 13 January 1942. Ensign Strickland served in the air scouting detachment of USS Astoria (CA 34) and participated in the Battle of the Coral Sea and the Battle of Midway before he was killed on 09 August 1942 when Astoria was sunk in the Battle of Savo Island. His body was unrecoverable and he is memorialized on the Tablets of the Missing in the Manila American Cemetery, Manila, Philippines. He was posthumously awarded the Purple Heart medal.

USS Strickland (DE 333) (1944-1959) was the first ship to be named in his honor.

(U.S. Naval Historical Center photo #NH 85951 from the Naval History and Heritage Command)
Mike Smolinski
Clifton, N.J.

Navsource Archive Manager
DE / FF / LCS Archive
152k
The cake cutting for the 1952 anniversary of USS Strickland. Guests are presumed to be Mr. and Mrs. Everett J. Strickland, parents of the ship's namesake.

(U.S. Naval Historical Center photo #NH 85953 from the Naval History and Heritage Command)
217k
Summer 1957: preparing for high-line transfer.

(All Three Photos &copy Jim Young), as DER 333
Jim Young
ETR2
179k
182k
535k
02 Oct. 1958: Pearl Harbor, Hi. - Radar picket escort ship USS Strickland (DER 333) underway at Pearl Harbor.

(U.S. Navy National Archives photo #USN 1078644 from the Naval History and Heritage Command)
Pete Schonenberg
Commander, USN (ret.)
XO/Nav '59 - '60
via Bob Hall
---
Strickland History
View the USS Strickland (DE 333) DANFS history entry located on the Naval History and Heritage Command web site.
View the official War History of USS Strickland as submitted by the ship at war's end.
---
Strickland's Commanding Officers
Thanks to Wolfgang Hechler
Dates of Command
Commanding Officers
1.) 10 Jan. 1944 – 03 Mar. 1945
Lcdr. Arthur James Hopkins, USNR (Comm. CO)
2.) 03 Mar. 1945 – 26 Nov. 1945
Lt./Lcdr. Thomas H. Baird Jr., USNR
3.) 26 Nov. 1945 – 24 Apr. 1946
Lcdr. Herbert Charles Hawkins, USN
4.) 24 Ap5r. 1946 – 01 May 1946
Lt.(jg) Curtis R. Coleman, USNR
5.) 01 May 1946 – 15 Jun. 1946
Lt.(jg) R. A. Weckstrom, USNR (Decomm. CO)
6.) no date
Lcdr. John Wesley Logan, USN (USNA '43)
7.) .. Jun. 1955 - .. Oct. 1956
Lcdr. Harold Raymond (Red) Youman Jr.
8.) .. Oct. 1956 -
Lcdr. Wayne Eugene Meyer (ret. as Radm.)
9.) 1959 – 17 Jun. 1959
Cmdr. Robert Holmes Robeson Jr. (Decomm. CO) (USNA '46) (Rochester, N.Y.)
---
Crew Contact And Reunion Information
---
Contact Name: Al Trey
Address: 1 Shadow Lane
City/State: Ormond Beach FL 32174
E-mail: Al Trey
Alternate Contact Name: Joel Weinstein
E-mail: Joel Weinstein
---
Note About Contacts
Contact information is compiled from various sources over a period of time and may, or may not, be correct. Every effort has
been made to list the newest contact. However, our entry is only as good as the latest information that's been sent to us. We list
only a contact for the ship if one has been sent to us. We do NOT have crew lists, rosters, or deck logs available. Please see the
Frequently Asked Questions section on NavSource's Main Page for that information.
---
Additional Resources
---
Tin Can Sailors
The U.S. Navy Memorial
Destroyer Escort Sailors Association
The Destroyer Escort Historical Museum
The Destroyer History Foundation
Tin Can Sailors Shipmate Registry - USS Strickland
---

Comments, Suggestions, E-mail: Webmaster.



This Page Created And Maintained By Mike Smolinski



by Paul R. Yarnall, All Rights Reserved.
Page Last Updated: 22 May 2020