Please Report Any Broken Links Or Trouble You Might Come Across To The Webmaster
Please Take A Moment To Let Us Know So That We Can Correct Any Problems And Make Your Visit As Enjoyable And As Informative As Possible.
---
Navsource Online: Destroyer Escort Photo Archive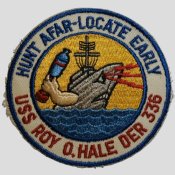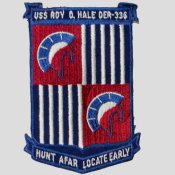 Right Ship's patch courtesy of Bob Costanzo,
Remainder of Courtesy of Mike Smolinski

USS Roy O. Hale (DE 336)





Flag Hoist / Radio Call Sign:
N - H - E - G
Tactical Voice Radio Call: "Pocatello"

---
Awards, Citations and Campaign Ribbons

Specifications:
Class: Edsall
Type: FMR (geared diesel, Fairbanks-Morse reverse gear drive, 3" guns)
Displacement: 1200 tons (light), 1590 tons (full)
Length: 300' (wl), 306' (oa)
Beam: 36' 10" (extreme)
Draft: 20' 6" (draft limit)
Propulsion: 4 Fairbanks-Morse Mod. 38d81/8 geared diesel engines, 4 diesel-generators, 6000 shp, 2 screws
Speed: 21 kts
Range: 9,100 nm @ 12 knots
Armament: 3 x 3"/50 Mk22 (1x3), 1 twin 40mm Mk1 AA, 8 x 20mm Mk 4 AA, 3 x 21" Mk15 TT (3x1), 1 Hedgehog Projector Mk10 (144 rounds), 8 Mk6 depth charge projectors, 2 Mk9 depth charge tracks
Complement: 8 / 201
---
Roy O. Hale (DE 336) Building and Operational Data:
13 September 1943: Keel laid at the Consolidated Steel Corp., Orange, Tex.
20 November 1943: Launched and christened, sponsored by Mrs. Roy O. Hale, mother of Lieutenant (junior grade) Hale
3 February 1944: Commissioned, Lcdr William W. Bowie, USNR, in command
11 July 1946: Decommissioned at Green Cove Springs, Fla.
21 October 1955: Reclassified and converted to DER 336 at the Boston Naval Shipyard
29 January 1957: Recommissioned, assigned to Atlantic Barrier Patrol duty based at Newport, R.I.
15 July 1963: Decommissioned
1 August 1974: Stricken from the NVR
1 April 1975: Sold for scrapping to the Union Metals and Alloys Corp., Baltimore, Md
---
Click On Image
For Full Size Image
Size
Image Description
Contributed
By And/Or Copyright
52k
Roy Orestus Hale, Jr. was born on 10 May 1916 in Monroe, La. He graduated from the Naval Academy and was commissioned ensign on 2 June 1938. After a year at sea, Hale underwent aviation training at Pensacola, Miami, and San Diego and on 21 June 1941, joined Scouting Squadron 2 on board Lexington (CV 2). Promoted to lieutenant (junior grade) in October, he remained on board that carrier after the United States entered World War II. He participated in the Pacific raids of February and March 1942 and flew his scout plane in the Battle of the Coral Sea, 7-8 May. Failing to return from that mission, Hale was presumed killed in action and was posthumously awarded the Distinguished Flying Cross for extraordinary achievement in aerial combat and his " ... courageous determination and aggressiveness ... attacking enemy aircraft in spite of fierce fighter opposition."

USS Roy O. Hale (DE 336) (1944-1963) was the first ship to be named in his honor.

(Photo from the U.S. Naval Academy Yearbook; The Lucky Bag, Class of 1938. )
Bill Gonyo
87k
As DER 336, undated
Robert G. Lacey, RM3
139k
1958: Savannah, Ga. - taken while on a port visit
Lon Finnerty
197k
26 February 1959: at sea - photo caption... WAP-022608-2 2/26/59 Washington: File photo of the U.S.S. Roy Hale, a radar picket vessel equipped with the last anti-submarine and electronics equipment, which has been sent to the North Atlantic "to investigate the interruption of transatlantic cable service." 2/26 The Navy, which had issued the report, had no comment on a radio broadcast saying it was investigating the possibility of recently laid cables having been cut by Russian fishing boats, UNITED PRESS INTERNATIONAL TELEPHOTO FROM DEFENSE DEPT, rtf
Tommy Trampp
133k
27 February 1959: New York Mirror news clipping - Although primarily employed in the early warning program, Hale was called on to invoke an 1884 treaty for the protection of international submarine cables in February 1959. On the 26th, she sent a party aboard the Russian trawler Novorossisk to investigate reports from the American Telephone & Telegraph and Western Union companies that breaks had occurred in five transatlantic cables along the track of the trawler. There were no indications of intentions "other than fishing."
Lon Finnerty
153k
early 1960's: Newport, R.I. - Roy O. Hale lies tied up in her homeport between USS Rhodes (DER 384) and USS Hissem (DER 400)
150k
1962: Ft. Lauderdale, Fla. - on a port visit
---
Roy O. Hale Memorabilia

Ship's Lighter

Courtesy of
Mike Smolinski
Ship's Plaque

Courtesy of
Lon Finnerty
---
View the USS Roy O. Hale (DE 336) DANFS history entry
located on the Naval History and Heritage Command web site.

---
Crew Contact And Reunion Information
---
2013 Reunion
23 - 25 September 2013 at Charleston, S.C.

---
Reunion Contact
Contact Name: Simona Robinson
Address: 24 Collins Brook Road / Meridith NH 03252
Phone: (603) 867-2023
or
USS Roy O. Hale Association
Contact Name: Ervin Stahl (Newsletter Editor)
Address: 1130 Haslett Road / Haslett MI 48840-9778
E-mail: E. Stahl

---
Note About Contacts
Contact information is compiled from various sources over a period of time and may, or may not, be correct. Every effort has been
made to list the newest contact. However, our entry is only as good as the latest information that's been sent to us. We list only
a contact for the ship if one has been sent to us. We do NOT have crew lists or rosters available. Please see the Frequently Asked
Questions section on Navsource's Main Page for that information.
---
Additional Resources
---
Destroyer Escort Sailors Association
Tin Can Sailors Shipmate Registry - USS Roy O. Hale
The Destroyer History Foundation
Military.com - Roy O. Hale page
---

Comments, Suggestions, or Image Submissions, Please E-mail: DE Info
Problems or Site Related Matters, Please E-mail: Webmaster

This Page Created And Maintained by Mike Smolinski



by Paul R. Yarnall, All Rights Reserved.
Page Last Updated 18 June 2015