Please Report Any Broken Links Or Trouble You Might Come Across To The Webmaster
Please Take A Moment To Let Us Know So That We Can Correct Any Problems And Make Your Visit As Enjoyable And As Informative As Possible.
---
Navsource Online: Destroyer Escort Photo Archive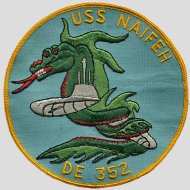 Ship's patch courtesy of Mike Smolinski
Ship's name tab courtesy of Al Grazevich

USS Naifeh (DE 352)





Flag Hoist / Radio Call Sign:
N - T - F - I
---
Awards, Citations and Campaign Ribbons

Specifications:
Class: John C. Butler
Type: WGT (geared-turbine drive, 5" guns)
Displacement: 1350 tons (light), 1745 tons (full)
Length: 300' (wl), 306' (oa)
Beam: 36' 10" (extreme)
Draft: 11' 0" (draft limit)
Propulsion: 2 "D" Express boilers, 2 geared turbine engines, 12,000 shp, 2 screws
Speed: 24 kts
Range: 6,000 nm @ 12 knots
Armament: 2 - 5"/38 cal. DP guns (2x1), 4 - 40mm AA (2x2), 10 - 20mm AA, 3 - 21" TT, 1 Mk10 Hedgehog, 8 Mk6 Depth Charge Projectors, 2 Mk9 Depth Charge Stern Racks
Complement: 14 / 201
---
Naifeh (DE 352) Building and Operational Data:
29 December 1943: Keel laid at the Consolidated Steel Corp., Orange, Tex.
29 February 1944: Launched and christened, sponsored by Mrs. Rathia Naifeh, mother of Lt.(j.g.) Naifeh
04 July 1944: Commissioned, Lt. J. S. Albert in command
27 June 1946: Decommissioned at San Diego, Cal.
26 January 1951: Recommissioned
17 June 1960: Decommissioned at San Francisco, Cal.
01 January 1966: Struck from the NVR
11 July 1966: Sunk as target off San Clemente Island, Cal. by Naval gunfire and aircraft
---
Click On Image
For Full Size Image
Size
Image Description
Contributed
By And/Or Copyright
46k
Alfred Naifeh was born in Covington, Tenn. to a Lebanese family on 5 January 1915 and grew up in Norman, Oklahoma. He graduated from the University of Oklahoma with a law degree in 1940 and served as law clerk for Federal Judge Alfred P. Murrah in Oklahoma City. After completing his training in the Reserve Officers Training Corps program he received his commission as an Ensign on 5 July 1941. He reported on board the USS Meredith as Destroyer Division Disbursing Officer, 27 February 1942. He was promoted to Lieutenant (j.g.) 01 October 1942. After Meredith sank in the Battle of the Solomons, Lt. Naifeh worked for two days and nights keeping wounded and exhausted survivors on life rafts. As a result of his continuing valiant efforts to save his shipmates, he was completely overcome by exhaustion after fighting off shark attacks, which ultimately resulted in his death 16 October 1942. For his devotion to duty and courage, Lt. Naifeh was posthumously awarded the Navy and Marine Corps Medal as well as a Purple Heart. Two years later, the U.S. Navy named the destroyer escort in his honor.

USS Naifeh (DE 352) (1944-1960) was the first ship to be named in his honor.

(Images courtesy of the University of Oklahoma)
Bill Gonyo
106k
undated wartime image
-
82k
26 January 1951: San Diego, Cal. - The crew of USS Naifeh (DE 352) salutes the National Ensign as Naifeh is recommissioned for Korean War service. Her Commanding Officer is Lcdr Cornelius J. Smits. Escort Ships (DE) and Fast Transports (APD) laid up in reserve in the background are (from left to right):
USS Cook (APD 130); USS Blessman (APD 48); USS Gosselin (APD 126); USS Gantner (APD 42); USS Dufilho (DE 423); USS Eugene E. Elmore (DE 686); USS William C. Cole (DE 641); USS Metivier (DE 582); USS McNulty (DE 581); USS Thomason (DE 203); USS Peiffer (DE 588); and two unidentified ships at far right. .
-
114k
Naifeh in the early 1950s. Note clear fantail for after 5"/38 gun, one set only of depth charge rails. Lower trunked funnel of this class is clearly visible. No 20 mm Oerlikons are fitted, newer type of radar aerial. (Photo from Real Photographs) (Photo and text taken from "American Destroyer Escorts of World War 2" by Peter Elliott).
Robert Hurst
117k
September 1957: San Francisco Bay (&copy Allied Photographers, San Francisco, Cal.)
Robert M. Cieri
77k
1958: San Francisco Bay (&copy Allied Photographers, San Francisco, Cal.)
120k
September 1958: Treasure Island, Cal. - USS Yarnall (DD 541) and Naifah moored together at the Treasure Island Naval Station. You can see the San Francisco-Oakland Bay Bridge in the background. (Photo &copy Roy Preston)
Roy Preston
USS Yarnall ('56-'58)
195k
circa early 1960's: location unknown
Nick Tiberio
---
View the USS Naifeh (DE 352) DANFS history entry
located on the Naval History and Heritage Command web site.
---
Crew Contact And Reunion Information
---
Naifeh is having annual reunions
Contact Name: John Downes
Address: 613 Del Mar Drive / Champaign IL 61822-2330
Phone: (217) 352-7529
or
Contact Name: Frank McKernan, Treasurer.
E-mail: frankm31@pon.net or fnlmcmail@pon.net

---
Note About Contacts
Contact information is compiled from various sources over a period of time and may, or may not, be correct. Every effort has been
made to list the newest contact. However, our entry is only as good as the latest information that's been sent to us. We list only
a contact for the ship if one has been sent to us. We do NOT have crew lists or rosters available. Please see the Frequently Asked
Questions section on Navsource's Main Page for that information.
---
Additional Resources
---
Tin Can Sailors
Destroyer Escort Sailors Association
The Destroyer Escort Historical Museum
The Destroyer History Foundation
Tin Can Sailors Shipmate Registry - USS Naifeh
---

Comments, Suggestions, or Image Submissions, Please E-mail: DE Info
Problems or Site Related Matters, Please E-mail: Webmaster

This Page Created And Maintained by Mike Smolinski



by Paul R. Yarnall, All Rights Reserved.
Page Last Updated 09 June 2016