Please Report Any Broken Links Or Trouble You Might Come Across To The Webmaster
Please Take A Moment To Let Us Know So That We Can Correct Any Problems And Make Your Visit As Enjoyable And As Informative As Possible.
---
Navsource Online: Destroyer Escort Photo Archive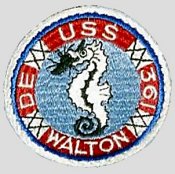 Ship's patches courtesy of Mike Smolinski
USS Walton (DE 361)





Flag Hoist / Radio Call Sign:
N - T - O - U
Tactical Voice Radio Call: "Otis"

---
Awards, Citations and Campaign Ribbons

Specifications:
Class: John C. Butler
Type: WGT (geared-turbine drive, 5" guns)
Displacement: 1350 tons (light), 1745 tons (full)
Length: 300' (wl), 306' (oa)
Beam: 36' 10" (extreme)
Draft: 11' 0" (draft limit)
Propulsion: 2 "D" Express boilers, 2 geared turbine engines, 12,000 shp, 2 screws
Speed: 24 kts
Range: 6,000 nm @ 12 knots
Armament: 2 - 5"/38 cal. DP guns (2x1), 4 - 40mm AA (2x2), 10 - 20mm AA, 3 - 21" TT, 1 Mk10 Hedgehog, 8 Mk6 Depth Charge Projectors, 2 Mk9 Depth Charge Stern Racks
Complement: 14 / 201
---
Walton (DE 361) Building and Operational Data:
21 March 1944: Keel laid at the Consolidated Steel Corp., Orange, Tex.
20 May 1944: Launched and christened, sponsored by Mrs. Clara Olson, the mother of the late Sergeant Walton
4 September 1944: Commissioned, Lcdr Wilbur S. Wills, Jr., in command
31 May 1946: Decommissioned at San Diego, Cal.
26 January 1951: Recommissioned at San Diego, Cal., Lcdr John D. Brink in command
4 November 1951: Homeport reassigned to Pearl Harbor as a unit of CortDiv 92 (with DE's 440, 699, and 700)
20 July 1958: Assigned to NRT, 12th Naval District at San Francisco, Cal. as a unit of Reserve CortDiv 12
1 October 1961: Activated for the Berlin Crisis, reassigned to Pearl Harbor
1 August 1962: Returned to San Francisco, deactivated, returned to the NRT Program as a unit of ResDesRon 27
20 September 1968: Decommissioned
23 September 1968: Struck from the NVR
7 August 1969: Sunk as target off California
---
Click On Image
For Full Size Image
Size
Image Description
Contributed
By And/Or Copyright
41k
20 May 1944: Orange, Tex. - Walton being side-launched.
Nick Tiberio
60k
undated (1950's)
-
419k
circa 1962: Pearl Harbor, Hi. - An official U.S. Navy photo of Walton passing Hospital Point at Pearl Harbor.
Ken W. Sayers
Lt., USNR
471k
circa 1962: off the coast of Pearl Harbor - An official U.S. Navy photo of Walton at sea. This photo and the one prior were probably taken during Walton's last deployment to the Pacific.
202k
3 October 1965: Alameda, Cal. - Walton in drydock during an overhaul at Todd Shipyard.
156k
1 February 1966: Treasure Island, Cal. - Walton moored at Treasure Island Naval Station, pier 14N.
138k
28 August 1966: Treasure Island, Cal. - Walton returning to Pier 14N after Cruise 8E-RC to San Diego.
172k
198k
December 1966: Treasure Island, Cal. - Walton breasting out from Pier 14N.
162k
7 May 1967: San Francisco Bay - Walton serving as the flagship for San Francisco's annual Blessing of the Fleet event in Racoon Strait. Note the Mk 32 torpedo tubes near the stack, which had been installed only a week earlier.
306k
305k
7 May 1967: San Francisco Bay - Pleasure boats inspecting Walton while she served as the flagship for the Blessing of the Fleet festival in Racoon Strait.
224k
---
View the USS Walton (DE 361) DANFS history entry
located on the Naval History and Heritage Command web site.
---
Crew Contact And Reunion Information
---
Next Reunion:
25 September 2013 at Portland, Ore.

---
Contact: Jerry and Mary Hudson
Address: 4750 Co Road 480 / Tebbetts MO 65080
Phone: (573) 291-1922
E-mail: marjer67 at ktis.net

---
Note About Contacts
Contact information is compiled from various sources over a period of time and may, or may not, be correct. Every effort has been
made to list the newest contact. However, our entry is only as good as the latest information that's been sent to us. We list only
a contact for the ship if one has been sent to us. We do NOT have crew lists or rosters available. Please see the Frequently Asked
Questions section on Navsource's Main Page for that information.
---
Additional Resources
---
Ed Whitehead's USS Walton Web Site
Destroyer Escort Sailors Association
Tin Can Sailors Shipmate Registry - USS Walton
The Destroyer History Foundation
---

Comments, Suggestions, or Image Submissions, Please E-mail: DE Info
Problems or Site Related Matters, Please E-mail: Webmaster

This Page Created And Maintained by Mike Smolinski



by Paul R. Yarnall, All Rights Reserved.
Page Last Updated 15 May 2013