Please Report Any Broken Links Or Trouble You Might Come Across To The Webmaster
Please Take A Moment To Let Us Know So That We Can Correct Any Problems And Make Your Visit As Enjoyable And As Informative As Possible.
---
Navsource Online: Destroyer Escort Photo Archive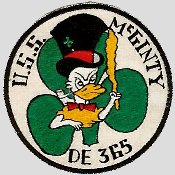 Ship's patches courtesy of Mike Smolinski

USS McGinty (DE 365)





Flag Hoist / Radio Call Sign:
N - H - T - V
Tactical Voice Radio Call: "Bel Air"

---
Awards, Citations and Campaign Ribbons

Specifications:
Class: John C. Butler
Type: WGT (geared-turbine drive, 5" guns)
Displacement: 1350 tons (light), 1745 tons (full)
Length: 300' (wl), 306' (oa)
Beam: 36' 10" (extreme)
Draft: 11' 0" (draft limit)
Propulsion: 2 "D" Express boilers, 2 geared turbine engines, 12,000 shp, 2 screws
Speed: 24 kts
Range: 6,000 nm @ 12 knots
Armament: 2 - 5"/38 cal. DP guns (2x1), 4 - 40mm AA (2x2), 10 - 20mm AA, 3 - 21" TT, 1 Mk10 Hedgehog, 8 Mk6 Depth Charge Projectors, 2 Mk9 Depth Charge Stern Racks
Complement: 14 / 201
---
McGinty (DE 365) Building and Operational Data:
3 May 1944: Keel laid at the Consolidated Steel Corp., Orange Tex.
5 August 1944: Launched and christened, sponsored by Mrs. Perrillah Atkinson Malone
25 September 1944: Commissioned at Orange, Tex, Lcdr William H. Harrison in command
15 January 1947: Decommissioned at San Diego, Cal.
28 March 1951: Recommissioned at San Diego, Lcdr Frederick W. Pennoyer in command
19 September 1959: Decommissioned at Portland, Or., assigned to ResCortDiv 13, placed "In Service" as a Group II unit of the Select Reserve ASW Force
25 August 1961: Mobilized by Presidential order for the Berlin Crisis
2 October 1961: Recommissioned for the Berlin Crisis, Cdr Jerome E. Aakhus in command
1 August 1962: Decommissioned and placed back "in service", resumed NRT duties at Portland, Or.
23 September 1968: Placed "Out of Service" at the Inactive Ship Maintenance Facility, Bremerton, Wash.
23 September 1968: Struck from the NVR
27 October 1969: Sold for scrapping
---
Click On Image
For Full Size Image
Size
Image Description
Contributed
By And/Or Copyright
12k
Franklin Alexander McGinty, born 22 November 1911 in Atlanta, Ga., enlisted in the U.S. Naval Reserve 17 August 1942 and joined Plymouth (PG 57) 1 January 1943 for duty as soundman third class. On 5 August the gunboat was hit by a torpedo as she prepared to depth charge U-566 off Cape Charles. Despite raging fires, McGinty entered the ship's magazine where he attempted to rescue a trapped shipmate. He, too, was trapped by the flames and was unable to escape before Plymouth sank. For extraordinary heroism without regard for his own safety, McGinty was awarded the Navy Cross posthumously.

Citation: "The President of the United States takes pride in presenting the Navy Cross (Posthumously) to Franklin Alexander McGinty, Soundman Third Class, U.S. Navy (Reserve), for extraordinary heroism and devotion to duty while serving on board the River Gunboat USS Plymouth (PG 57), during and after the sinking of that vessel through enemy action near Cape Henry, along the United States' Atlantic coast, on 5 August 1943. When an enemy torpedo crashed into the Plymouth amidships, causing devastating fires and extensive damage, Soundman Third Class McGinty unhesitatingly risked his life in behalf of his endangered shipmates. In a courageous attempt to rescue a man known to be trapped in the ship's flaming armory, he entered the compartment and was himself trapped, thereby losing his life. The conduct of Soundman Third Class McGinty throughout this action reflects great credit upon himself, and was in keeping with the highest traditions of the United States Naval Service. He gallantly gave his life for his country." Bureau of Naval Personnel Information Bulletin No. 324 (March 1944).

USS McGinty (DE 365) (1944-1968) was the first ship to be named in his honor.


Bill Gonyo
315k
Top Photo-

26 August 1955: San Diego, Cal. - Photo taken by USS Prairie (AD 15) for the ComCruDesPac Public Information Office. (U.S. Navy photo)

Bottom Photo-

1959: San Diego, Cal. - This photo was bought at the San Diego Navy YMCA where one could buy ship's photos. I am standing in the bow with my shipmates, I remember the helicopter coming around that day. We were in San Diego in 1959 so that is the year of the photo. We were in San Diego having arrived from Hawaii via Seattle, in preparation for becoming a reserve ship in Portland. In San Diego I attended ECM school and I remember across the pier from us they were shooting a movie about a submarine, the scene we saw was about the Navy bus hooking on to a car and towing it along.

I was on the McGinty from 1956 to 1959, in Hawaii. In the Summers we patrolled the Trust Territory and were involved in the Taiwan Straits actions and the Quemoy Matsu affair taking convoys in under fire. I have been on a number of islands in the Pacific and recently have been reading a book A Handful of Emeralds written by the Captain of USS Hanna (DE 449), one of the ships patrolling before us in 1953-54. The book details the islands and the patrols and is the same as we had done. (Photo probably taken by Marine Photos and Publishing of San Diego, Cal.)
Ron Carbis, ET1
USS McGinty, 1956-1959
353k
1.0 Mb
18 July 1959: loc. unknown - A linehandling party prepares to tie up McGinty as she approaches her mooring. (An Alan J. de Long staff photo)
Randle M. Biddle
382k
30 July 1965: Vancouver, British Columbia, Canada - USS McGinty (DE 365) off Vancouver, preparing to moor. (Photograph by Walter E. Frost) (Photo #AM1506-S3-3-: CVA 447-5793 from the City of Vancouver Archives)
Mike Green
---
View the USS McGinty (DE 365) DANFS history entry
located on the Naval History and Heritage Command web site.

---
Crew Contact And Reunion Information
---
Contact Name: David W. Bogner
Address: 1415 N.E. Arrington Road / Hillsboro OR 97124-2614
E-mail: D.W. Bogner

---
Note About Contacts
Contact information is compiled from various sources over a period of time and may, or may not, be correct. Every effort has been
made to list the newest contact. However, our entry is only as good as the latest information that's been sent to us. We list only
a contact for the ship if one has been sent to us. We do NOT have crew lists, rosters, or deck logs available. Please see the Frequently
Asked Questions section on NavSource's Main Page for that information.
---
Additional Resources
---
USS McGinty Web Site
Destroyer Escort Sailors Association
The Destroyer Escort Historical Museum
Tin Can Sailors Shipmate Registry - USS McGinty
The Destroyer History Foundation
---

Comments, Suggestions, or Image Submissions, Please E-mail: DE Info
Problems or Site Related Matters, Please E-mail: Webmaster

This Page Created And Maintained by Mike Smolinski



by Paul R. Yarnall, All Rights Reserved.
Page Last Updated 09 February 2016