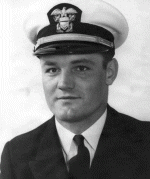 37k
James Arnold Shelton was born in Denton, Judith Basin County, Mont., on 20 September 1916, to John H. and Anice L. (Cady) Shelton. After graduating from high school in 1934, Shelton attended what was then Montana State University (presently the University of Montana) in Missoula. He was working on a Master's degree in early 1941, when he decided to join the U.S. Navy. During the first week of January 1941, Shelton took a train to Seattle, Wash., and on 15 January, he enlisted in the USN. In February, he traveled to Naval Air Station, Pensacola, Fla., for officer training and on 20 March, he was appointed as an aviation cadet and underwent training at Pensacola and San Diego, Calif. Commissioned as an ensign, A-V(N), USNR, in October 1941, Shelton was assigned to Scouting Squadron 6 (VS-6) on board the aircraft carrier Enterprise (CV-6) on 17 April 1942.

On 04 June 1942, as the Battle of Midway got underway, Ens. Shelton, with RM3c David W. Craig as radioman-gunner, took off from Enterprise in their Douglas SBD-3 Dauntless dive bomber with the rest of the carrier's air group in search of the Japanese fleet. After locating the Japanese carriers Kaga and Akagi, Enterprise's planes initiated a full-scale attack, while SBDs from Yorktown (CV-5) attacked Soryu. Ens. Shelton (in S-6) and Ens. Frank W. O'Flaherty, A-V(N) (in S-5) flew in VS-6's third division, led by Lt. Charles R. Ware (in S-4), a seasoned veteran, who led them in a dive bombing run west of Kaga. Pulling out of their dives, the pilots of VS-6's third division found themselves flying through the inner screen of the Japanese fleet with a sky full of Mitsubishi A6M2 Type 0 fighters. Lt. Ware formed a section with Ens. Shelton and Ens. Carl D. Peiffer, A-V(N), the latter from VS-6's second division, as his wingmen. Ens. John R. McCarthy, A-V(N), like Peiffer from the second division, then joined up, taking Ens. O'Flaherty from the original third division, and Ens. John C. Lough, A-V(N), from the second and formed a second section. Ware led them close to the water denying Japanese fighters the opportunity to press home their attacks on the SBD's unprotected bellies. Ammunition and fuel began running dangerously low, but after a 12-15 minute running fight, Ware's ad hoc division managed to clear the Japanese screen.

Having managed to circle northeast of the Japanese carrier battle group [Kido Butai] Lt. Ware and his division had just set a homeward course when they sighted a group of attack planes from Hiryu, led by Lt. Kobayashi Mitsuo. Lt. Shigematsu Yasuhiro, commanding the escort, misidentified the SBDs as torpedo bombers and got permission to engage them, expecting to make short work of them. At about that time, Ens. O'Flaherty, his fuel tanks having been holed in the earlier action, had to ditch, with the pilot and his radio-gunner, AMM2c Bruno P. Gaido, taking to their rubber boat. Meanwhile, Ware and Shelton, McCarthy, Peiffer and Lough again took their SBDs down close to the water, thwarting the Japanese fighter pilots' ability to execute an effective attack. After a 20-minute engagement, the Japanese broke off the fight, fire from the five radiomen-gunners having damaged two of Shigematsu's escorting Zeros and forced them to return to their carrier.

Running dangerously low on fuel, Lt. Ware and Ens. John R. McCarthy debated the best way to return home using hand signals. Unable to agree, as Ens. McCarthy thought Lt. Ware was attempting to go too far north, they split up. Ens. Shelton and Ens. Peiffer remained with Lt. Ware while Ens. McCarthy became separated from his wingman, Ens. Lough. McCarthy made it back to safety, reaching Yorktown's vicinity, where the destroyer Hammann (DD 412) rescued him and his radio-gunner. Ens. O'Flaherty and AMM2c Gaido were rescued by the Japanese destroyer Makigumo, only to be interrogated, then murdered in cold blood. As was the case with Lt. Ware and Ensigns Peiffer and Lough, and the enlisted radiomen-gunners who rode with them, it remains unknown exactly how Ens. Shelton's plane (BuNo 03225) went down but as he and RM3c Craig were never seen again, they were later declared dead.

For his heroism and devotion to duty while participating in the devastating assault that repelled the Japanese invasion fleet off Midway, as well their gallant fight as they retired from the vicinity of the Kido Butai, Ens. Shelton was posthumously awarded the Navy Cross.

USS Shelton (DE 407) (April - October 1944) was the first ship to be named in his honor, she was succeeded by DD 790 (1946-1973).

Photo provided by Candy Nelson / Diane Baker, thanks to Joel Shepard of the USS Enterprise CV 6 Website
Bill Gonyo
Downey, Cal.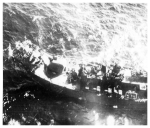 227k
03 October 1944: The bent fantail of Shelton. After being torpedoed, she was taken under tow by an escorting destroyer escort, but she foundered, capsized, and sank.

(Photo from the action report of USS Midway (CVE 63), Morotai Invasion)

Byron is the author of two books, The Defenders of Taffy 3: Color Edition: Analysis and Retelling of the Battle of Leyte Gulf and The Raiders of Taffy 3: Abridged Translation of the IJN Action Reports. Both are available at Amazon.com.
Byron Como
Baton Rouge, La.