Please Report Any Broken Links Or Trouble You Might Come Across To The Webmaster
Please Take A Moment To Let Us Know So That We Can Correct Any Problems And Make Your Visit As Enjoyable And As Informative As Possible.
---
Navsource Online: Destroyer Escort Photo Archive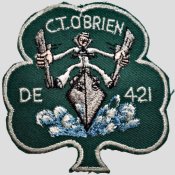 Ship's patch courtesy of Mike Smolinski

USS Chester T. O'Brien (DE 421)





Flag Hoist / Radio Call Sign:
N - H - W - G

---
Awards, Citations and Campaign Ribbons

Specifications:
Class: John C. Butler
Type: WGT (geared-turbine drive, 5" guns)
Displacement: 1350 tons (light), 1745 tons (full)
Length: 300' (wl), 306' (oa)
Beam: 36' 10" (extreme)
Draft: 11' 0" (draft limit)
Propulsion: 2 "D" Express boilers, 2 geared turbine engines, 12,000 shp, 2 screws
Speed: 24 kts
Range: 6,000 nm @ 12 knots
Armament: 2 - 5"/38 cal. DP guns (2x1), 4 - 40mm AA (2x2), 10 - 20mm AA, 3 - 21" TT, 1 Mk10 Hedgehog, 8 Mk6 Depth Charge Projectors, 2 Mk9 Depth Charge Stern Racks
Complement: 14 / 201
---
Chester T. O'Brien (DE 421) Building and Operational Data:
21 January 1944: Keel laid by the Brown Shipbuilding Co., Houston, Tex.
29 February 1944: Launched and christened, sponsored by Mrs. J. Edington, sister of Platoon Sergeant O'Brien
3 July 1944: Commissioned, Lcdr R. D. White, USNR, in command
2 July 1946: Decommissioned at San Diego, Cal.
28 March 1951: Recommissioned at San Diego, Cal.
22 June 1951: Homeport assignment changed to Newport, R.I.
5 September 1958: Assigned to NRT, 3rd Naval District at New York City
21 February 1959: Decommissioned, status changed to "In Service", NRT assignment continued
25 May 1960: Placed "Out of Service, In Reserve" at Bayonne, N.J.
1 July 1972: Stricken from the NVR
4 April 1974: Sold for scrapping
---
Click On Image
For Full Size Image
Size
Image Description
Contributed
By And/Or Copyright
2kb
late summer or early fall 1952, entering Havana, Cuba
Louis O. Schulte; Lt(jg) (Ret.)
July 1952 to January 1954.
CIC Officer & later Chief Engineer
214k
Summer 1953: Copenhagen, Denmark - Four destroyer escorts make a Scandinavian port visit during a North Atlantic Midshipman Cruise. From left to right: USS Raymond (DE 341), USS Melvin R. Nawman (DE 416), and USS Chester T. O'Brien (DE 421), with a fourth unidentified DE aft. This hoto is part of the CT-DESA exhibit which is displayed at our CT-DESA chapter events. (Photo from the Nick Palermo Collection)
John N. Adriani
---
View the USS Chester T. O'Brien (DE 421) DANFS history entry
located on the Naval History and Heritage Command web site.

---
None
---
Note About Contacts
Contact information is compiled from various sources over a period of time and may, or may not, be correct. Every effort has been
made to list the newest contact. However, our entry is only as good as the latest information that's been sent to us. We list only
a contact for the ship if one has been sent to us. We do NOT have crew lists or rosters available. Please see the Frequently Asked
Questions section on Navsource's Main Page for that information.
---
Additional Resources
---
Destroyer Escort Sailors Association
Tin Can Sailors Shipmate Registry - USS Chester T. O'Brien
The Destroyer History Foundation
---

Comments, Suggestions, or Image Submissions, Please E-mail: DE Info
Problems or Site Related Matters, Please E-mail: Webmaster

This Page Created And Maintained by Mike Smolinski



by Paul R. Yarnall, All Rights Reserved.
Page Last Updated 22 October 2015