Please Report Any Broken Links Or Trouble You Might Come Across To The Webmaster
Please Take A Moment To Let Us Know So That We Can Correct Any Problems And Make Your Visit As Enjoyable And As Informative As Possible.
---
Navsource Online: Destroyer Escort Photo Archive
USS Corbesier (DE 438)





Flag Hoist / Radio Call Sign:
N - K - N - T
---
Awards, Citations and Campaign Ribbons

Specifications:
Class: John C. Butler
Type: WGT (geared-turbine drive, 5" guns)
Displacement: 1350 tons (light), 1745 tons (full)
Length: 300' (wl), 306' (oa)
Beam: 36' 10" (extreme)
Draft: 11' 0" (draft limit)
Propulsion: 2 "D" Express boilers, 2 geared turbine engines, 12,000 shp, 2 screws
Speed: 24 kts
Range: 6,000 nm @ 12 knots
Armament: 2 - 5"/38 cal. DP guns (2x1), 4 - 40mm AA (2x2), 10 - 20mm AA, 3 - 21" TT, 1 Mk10 Hedgehog, 8 Mk6 Depth Charge Projectors, 2 Mk9 Depth Charge Stern Racks
Complement: 14 / 201
---
Corbesier (DE 438) Building and Operational Data:
4 November 1943: Keel laid at the Federal Shipbuilding and Drydock Co., Kearny, N.J.
13 February 1944: Launched and christened, sponsored by Mrs. G. V. Stewart
31 March 1944: Commissioned at the New York Navy Yard, Lcdr. W. B. Porter in command
02 July 1946: Decommissioned at San Diego, Cal. after 2 years and 3 months of service
01 December 1972: Struck from the NVR
03 December 1973: Sold for scrapping
---
Click On Image
For Full Size Image
Size
Image Description
Contributed
By And/Or Copyright
122k
Undated Wartime Images
Steven Mortenson
Corbesier Historian
(son of crewmember Stanley Mortenson)
206k
242k
Undated Wartime Image
Nick Tiberio
Shelton, Conn.
151k
27 May 1944: the East River, New York Harbor - USS Corbesier (DE 438) in Measure 31/22d camouflage scheme off the New York Navy Yard two months after being commissioned. She had been in the Yard for post-shakedown availability from 20 to 27 May, when she shifted her berth to Pier 35 of the Brooklyn Navy Yard Annex for resupply.
(U.S. Naval Historical Center photo #L45-64.04.01 from the Naval Subjects Collection, Naval History and Heritage Command)
Mike Green
Port Angeles, Wash.
---
Corbesier
Memorabilia
Launch
Button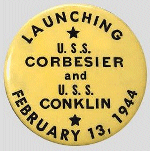 Courtesy of
Tom Kermen
---
Corbesier History
View the USS Corbesier (DE 438) DANFS history entry located on the Naval History and Heritage Command web site.
View the official War History of USS Corbesier as submitted by the ship at war's end.
---
Corbesier's Commanding Officers
Thanks to Wolfgang Hechler
Dates of Command
Commanding Officers
1.) 31 Mar. 1944 - 21 Jul. 1944
Lcdr. William B. Porter, USN (USNA '33) (Washington, D.C.) (Comm. CO)
2.) 21 Jul. 1944 - 07 Nov. 1945
Lt. / Lcdr. Herbert Vincent Jones Jr., USNR
3.) 07 Nov. 1945 - 11 Mar. 1946
Lt. Edward Burnett Van Voorhees, USNR
4.) 11 Mar. 1946 - 02 Jul. 1946
Lt. P. L. Wright Jr., USNR (Decomm. CO)
---
Crew Contact And Reunion Information
---
Contact Name: R.L. Jones
Address: 202 McGowan Avenue
City/State: Bardstown KY 40004
Phone: (502) 350-3443
E-mail: jones809913@aol.com

---
Note About Contacts
Contact information is compiled from various sources over a period of time and may, or may not, be correct. Every effort has
been made to list the newest contact. However, our entry is only as good as the latest information that's been sent to us. We list
only a contact for the ship if one has been sent to us. We do NOT have crew lists, rosters, or deck logs available. Please see the
Frequently Asked Questions section on NavSource's Main Page for that information.
---
Additional Resources
---
Tin Can Sailors
The U.S. Navy Memorial
Destroyer Escort Sailors Association
The Destroyer Escort Historical Museum
The Destroyer History Foundation
USS Corbesier Page on Military.Com
---

Comments, Suggestions, E-mail: Webmaster.



This Page Created And Maintained By Mike Smolinski



by Paul R. Yarnall, All Rights Reserved.
Page Last Updated: 20 December 2018