Please Report Any Broken Links Or Trouble You Might Come Across To The Webmaster
Please Take A Moment To Let Us Know So That We Can Correct Any Problems And Make Your Visit As Enjoyable And As Informative As Possible.
---
Navsource Online: Destroyer Escort Photo Archive
USS McCoy Reynolds (DE 440)





Flag Hoist / Radio Call Sign:
N - H - X - K
---
Awards, Citations and Campaign Ribbons

Specifications:
Class: John C. Butler
Type: WGT (geared-turbine drive, 5" guns)
Displacement: 1350 tons (light), 1745 tons (full)
Length: 300' (wl), 306' (oa)
Beam: 36' 10" (extreme)
Draft: 11' 0" (draft limit)
Propulsion: 2 "D" Express boilers, 2 geared turbine engines, 12,000 shp, 2 screws
Speed: 24 kts
Range: 6,000 nm @ 12 knots
Armament: 2 - 5"/38 cal. DP guns (2x1), 4 - 40mm AA (2x2), 10 - 20mm AA, 3 - 21" TT, 1 Mk10 Hedgehog, 8 Mk6 Depth Charge Projectors, 2 Mk9 Depth Charge Stern Racks
Complement: 14 / 201
---
McCoy Reynolds (DE 440) Building and Operational Data:
18 November 1943: Keel laid at the Federal Shipbuilding & Dry Dock Co., Newark, N.J.
22 February 1944: Launched and christened, sponsored by Mrs. Tilden Reynolds
2 May 1944: Commissioned at the Brooklyn Navy Yard, Lcdr Edwin K. Winn in command
31 May 1946: Decommissioned at Naval Station, San Diego
28 March 1951: Recommissioned
7 February 1957: Decommissioned at Naval Station, Treasure Island, Cal., Loaned to Portugal, renamed NRP Corte Real (F-334)
1 November 1968: Stricken from the NVR
December 1968: Sold to Portugal
---
Click On Image
For Full Size Image
Size
Image Description
Contributed
By And/Or Copyright
28k
McCoy Reynolds was born 23 September 1916 in Pippapasses, Ky., the 6th child and 4th son of Jonas Tilden Reynolds and Rosabelle Short. He enlisted in the U.S. Marine Corps Reserve at Louisville, Ky., 23 January 1942. He was killed in action on Guadalcanal 25 November 1942 after boldly exposing himself to destroy a Japanese machinegun nest in fighting to defend Henderson Field. Private Reynolds was posthumously awarded the Silver Star for the conspicuous gallantry and intrepidity without regard for his personal safety. His other awards included the Purple Heart, the Presidential Unit Citation, and the Asiatic-Pacific Campaign Medal.

USS McCoy Reynolds (DE 440) (1944-1957) was the first ship to be named in his honor.

(Photo provided by Phyllis Reynolds Goelz, cousin of McCoy Reynolds)
Bill Gonyo
58k
22 February 1944: Newark NJ - Mrs. Tilden Reynolds, McCoy Reynolds' mother, christens the USS McCoy Reynolds at the Federal Shipbuilding Yard.
Phyllis Reynolds Goelz,
cousin of
McCoy Reynolds
54k
22 February 1944: Newark NJ - USS McCoy Reynolds sliding down the launching ways at the Federal Shipbuilding & Dry Dock Co.
86k
underway off San Diego, 1944 (Photo &copy Bob Schank)
Captain John James
49k
July 1944, location unknown
Robert Hurst
59k
circa 1959: NRP Corte Real (F-334) underway. (Official Portuguese Navy Photo; From "Jane's Fighting Ships, 1959-60")
51k
circa 1966: Serving the Portuguese Navy as NRP Corte Real (F-334).
---
McCoy Reynolds Memorabilia
Launch Button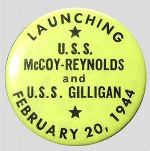 Courtesy of Tom Kermen
---
View the USS McCoy Reynolds (DE 440) DANFS history entry
located on the Naval History and Heritage Command web site.

---
Crew Contact And Reunion Information
---
Contact Name: Ray Heller
Address: PO Box 85305 / Racine WI 53408-5231
Phone: (262) 886-8557
E-mail: corpcron@hotmail.com

---
Note About Contacts
Contact information is compiled from various sources over a period of time and may, or may not, be correct. Every effort has been
made to list the newest contact. However, our entry is only as good as the latest information that's been sent to us. We list only
a contact for the ship if one has been sent to us. We do NOT have crew lists or rosters available. Please see the Frequently Asked
Questions section on NavSource's Main Page for that information.
---
Additional Resources
---
Destroyer Escort Sailors Association
Tin Can Sailors
The Destroyer History Foundation
---

Comments, Suggestions, or Image Submissions, Please E-mail: DE Info
Problems or Site Related Matters, Please E-mail: Webmaster

This Page Created And Maintained by Mike Smolinski



by Paul R. Yarnall, All Rights Reserved.
Page Last Updated 1 May 2009