Please Report Any Broken Links Or Trouble You Might Come Across To The Webmaster
Please Take A Moment To Let Us Know So That We Can Correct Any Problems And Make Your Visit As Enjoyable And As Informative As Possible.
---
Navsource Online: Destroyer Escort Photo Archive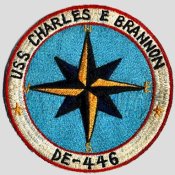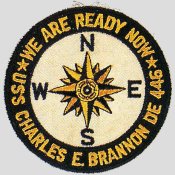 Ship's patches, right patch courtesy of Nick Tiberio, remainder from Mike Smolinski

USS Charles E. Brannon (DE 446)





N - H - D - C
Tactical Voice Radio Call: "Mad River"

---
Awards, Citations and Campaign Ribbons

Specifications:
Class: John C. Butler
Type: WGT (geared-turbine drive, 5" guns)
Displacement: 1350 tons (light), 1745 tons (full)
Length: 300' (wl), 306' (oa)
Beam: 36' 10" (extreme)
Draft: 11' 0" (draft limit)
Propulsion: 2 "D" Express boilers, 2 geared turbine engines, 12,000 shp, 2 screws
Speed: 24 kts
Range: 6,000 nm @ 12 knots
Armament: 2 - 5"/38 cal. DP guns (2x1), 4 - 40mm AA (2x2), 10 - 20mm AA, 3 - 21" TT, 1 Mk10 Hedgehog, 8 Mk6 Depth Charge Projectors, 2 Mk9 Depth Charge Stern Racks
Complement: 14 / 201
---
Charles E. Brannon (DE 446) Building and Operational Data:
13 January 1944: Keel laid by the Federal Shipbuilding Co., Port Newark, N.J.
23 April 1944: Launched and christened, sponsored by Second Lieutenant D. Brannon, WAG
1 November 1944: Commissioned at the Brooklyn Navy Yard, Cdr E. W. Todd in command
21 May 1946: Decommissioned at San Diego, Cal.
August 1946: Placed "In Service", assigned to NRT at San Diego, Cal.
21 November 1950: Recommissioned
18 June 1960: Decommissioned, placed "In Service", continuing as as a Reserve Training Ship
23 September 1968: Taken "Out of Service", Struck from the NVR
27 October 1969: Sold for scrapping
---
Click On Image
For Full Size Image
Size
Image Description
Contributed
By And/Or Copyright
32k
Charles E. Brannon, who was born 2 August 1919 in Montgomery, Ala., enlisted in the Naval Reserve 14 April 1941 for aviation training. Ensign Brannon reported for duty in Torpedo Squadron 8 in carrier Hornet (CV 8) 3 February 1942, and was killed in action 4 June 1942 during the Battle of Midway. He was awarded a Navy Cross and Purple Heart posthumously for his extraordinary heroism in pressing home an attack against a Japanese carrier.

Navy Cross Citation: The President of the United States takes pride in presenting the Navy Cross (Posthumously) to Charles E. Brannon (0-105955), Ensign, U.S. Navy (Reserve), for extraordinary heroism in operations against the enemy while serving as Pilot of a carrier-based Navy Torpedo Plane of Torpedo Squadron EIGHT (VT-8), embarked from Naval Air Station Midway during the "Air Battle of Midway," against enemy Japanese forces on 4 and 5 June 1942. In the first attack against an enemy carrier of the Japanese invasion fleet, Ensign Brannon pressed home his attack in the face of withering fire from enemy Japanese fighters and anti-aircraft forces. Because of events attendant upon the Battle of Midway, there can be no doubt that he gallantly gave up his life in the service of his country. His courage and utter disregard for his own personal safety were in keeping with the highest traditions of the United States Naval Service. He gallantly gave his life for his country. Bureau of Naval Personnel Information Bulletin No. 310 (January 1943)

USS Charles E. Brannon (DE 635) (1944-1946, 1950-1968) was the first ship to be named in his honor.


Bill Gonyo
72k
undated: Left to Right: R.P. Mathews, SR, R.L. Hilt, SA, George S. Smith, SA, and Wayne G. Pearson, SA, firing the 20mm gun aboard the USS Charles E. Brannon (DE 446). (US Navy Photo #80-G-444372 from the National Archives)
Bill Gonyo
72k
undated: aboard Charles E. Brannon - B.F. Morris, QMSN, on the signal bridge, passing a message to another ship. (U.S. Navy Photo #80-G-444364 from the National Archives)
Bill Gonyo
105k
undated postwar photo
Richard H. Willard RD3
29k
undated postwar image, in company with Grady (DE 445)
Robert Hurst
150k
undated post-war image
Tim Rizzuto
Ship's Superintendant
USS Slater Memorial
181k
February 1962: Pearl Harbor HI - This was taken by CortRon 7 when Brannon was deploying to Viet Nam.
Dan O'Reilly
SMCM (SW), USN (ret.)
---
View the USS Charles E. Brannon (DE 446) DANFS history entry
located on the Naval History and Heritage Command web site.

---
Crew Contact And Reunion Information
---
None
---
Note About Contacts
Contact information is compiled from various sources over a period of time and may, or may not, be correct. Every effort has been
made to list the newest contact. However, our entry is only as good as the latest information that's been sent to us. We list only
a contact for the ship if one has been sent to us. We do NOT have crew lists or rosters available. Please see the Frequently Asked
Questions section on NavSource's Main Page for that information.
---
Additional Resources
---
Richard Willard's Charles E. Brannon web site
Destroyer Escort Sailors Association
Tin Can Sailors Shipmate Registry - USS Charles E. Brannon
The Destroyer History Foundation
---

Comments, Suggestions, or Image Submissions, Please E-mail: DE Info
Problems or Site Related Matters, Please E-mail: Webmaster

This Page Created And Maintained by Mike Smolinski



by Paul R. Yarnall, All Rights Reserved.
Page Last Updated 20 January 2012