Please Report Any Broken Links Or Trouble You Might Come Across To The Webmaster
Please Take A Moment To Let Us Know So That We Can Correct Any Problems And Make Your Visit As Enjoyable And As Informative As Possible.
---
Navsource Online: Destroyer Escort Photo Archive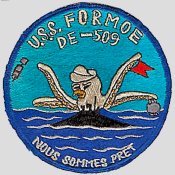 Ship's patch courtesy of Mike Smolinski

USS Formoe (DE 509)





Flag Hoist / Radio Call Sign:
N - K - T - G
---
Awards, Citations and Campaign Ribbons

Specifications:
Class: John C. Butler
Type: WGT (geared-turbine drive, 5" guns)
Displacement: 1350 tons (light), 1745 tons (full)
Length: 300' (wl), 306' (oa)
Beam: 36' 10" (extreme)
Draft: 11' 0" (draft limit)
Propulsion: 2 "D" Express boilers, 2 geared turbine engines, 12,000 shp, 2 screws
Speed: 24 kts
Range: 6,000 nm @ 12 knots
Armament: 2 - 5"/38 cal. DP guns (2x1), 4 - 40mm AA (2x2), 10 - 20mm AA, 3 - 21" TT, 1 Mk10 Hedgehog, 8 Mk6 Depth Charge Projectors, 2 Mk9 Depth Charge Stern Racks
Complement: 14 / 201
---
Formoe (DE 509) Building and Operational Data:
3 January 1944: Keel laid at the Federal Shipbuilding Corp., Port Newark NJ
2 April 1944: Launched and christened, sponsored by Mrs. A. L. Bolshazy
5 October 1944: Commissioned, Lcdr. J. C. Spencer in command
27 May 1946: Decommissioned at San Diego, Cal.
27 June 1951: Recommissioned at San Diego, Cal.
5 October 1951: Departed San Diego for Newport, R.I., her new home port
7 February 1957: Decommissioned at San Francisco, Cal.,
Transferred on loan the same day to Portugal under the Mutual Defense Assistance Program, renamed NRP Diogo Cao (F-333)
1 October 1968: Stuck from the NVR
December 1968: Sold to Portugal
---
Click On Image
For Full Size Image
Size
Image Description
Contributed
By And/Or Copyright
48k
undated wartime image
Jerry Church
92k
circa 1949: Formoe underway at speed. Standard layout for this class, but note whip aerial fitted aft, and Hedgehog clearly visible, just aft of 5"/38 mounting. Canvas awning is rigged over conning position (Photo coutesy Real Photographs, from the book "U.S. Destroyer Escorts of World War 2", by Peter Elliott).
Robert Hurst
219k
June 1951: just prior to recommissioning
William E. Kidd, Jr.
236k
221k
circa 1956: Formoe moored at an unknown location. (U.S. Navy photo; from U.S. National Archives, San Bruno Branch)
Robert Hurst
60k
circa 1961: NRP Diogo Cao (F-333, ex-USS Formoe DE 509) underway, location unknown. (Official Portuguese Navy photo; from "Jane's Fighting Ships, 1961-62")
42k
as NRP Diogo Cao (F-333), circa 1966
---
Formoe Memorabilia
Launch Button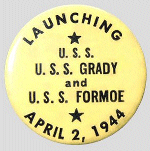 Courtesy of Tom Kermen
---
View the USS Formoe (DE 509) DANFS history entry
located on the Naval History and Heritage Command web site.

---
Crew Contact And Reunion Information
---
Contact Name: Julia Loughran
Address: 2009 Cantata Court / Vienna VA 22182-3313
Phone: (703) 281-5694 FAX (703) 319-8196
E-mail: loughran@thoughtlink.com

---
Note About Contacts
Contact information is compiled from various sources over a period of time and may, or may not, be correct. Every effort has been
made to list the newest contact. However, our entry is only as good as the latest information that's been sent to us. We list only
a contact for the ship if one has been sent to us. We do NOT have crew lists or rosters available. Please see the Frequently Asked
Questions section on NavSource's Main Page for that information.
---
Additional Resources
---
Destroyer Escort Sailors Association
Tin Can Sailors Shipmate Registry - USS Formoe
The Destroyer History Foundation
---

Comments, Suggestions, or Image Submissions, Please E-mail: DE Info
Problems or Site Related Matters, Please E-mail: Webmaster

This Page Created And Maintained by Mike Smolinski



by Paul R. Yarnall, All Rights Reserved.
Page Last Updated 26 August 2012