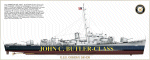 122k
Artist's conception of Osberg by the renowned graphic illustrator John Barrett, with the text written by naval author and historian Robert F. Sumrall. Their company, Navy Yard Associates, offers prints of most destroyers, submarines and aircraft carriers in various configurations during the ship's lifetime. ALL the destroyer escorts ARE available in their WWII configuration. The prints can be customized with ship's patches, your photograph, your bio, etc. When you purchase artwork from them, please indicate that you heard about their work from Navsource.
Navy Yard Associates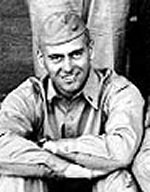 10k
Carl August Osberg was born on 13 April 1920 in Dunbarton, N.H. After attending Cornell University, he enlisted in the U.S. Naval Reserve, Class V-5, as a seaman 2nd class, at the Boston Navy Yard on 10 December 1940. Reporting for elmination flight training at the U.S. Naval Reserve Aviation Base, Boston, on 16 December 1940, Osberg completed his instruction on 16 January 1941, and was transferred to the U.S. Naval Air Station, Jacksonville, Fla., on 13 February. On the 15th he was appointed an aviation cadet, and on the 19th he received a discharge as seaman 2nd class to accept that appointment. He reported to NAS Jacksonville that same day. Detached on 23 July, he transferred to NAS Miami, Fla., "for active duty undergoing training." Appointed a naval aviator (heavier than air) on 12 September, he accepted his appointment that same day as ensign, A-V(N). Reporting to the Advanced Carrier Training Group, Pacific Fleet, on 05 October, he was detached from that duty on 04 November, and reported to Torpedo Squadron (VT) 3, part of the Saratoga (CV 3) Air Group, the next day.

After the torpedoing of Saratoga on 11 January 1942, and her subsequent departure for repairs at Puget Sound, VT-3 was based ashore, first at NAS Pearl Harbor, at Ford Island, T.H., standing alert duty for island defense, then at NAS Kaneohe Bay, whence the squadron trained and continued to stand alerts. On 30 May 1942, assigned to the air group of Yorktown (CV 5), replacing VT-5, VT-3 flew on board as that carrier sailed to participate in what would become known as the Battle of Midway. On 04 June 1942, Yorktown launched VT-3, and Bombing Squadron 3, covered by fighters from Fighting Squadron 3, to attack the Japanese carrier force in concert with a strike from Enterprise (CV 6) and Hornet (CV 8). Circumstances, however, dictated that only the Yorktown Air Group attacked as a unit, with VT-3 the last of the three torpedo squadrons to execute their brave low-level attacks. Japanese Zero carrier fighters, however, overwhelmed the six-plane VF-3 covering element, and, in concert with heavy antiaircraft fire from the carriers and their screening ships, splashed ten of the twelve of VT-3's Douglas TBD-1 Devastator torpedo bombers. Ens. Osberg and his radio gunner, ARM2c Troy C. Barkley, perished in the attack. Osberg was awarded the Navy Cross (posthumously), for his "self-sacrificing gallantry and fortitude...in keeping with the highest traditions of the United States Naval Service..."

USS Osberg (DE 538) (1945-1958) was the first ship to be named in his honor. (Cropped from U.S. Navy photo #NH 95554 from the Naval History and Heritage Command)
Bill Gonyo
Downey, Cal.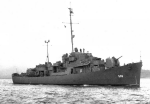 99k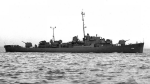 100k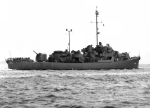 129k

1945: Boston, Mass. - A three view series of USS Osberg (DE 538) in Boston Harbor.
(U.S. Navy photo #'s13858-5591, 13858-5593, 13858-5592 from the National Park Service, Charlestown (Boston) Navy Yard)
Dave Schroeder
and
John Chiquoine
West Chester, Pa.