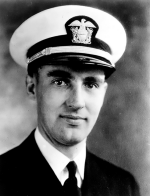 91k
Aloysius H. Schmitt was born to Henry and Mary Anna (Kuennen) Schmitt on 04 December 1909 in St. Lucas, Iowa. He studied at Columbia College (now Loras College) in Dubuque, Iowa, graduating in 1932, when he travelled to Rome to study for the priesthood. Ordained on 08 December 1935, Father Schmitt was first assigned as an associate pastor at Saint Mary's Church in Dubuque. He was later assigned to St. Mary's Cathedral in Cheyenne, Wyoming. He received permission to become a military chaplain, joined the United States Navy, and was appointed an Acting Chaplain with the rank of Lieutenant, Junior Grade on 28 June 1939.

On 07 December 1941, Father Schmitt was hearing confessions prior to serving Sunday mass on board the battleship USS Oklahoma (BB 37) when the Japanese attacked Pearl Harbor. When the ship capsized, he became trapped, along with other members of the crew, in a compartment where only a small porthole provided an outlet for escape. He assisted a number of men through the porthole, and then gave up his own chance to escape so that more men might be rescued. Fr. Schmitt died on board Oklahoma, and was the first military chaplain of any faith to have died in World War II. He received the Navy and Marine Corps Medal posthumously for his courage and self-sacrifice. In late 2017, his award was upgraded to the Silver Star which was presented to the Schmitt family in a ceremony at Loras College in Dubuque, Iowa, "Father Al's" alma mater, on 07 December 2017.

In 2015 the United States Department of Defense exhumed the remains of 388 unknown military personnel interred in Hawaii. Father Schmitt's remains were identified in 2016 from DNA taken from his skull and matched with that of a relative. They were returned to Iowa where a Memorial Mass was celebrated in his home parish of St. Luke in St. Lucas on 05 October 2016. His remains were transferred to Dubuque where a funeral Mass and burial were held in Christ the King Chapel at Loras College on 08 October 2016.

USS Schmitt (DE 676) (1943-1949) was the first ship named in his honor.

(U.S. Navy photo #171201-N-NO147-002 courtesy of Loras College, from the Naval History and Heritage Command).
Bill Gonyo
Downey, Cal.
Assoc. Researcher
Navsource

and

Ron Reeves
Oaklyn, N.J.