Please Report Any Broken Links Or Trouble You Might Come Across To The Webmaster
Please Take A Moment To Let Us Know So That We Can Correct Any Problems And Make Your Visit As Enjoyable And As Informative As Possible.
---
Navsource Online: Destroyer Escort Photo Archive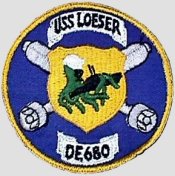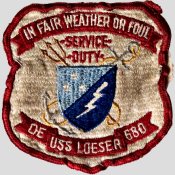 Ship's patches courtesy of Mike Smolinski

USS Loeser (DE 680)





Flag Hoist / Radio Call Sign:
N - T - R - F
Tactical Voice Radio Call: "Pottstown"

---
Awards, Citations and Campaign Ribbons

Specifications:
Class: Buckley
Type: TE (turbine-electric drive, 3" guns)
Displacement: 1400 tons (light), 1740 tons (full)
Length: 300' (wl), 306' (oa)
Beam: 36' 9" (extreme)
Draft: 10' 6" (draft limit)
Propulsion: 2 "D" Express boilers, G.E. turbines with electric drive, 12000 shp, 2 screws
Speed: 24 kts
Range: 6,000 nm @ 12 knots
Armament: 3 x 3"/50 Mk22 (1x3), 1 twin 40mm Mk1 AA, 8 x 20mm Mk 4 AA, 3 x 21" Mk15 TT (3x1), 1 Hedgehog Projector Mk10 (144 rounds), 8 Mk6 depth charge projectors, 2 Mk9 depth charge tracks
Complement: 15 / 198
---
Loeser (DE 680) Building and Operational Data:
27 July 1943: Keel laid by the Bethlehem Steel (Fore River Yard) Shipyard, Inc., Quincy, Mass.
11 September 1943: Launched and christened, sponsored by Mrs. Marion Loeser, widow of Lieutenant Commander Loeser
10 October 1943: Commissioned, Lcdr. Chester A. Kunz in command
29 March 1947: Decommissioned at Charleston, S.C.
09 March 1951: Recommissioned at Charleston, Lcdr. Frederick L. Edwards, in command, assigned to the Atlantic Destroyer Force at Norfolk, Va.
June 1958: Assigned to NRT, 5th Naval District at Little Creek, Va.
01 December 1958: Decommissioned, placed "In Service"
02 October 1961: Recommissioned for Berlin Crisis
01 August 1962: Decommissioned, reverted to "In Service" status as NRT ship at Williamsburg, Va.
20 October 1964: Shifted homeport to the Washington Navy Yard
23 August 1968: Taken "Out of Service", struck from the NVR after 20.9 years of service
1969: sunk as a target
---
Click On Image
For Full Size Image
Size
Image Description
Contributed
By And/Or Copyright
61k
Born 17 April 1903 at Rahway, N.J.; Arthur Edward "Art" Loeser attended Rochester College (now the University of Rochester) for two years in the state of New York prior to his appointment. He was appointed to the Naval Academy 15 August 1923 and commissioned Ensign 02 June 1927. After serving in Saratoga (1927-29), Hopkins (1929-32), Rochester (1932), Ashville (1933), and Chicago (1934), he completed 2 years of postgraduate work at the Naval Academy. Two years in Mississippi were followed by two in Sampson as engineering officer. From June 1940 to August 1941 he served with Supervisor of Shipbuilding, Bath, Maine. On 2 September 1941 Lieutenant Commander Loeser reported aboard cruiser Atlanta as engineering officer. Lieutenant Commander Loeser was killed in action 13 November 1942 when enemy torpedoes crippled Atlanta in the Naval Battle of Guadalcanal. Lieutenant Commander Arthur E. Loeser was posthumously awarded the Purple Heart.

USS Loeser (DE 680) (1943-1968) was the first ship to be named in his honor.

(Photo courtesy of the U.S. Naval Academy)
Bill Gonyo
52k
1957
Douglas Everett
OTCM, USN (ret,)
62k
circa 1957: USS Loeser underway. (Official U.S. Navy Photo; From "Jane's Fighting Ships, 1958-59")
Robert Hurst
---
Loeser History
View the USS Loeser (DE 680) DANFS history entry located on the Naval History and Heritage Command web site.
---
Next Reunion:
12 - 17 September 2017 at Berlin, Ohio
---
Contact Name: Erman Hall
E-mail: ermanhall at all.com

Contact Name: Robert R. Montgomery (Pres. USS Loeser Assoc.)
Address: Box 383 / Morrisonville IL 62546
Phone: (217) 526-3318
E-mail: R.R. Montgomery

---
Note About Contacts
Contact information is compiled from various sources over a period of time and may, or may not, be correct. Every effort has been
made to list the newest contact. However, our entry is only as good as the latest information that's been sent to us. We list only
a contact for the ship if one has been sent to us. We do NOT have crew lists or rosters available. Please see the Frequently Asked
Questions section on NavSource's Main Page for that information.
---
Additional Resources
---
Tin Can Sailors
The U.S. Navy Memorial
Destroyer Escort Sailors Association
The Destroyer Escort Historical Museum
The Destroyer History Foundation
Tin Can Sailors Shipmate Registry - USS Loeser
---

Comments, Suggestions, or Image Submissions, Please E-mail: DE Info
Problems or Site Related Matters, Please E-mail: Webmaster

This Page Created And Maintained by Mike Smolinski



by Paul R. Yarnall, All Rights Reserved.
Page Last Updated 14 September 2016