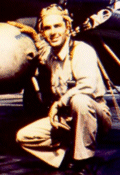 172k
Henry Russell Kenyon, Jr., was born on 04 February 1916 in Bronxville, N.Y., the son of Henry Russell Kenyon Sr., and Emily T Feagles who were married in New York about 1913. Henry had four siblings; Emily D., Charles F., Burt Perrin, and Donald Kenyon. Charles F. was a navigator/bombardier in the Army Air Corps in WWII. He was killed in action in 1943. Burt also served in the Naval Air Corps. Brother Donald served in the U.S. Navy beginning in 1953.

After completing high school, Henry, or Rusty as he was known, enrolled at Kent State University in Kent, Ohio in September 1938. He completed two years of study before leaving school in May 1940. Later that year, Rusty enlisted in the U.S. Naval Reserve Flight Training Program (V-5),(NSN:411-32-40), as a Seaman 2c (V-5) on 05 November 1940 at the Naval Reserve Aviation Base at Grand Ile, Mich. where he completed the elimination phase of his flight training. He was released from active service in December and returned home to await further orders.

Several months later, he reported to the Naval Air Station, Pensacola, Fla. on 09 February 1941 where he was discharged to accept an appointment as an Aviation Cadet (AVCAD). His date of rank was 01 February 1941. He completed his primary and advanced training and was awarded his gold naval aviator wings about July 1941. He was commissioned an Ensign, AV-(N) USNR on 04 August 1941. He then reported to the Advanced Carrier Training Group (ACTG), Fleet Air Detachment, NAS Norfolk. This detachment provided new pilots assigned to carrier based squadrons with flight instruction in tactics, navigation, gunnery and bombing, field carrier land practice, actual carrier qualifications, night flying and instruments prior to his reporting to his new squadron.

Ensign Kenyon reported to the newly commissioned Torpedo Squadron Eight (VT-8) about early October 1941. VT-8 was to embark on board the new aircraft carrier, USS Hornet (CV 8), after her commissioning on 21 October 1942 in Norfolk. After four months of intensive training off the U.S. East Coast and the Caribbean, Hornet, with her embarked air group, set sail on 04 March 1942 for San Diego via the Panama Canal. However, just prior to Hornet's departure from Norfolk, Rusty married Verna "Brownie" Mae Markham on 22 February 1942 in South Mills Twp, Camden, N.C. Their daughter Russellyn Anita "Rusty" Kenyon was born on 12 November 1942 in New York.

Hornet arrived in her new homeport of San Diego in mid-March. Shortly after arriving there, she was underway again. She arrived at NAS Alameda on 20 March 1942 where she loaded 16 B-25s on to her flight deck. On 18 April 1942, Hornet launched those same B-25s under the command of Lt.Col. Jimmie Doolittle in the first attack by American forces against the Japanese homeland during WWII. After the attack, Hornet was sent back to Hawaii to refuel/rearm and then ordered to the South Pacific with the USS Enterprise (CV 6) to assist the carriers USS Lexington (CV 2) and USS Yorktown (CV 5) in the battle of the Coral Sea. However, Hornet and Enterprise arrived too late to be a factor in the battle. Assigned to other short-term duties, Hornet arrived back in Pearl Harbor on 26 May to rearm, resupply, and refuel. On 28 May 1942, Hornet and Enterprise got underway and steamed toward Midway. USS Yorktown (CV 5) would follow the next day. Their mission was to attack a Japanese Striking Force approaching Midway, and bent on adding Midway to her conquests.

In the early dawn hours of 04 June 1942, VT-8 launched from the flight deck of Hornet with other 44 aircraft from Hornet's Air Group. Separated from her air group, VT-8 was the only squadron from Hornet to find and attack the enemy Japanese Striking Force later that morning. However, without friendly covering fighter protection, VT-8 nevertheless pursued their attack against vastly superior numbers of enemy fighters and intense anti-aircraft fire. One by one the fifteen torpedo bombers from VT-8 were shot down. Ens Kenyon and his radioman/gunner, Aviation Radioman Second Class Darwin L. Clark, were listed as missing in action on 04 June 1942. Their remains were unrecoverable. On 05 Jun 1943 they were declared presumed dead. Ens. Kenyon was (Posthumously) awarded the Navy Cross, Purple Heart, the Presidential Unit Citation (ribbon), the American Defense Service Medal, American Campaign Medal, Asiatic-Pacific Campaign Medal with one battle star and the World War II Victory Medal.

USS Henry R. Kenyon (DE 683) (1943-1947) was the first ship to be named in his honor.


Gerry Lawton
Commander, USN (ret.)
Saluda, N.C.


Follow Gerry's Blog
Missing In Action
Navy–WWII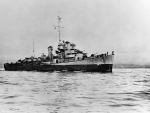 129k
17 December 1945: USS Henry R. Kenyon (DE 683) underway off San Diego, California.

(U.S. Naval Historical Center photo #NH 79815, courtesy of Donald M. McPherson, 1974, from the Naval History and Heritage Command)
Bob Hurst
Worksop, Nottinghamshire,
England, United Kingdom