Please Report Any Broken Links Or Trouble You Might Come Across To The Webmaster
Please Take A Moment To Let Us Know So That We Can Correct Any Problems And Make Your Visit As Enjoyable And As Informative As Possible.
---
Navsource Online: Destroyer Escort Photo Archive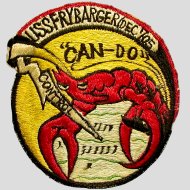 Ship's patch courtesy of Mike Smolinski

USS Frybarger (DE 705)





Flag Hoist / Radio Call Sign:
N - T - R - P
---
Awards, Citations and Campaign Ribbons

Specifications:
Class: Buckley
Type: TE (turbine-electric drive, 3" guns)
Displacement: 1400 tons (light), 1740 tons (full)
Length: 300' (wl), 306' (oa)
Beam: 36' 9" (extreme)
Draft: 10' 6" (draft limit)
Propulsion: 2 "D" Express boilers, G.E. turbines with electric drive, 12000 shp, 2 screws
Speed: 24 kts
Range: 6,000 nm @ 12 knots
Armament: 3 x 3"/50 Mk22 (1x3), 1 twin 40mm Mk1 AA, 8 x 20mm Mk 4 AA, 3 x 21" Mk15 TT (3x1), 1 Hedgehog Projector Mk10 (144 rounds), 8 Mk6 depth charge projectors, 2 Mk9 depth charge tracks
Complement: 15 / 198
---
Frybarger (DE 705) Building and Operational Data:
8 November 1943: Keel laid at the Defoe Shipbuilding Corp., Bay City, Mich.
25 January 1944: Launched and christened, sponsored by Miss Carol J. Frybarger, sister of Private First Class Frybarger
18 May 1944: Commissioned, Lcdr G. C. Ewing, USNR, in command
30 June 1947: Decommissioned at Green Cove Springs, Fla.
13 December 1950: Reclassified DEC 705 (Destroyer Escort Control)
6 October 1950: Recommissioned, assigned to Destroyer Force, Pacific, at San Diego, Cal.
9 December 1954: Decommissioned at San Diego, Cal.
27 December 1957: Reclassified DE 705
1 December 1972: Stricken from the NVR
27 November 1973: Sold, scrapped
---
Click On Image
For Full Size Image
Size
Image Description
Contributed
By And/Or Copyright
13k
Raymond Frybarger, Jr. was born 22 April 1923 in Toledo, Ohio. He enlisted in the Marine Corps Reserve 22 April 1940. Private First Class Frybarger was killed in action on Guadalcanal 14 September 1942. For his heroism in exposing himself to enemy fire in an attack on Henderson Field and maintaining effective rifle fire until killed, he was posthumously awarded the Navy Cross. Other awards include the Purple Heart; American Defense Service Medal; Asiatic-Pacific Campaign Medal; and Presidential Unit Citation.

The President of the United States takes pride in presenting the Navy Cross (Posthumously) to Raymond Frybarger, Jr. (284069), Private First Class, U.S. Marine Corps (Reserve), for extraordinary heroism and conspicuous devotion to duty while serving with the Second Battalion, First Marines, First Marine Division, during the enemy Japanese attack on Henderson Field, Guadalcanal, Solomon Islands, on the night of 13 and 14 September 1942. Fearlessly exposing himself to relentless enemy fire during a hostile attack on an airport, Private First Class Frybarger skillfully assisted in driving back the enemy, maintaining his effective rifle fire until he was killed in action. His valiant fighting spirit and unyielding devotion to duty were instrumental in preventing a flank movement by the enemy and contributed to the staunch defense of an important position. He gallantly gave up his life in the service of his country.

USS Frybarger (DE 705) (1944-1954) was the first ship to be named in his honor.

(Photo courtesy of Bob Frybarger and the USS Frybarger Web Site)
Bill Gonyo
89k
Taken from the deck of USS Cabildo (LSD 16), sometime between 1951 and 1955. (Photo by Don Fischer MM1, USN)
Scott Fischer
424k
undated postwar image (From the collection of HMC William A. Salisbury, USN)
Contributed by his son,
James S. Salisbury
102k
undated postwar image (From the collection of Cdr. M. E. Meahl, USN)
Contributed by his
son, David Meahl
92k
101k
60k
undated (Ted Stone Photo from "Jane's Fighting Ships, 1958 - 59")
Robert Hurst
---
View the USS Frybarger (DE 705) DANFS history entry
located on the Naval History and Heritage Command web site.

---
Crew Contact And Reunion Information
---
USS Frybarger does hold reunions,
contact them through their web site
USS Frybarger Web Site

---
Note About Contacts
Contact information is compiled from various sources over a period of time and may, or may not, be correct. Every effort has been
made to list the newest contact. However, our entry is only as good as the latest information that's been sent to us. We list only
a contact for the ship if one has been sent to us. We do NOT have crew lists or rosters available. Please see the Frequently Asked
Questions section on NavSource's Main Page for that information.
---
Additional Resources
---
USS Frybarger Web Site
Destroyer Escort Sailors Association
Tin Can Sailors Shipmate Registry - USS Frybarger
The Destroyer History Foundation
---

Comments, Suggestions, or Image Submissions, Please E-mail: DE Info
Problems or Site Related Matters, Please E-mail: Webmaster

This Page Created And Maintained by Mike Smolinski



by Paul R. Yarnall, All Rights Reserved.
Page Last Updated 10 April 2011