Please Report Any Broken Links Or Trouble You Might Come Across To The Webmaster
Please Take A Moment To Let Us Know So That We Can Correct Any Problems And Make Your Visit As Enjoyable And As Informative As Possible.
---
Navsource Online: Destroyer Escort Photo Archive
USS Holt (DE 706)





Flag Hoist / Radio Call Sign:
N - K - Z - K
---
Awards, Citations and Campaign Ribbons

Specifications:
Class: Rudderow
Type: TEV (turbo-electric drive, long hull, 5" guns)
Displacement: 1,450 tons (light), 1,810 tons (full)
Length: 300' (wl), 306' (oa)
Beam: 36' 9" (extreme)
Draft: 13' 9" (draft limit)
Propulsion: 2 CE boilers, G.E. turbines with electric drive, 12000 shp, 2 screws
Speed: 24 kts
Range: 5,050 nm @ 12 knots
Armament: 2 - 5"/38 Mk30, 4 - 40mm Mk1 AA (2x2), 10 x 20mm/70 Mk 4 AA, 3 x 21" Mk15 TT (3x1), 1 Hedgehog Projector Mk10 (230 rounds), 8 Mk6 depth charge projectors (40), 2 Mk9 depth charge tracks (60)
Complement: 12 / 192
---
Holt (DE 706) Building and Operational Data:
28 November 1943: Keel laid by the Defoe Shipbuilding Co., Bay City, Mich.
15 February 1944: Launched and christened, sponsored by Mrs. Robert Holt, mother of Lt(jg) William Mack Holt
09 June 1944: Commissioned at New Orleans, La., Lcdr Victor Blue, USNR, commanding
02 July 1946: Decommissioned at San Diego, Cal. after 2 years and 1 month of service
15 November 1974: Struck from the NVR
19 June 1963: Loaned to South Korea, renamed ROKS Chung Nam (DE-73), Stricken and broken up in 1984
---
Click On Image
For Full Size Image
Size
Image Description
Contributed
By And/Or Copyright
122k
Artist's conception of Holt by the renowned graphic illustrator John Barrett, with the text written by naval author and historian Robert F. Sumrall. Their company, Navy Yard Associates, offers prints of most destroyers, submarines and aircraft carriers in various configurations during the ship's lifetime. ALL the destroyer escorts ARE available in their WWII configuration. The prints can be customized with ship's patches, your photograph, your bio, etc. When you purchase artwork from them, please indicate that you heard about their work from Navsource.
Navy Yard Associates
30k
January 1946: Holt arriving in San Francisco.
Leonard M. Thompson Y2c
112k
undated wartime photo
Jeff Cope
Webmaster
USS Holt Web Site
76k
undated wartime photo, Holt's crew at inspection
53k
ROKS Chung Nam, circa 1967
Bob Hurst
Worksop, Nottinghamshire,
England, United Kingdom
239k
1971: location unknown - The frigate ROKS Chung Nam (DE 73) (ex-USS Holt DE 706) underway.

(South Korean Navy, Official)
---
Holt Memorabilia
The Story of
USS Holt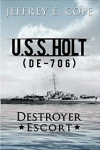 Courtesy of
Jeff Cope
---
Holt History
View the USS Holt (DE 706) DANFS history entry located on the Naval History and Heritage Command web site.
---
Holt's Commanding Officers
Thanks to Wolfgang Hechler & Ron Reeves
Dates of Command
Commanding Officers
1.) 09 Jun. 1944 - 19 Sep. 1945
Lcdr. Victor Blue, USNR
2.) 19 Sep. 1945 - 23 Jan. 1946
Lcdr. Burroughs Borgan Anderson, USNR
3.) 23 Jan. 1946 - 15 Feb. 1946
Lt.(jg) Samuel McDonald Badgett
4.) 15 Feb. 1946 - 02 Jul. 1946
Lcdr. Robert Gene Charles, USNR
---