Please Report Any Broken Links Or Trouble You Might Come Across To The Webmaster
Please Take A Moment To Let Us Know So That We Can Correct Any Problems And Make Your Visit As Enjoyable And As Informative As Possible.
---
Navsource Online: Destroyer Escort Photo Archive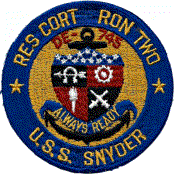 Ship's patch courtesy of Mike Smolinski

USS Snyder (DE 745)





Flag Hoist / Radio Call Sign:
N - Z - W - L
---
Awards, Citations and Campaign Ribbons

Specifications:
Class: Cannon
Type: DET (diesel-electric tandem motor drive, long hull, 3" guns)
Displacement: 1240 tons (light), 1620 tons (full)
Length: 300' (wl), 306' (oa)
Beam: 36' 10" (extreme)
Draft: 10' 6" (draft limit)
Propulsion: 4 GM Mod. 16-278A diesel engines with electric drive, 6000 shp, 2 screws
Speed: 21 kts
Range: 10,800 nm @ 12 knots
Armament: 3 x 3"/50 Mk22 (1x3), 1 twin 40mm Mk1 AA, 8 x 20mm Mk 4 AA, 3 x 21" Mk15 TT (3x1), 1 Hedgehog Projector Mk10 (144 rounds), 8 Mk6 depth charge projectors, 2 Mk9 depth charge tracks
Complement: 15 / 201
---
Snyder (DE 745) Building and Operational Data:
28 April 1943: Keel laid at the Western Pipe & Steel Co., San Pedro, Cal.
29 August 1943: Launched and christened, sponsored by Mrs. Lillian J. Snyder
05 May 1944: Commissioned at Long Beach, Cal., Lcdr. E. Moore, USNR in command
December 1945: Decommissioned at Norfolk, Va. after 1.6 years of service, towed to the Inactive Ship Storage Facility, Green Cove Springs, Fla.
10 October 1946: Towed to New York Naval Shipyard and placed "in commission, in reserve" as an NRT ship for the 3rd Naval District at New York City
May 1950: Recommissioned for use in the Reserve Training Program
05 May 1960: Decommissioned after 13.5 years of service, berthed at Philadelphia, Pa.
01 August 1972: Struck from the NVR with a total of 15.1 years of service
01 November 1973: Sold for scrapping to the North American Smelting Co., Wilmington, Del.
---
Click On Image
For Full Size Image
Size
Image Description
Contributed
By And/Or Copyright
296k
29 August 1943: San Pedro, Cal. - Snyder (DE 745) slides down the launch way at Western Pipe & Steel Corp. (U.S. Navy photo from the National Archives, courtesy of Chris Wright)
Ed Zajkowski
296k
16 May 1944: off the California coast - A photo of USS Snyder (DE 745) taken from an airship of LTA Squadron ZP-31. (Official U.S. Navy Photo from The U.S. Government Printing Office 1942 #16-10585)
David Buell
66k
undated post-war images
Nick Tiberio
40k
46k
1948: location unknown - Snyder moored
Robert Hurst
119k
Summer 1950: "I sailed as a Sea Scout on Snyder from the Brooklyn Navy Yard to Bermuda and back. Quite an experience for a 14 year old. We were treated as regular crew members. We got to conn the ship, fire the 20mm's, roll off the depth charges, and peel potatoes. We were accompanied by USS Kyne (DE 744). While moored alongside Kyne in Bermuda, a deck washdown resulted in an all out firehose water fight between the ships. This ended abruptly when someone trained his hose on Kynes' flying bridge. I've often wondered how many kids got to go on these training cruises. Upon our return, we were presented with an 8x10 of the ship."
Russ Glindmyer
102k
April 1951: off New York City - The funnel has been painted differently, probably in anti-corrosive undercoat, but the ship is otherwise in peacetime haze gray. She differs little from wartime form except for the addition of extra radio aerials on mast. (U.S. Navy Photo #66360 from the collection of The National Archives)
Robert Hurst
118k
March / April 1954: Charlotte Amalie, the Virgin Islands - USS Heyliger (DE 510), USS Kyne (DE 744), and Snyder on a port visit to the U.S. Sub Base in the Virgin Islands.
Rod Sienkiewicz
129k
March / April 1954: Charlotte Amalie, the Virgin Islands - sailors enjoying swim call off Kyne's fantail.
---
View the USS Snyder (DE 745) DANFS history entry
located on the Naval History and Heritage Command web site.

---
Crew Contact And Reunion Information
---
Contact Name: M. Edward Arnold
Address: 3235 Ames Avenue / Kingman AZ 86401
Phone: (928) 692-9190
E-mail: DD547@citlink.net

---
Note About Contacts
Contact information is compiled from various sources over a period of time and may, or may not, be correct. Every effort has been
made to list the newest contact. However, our entry is only as good as the latest information that's been sent to us. We list only
a contact for the ship if one has been sent to us. We do NOT have crew lists or rosters available. Please see the Frequently Asked
Questions section on NavSource's Main Page for that information.
---
Additional Resources
---
Tin Can Sailors
Destroyer Escort Sailors Association
The Destroyer Escort Historical Museum
The Destroyer History Foundation
Tin Can Sailors Shipmate Registry - USS Snyder
---

Comments, Suggestions, or Image Submissions, Please E-mail: DE Info
Problems or Site Related Matters, Please E-mail: Webmaster

This Page Created And Maintained by Mike Smolinski



by Paul R. Yarnall, All Rights Reserved.
Page Last Updated 21 April 2016