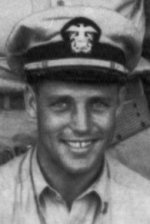 7k
Curtis William Howard -- born to Capt. and Mrs. Jasper V. Howard (MC), USN, on Guam, on 31 August 1917 -- was appointed a midshipman from the state of California on 4 June 1934. Graduating with the U.S. Naval Academy Class of 1938, where he boxed (earning him the nickname "Punchy"), and contemporaries considered him "possessed of a good sense of humor, exceptional perscipacity, and an able brain," who "promises to become an apt officer," Howard received his ensign's commission on 2 June 1938. He reported to Pensacola (CA 24) on 30 June, and served in that heavy cruiser until 11 September 1939. Eight days later, he reported to the destroyer Greer (DD 145) at the Philadelphia (Pa.) Navy Yard, where she was undergoing preparations for recommissioning on 4 October to become a part of the Neutrality Patrol ordered soon after war began in Europe. Detached from Greer on 5 July 1940, Ens. Howard reported to U.S. Naval Air Station (NAS), Pensacola, Fla., on 29 July to commence flight "instruction in heavier-than-air craft." He continued "duty involving flying under instruction" there, and, ultimately, was designated a naval aviator on 23 January 1941. Detached from NAS Pensacola on 7 February, he then served at NAS Miami, Fla., (25 March-7 April), after which he reported to Torpedo Squadron (VT) 3, assigned to the air group of the carrier Saratoga (CV 3) on 7 April. On 8 October 1941, he was promoted to lieutenant (junior grade), to rank from 8 June.

After the torpedoing of Saratoga on 11 January 1942, and her subsequent departure for repairs at Puget Sound, VT-3 was based ashore, first at NAS Pearl Harbor, at Ford Island, T.H., standing alert duty for island defense, then at NAS Kaneohe Bay, whence the squadron trained and continued to stand alerts. On 30 May 1942, assigned to the air group of Yorktown (CV 5), replacing VT-5, VT-3 flew on board as that carrier sailed to participate in what would become known as the Battle of Midway. On 4 June 1942, Yorktown launched VT-3, and Bombing Squadron 3, covered by fighters from Fighting Squadron 3, to attack the Japanese carrier force in concert with a strike from Enterprise (CV 6) and Hornet (CV 8). Circumstances, however, dictated that only the Yorktown Air Group attacked as a unit, with VT-3 the last of the three torpedo squadrons to execute their brave low-level attacks. Japanese Mitsubishi A6M2 Type 00 carrier fighters, however, overwhelmed the six-plane VF-3 covering element, and, in concert with heavy antiaircraft fire from the carriers and their screening ships, splashed ten of the twelve of VT-3's Douglas TBD-1 Devastator torpedo bombers. Lt.(j.g.) Howard and his radio gunner, ARM3c Charles L. Moore, perished in the attack. Howard was awarded the Navy Cross (posthumously), for his "self-sacrificing gallantry and fortitude...in keeping with the highest traditions of the United States Naval Service..."

USS Curtis W. Howard (DE 752) was the first ship to be named in his honor.


Bill Gonyo