Please Report Any Broken Links Or Trouble You Might Come Across To The Webmaster
Please Take A Moment To Let Us Know So That We Can Correct Any Problems And Make Your Visit As Enjoyable And As Informative As Possible.
---
Navsource Online: Destroyer Escort Photo Archive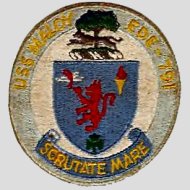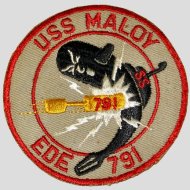 Right ship's patch courtesy of Richard Houser ('61-'63), Left patch and tab from Mike Smolinski

USS Maloy (DE 791)





Flag Hoist / Radio Call Sign:
N - Z - H - W
Tactical Voice Radio Call: "Eagle Farm"

---
Awards, Citations and Campaign Ribbons

Specifications:
Class: Buckley
Type: TE (turbine-electric drive, 3" guns)
Displacement: 1400 tons (light), 1740 tons (full)
Length: 300' (wl), 306' (oa)
Beam: 36' 9" (extreme)
Draft: 10' 6" (draft limit)
Propulsion: 2 "D" Express boilers, G.E. turbines with electric drive, 12000 shp, 2 screws
Speed: 24 kts
Range: 6,000 nm @ 12 knots
Armament: 3 x 3"/50 Mk22 (1x3), 1 twin 40mm Mk1 AA, 8 x 20mm Mk 4 AA, 3 x 21" Mk15 TT (3x1), 1 Hedgehog Projector Mk10 (144 rounds), 8 Mk6 depth charge projectors, 2 Mk9 depth charge tracks
Complement: 15 / 198
---
Maloy (DE 791) Building and Operational Data:
10 May 1943: Keel laid by the Consolidated Steel Corp., Ltd., Orange, Tex.
18 August 1943: Launched and christened, sponsored by Mrs. Thomas J. Maloy, widow of Chief Watertender Maloy
13 December 1943: Commissioned, Lt. Frederic D. Kellogg in command
Scheduled conversion to APD 83 cancelled
14 August 1946: Redesignated EDE 791, assigned to the Operational Development Force, New London Detachment
28 May 1965: Decommissioned at the Philadelphia Naval Shipyard
1 June 1965: Stricken from the NVR
11 March 1966: Sold for scrapping to the North American Smelting Co. of Wilmington, Del.
---
Click On Image
For Full Size Image
Size
Image Description
Contributed
By And/Or Copyright
206k
1947: Maloy crew portrait. (Photo from the collection of RM2 Everett J. Jensen)
Gary A. Jensen
87k
Heading in or out of New London, Conn. before she got her variable depth sonar in 1956. (U.S. Navy photo)

(Note: The description "before she got her VDS" is incorrect. The first VDS was lowered over the port side on a winch with railings on the hull. If you note the small wake about midships, it is being generated by the railing on the hull. The transducer was raised and then tilted over to rest against the boat deck so that you walked under it on the port side. We were never able to develop a chain to keep the transducer beneath the ship so we couldn't get true bearings and distance. Computers solved that problem so they put it on the fantail. From: Bob Brown, a Maloy radarman, May 1951 - December 1953 )
J. Everett
26k
1961: Maloy shown coming out past the Underwater Sound Lab at Groton, Conn.
Jim Jackson
crewmember 1960-1963
47k
22 May 1963 (U.S. Navy photo)
-
---
View the USS Maloy (DE 791) DANFS history entry
located on the Naval History and Heritage Command web site.
---
Crew Contact And Reunion Information
---
None
---
Note About Contacts
Contact information is compiled from various sources over a period of time and may, or may not, be correct. Every effort has been
made to list the newest contact. However, our entry is only as good as the latest information that's been sent to us. We list only
a contact for the ship if one has been sent to us. We do NOT have crew lists, rosters, or deck logs available. Please see the Frequently
Asked Questions section on NavSource's Main Page for that information.
---
Additional Resources
---
Destroyer Escort Sailors Association
Tin Can Sailors Shipmate Registry - USS Maloy
The Destroyer History Foundation
---

Comments, Suggestions, or Image Submissions, Please E-mail: DE Info
Problems or Site Related Matters, Please E-mail: Webmaster

This Page Created And Maintained by Mike Smolinski



by Paul R. Yarnall, All Rights Reserved.
Page Last Updated 19 January 2011