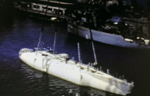 0851101
1.35k
Background statement from Operation WIGWAM, Scientific Director's Summary Report"
"Operation WIGWAM was the code name of the first deep underwater nuclear explosion in history.
The explosion took place in a lonely part of the Pacific a few hundred miles west southwest of San Diego on 14 May 1955.
The weapon, a (Mark 90 nuclear bomb, redacted) was exploded at a depth of 2000 ft in 16,000 ft of water, in the presence of an array of subsurface and surface targets and measuring devices.
The detonation was made by agencies of the U.S. Government for test purposes, the primary objectives being:
(1) to determine the fatal range of a deeply detonated nuclear weapon for a modern submarine and also the safe range for a surface ship;
(2) to plot the pressure-time fields in water and air;
(3) to study the fall-out, contamination, and any additional phenomena."
---
These faux submarines, base on the Tang (SS-563) submarine design, were used as test targets as part of Operation Wigwam.
The test target submarines (one of which appears closest to the camera on the right) were referred to as SQUAWS, & were constructed at Long Beach Naval Shipyard under the contract with the US Navy.
Record Group 374: Records of the Defense Threat Reduction Agency, 1943 - 2005
Photographs of Atmospheric Nuclear Testing at Pacific Island and Nevada Test Sites, 1946 - 1962
PROJECT 30-30 - OPERATION WIGWAM (Pacific) Detonation
Local Identifier: 374-ANT-30-30-DPY-11-20 & 374-ANT-30-30-CUZ-06-01.
National Archives Identifiers: 146764638 & 146764636
Photos courtesy of catalog.archives.gov & catalog.archives.gov
PDFs courtesy of Darryl L. Baker.