NavSource Online: Service Ship Photo Archive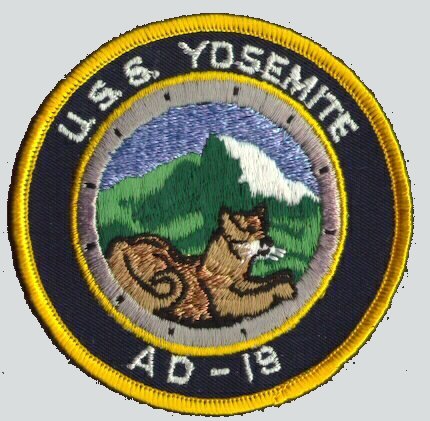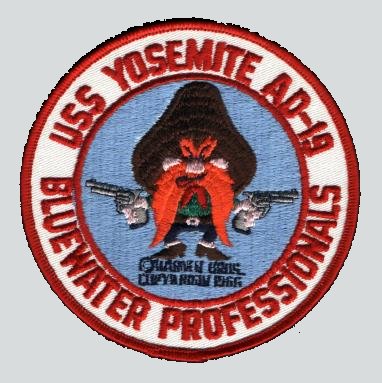 Contributed by Mike Smolinski
USS Yosemite (AD-19)
Memorabilia and Photo Collections
---
Welcome Aboard circa 1985
Submitted by Richard Miller BMCS USNR Ret.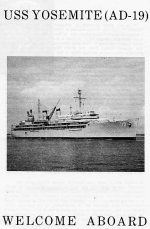 Cover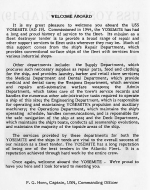 Captain's Welcome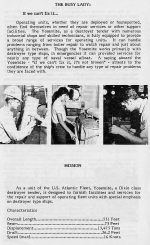 Busy Lady: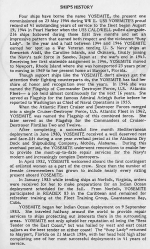 Ship's History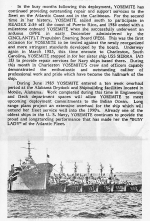 Ship's History cont'd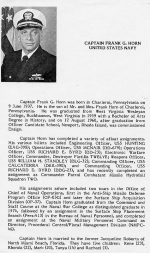 Captain's bio.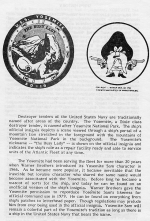 Patches
---
Decommissioning Ceremony
Submitted by Albert Seguin DCC USN Ret. USS Yosemite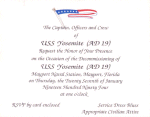 Invitation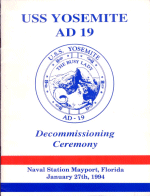 Program, front cover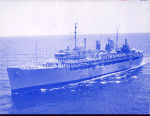 Program, back cover
---
Welcome Aboard Pamphlet and Thanksgiving Day Dinner Menu 1952
From the Library of A. Earl Priest USS Yosemite
---
Commemorating Nearly 50 Years of Service, 25 May 1944 to 27 January 1994
Submitted by Albert Seguin DCC USN Ret. USS Yosemite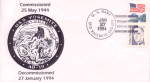 Postal Cover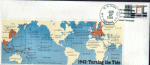 Postal Cover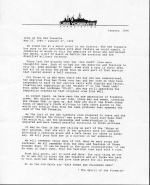 Yosemite Association letter
to all decommissioning crew
and past crew members
---
The Bruce Cannon Photo Collection USS Yosemite 1970-1972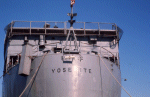 Stern View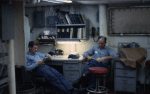 Electrical Office
Right, Garrison EM1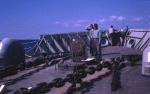 Crew fishing from Foc'sle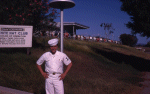 Bruce Cannon EM3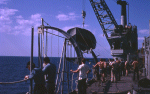 Lowering Shark Boat for Swim Call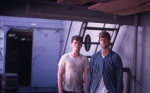 Cannon EM3 and Brown EM3
emerging from engine room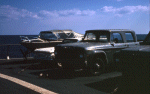 Vehicles on the Helicopter Dec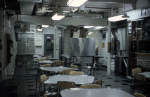 Mess Deck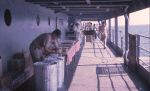 Picnic on "Steel Beach" officers served crew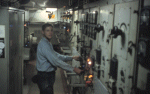 EM2 O'Conner at the generators controls, Yosemite was actually in port running off shore power at Jacksonville, FL.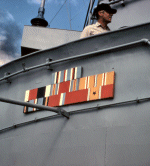 Yosemites' ribbon board in 1971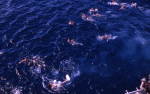 Swim Call in the Caribbean in 1971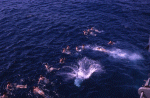 Swim Call in the Caribbean in 1971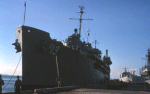 Yosemite moored at Naval Base Guantanamo Bay, Cuba in 1971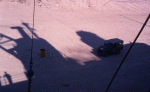 The shadow of Yosemite moored at Grand Bahamas Island in 1971
---
This page is created and maintained by Gary P. Priolo