Please report any broken links or trouble you might come across to the Webmaster. Please take a moment to let us know so that we can correct any problems and make your visit as enjoyable and as informative as possible.
---
NavSource Online: Service Ship Photo Archive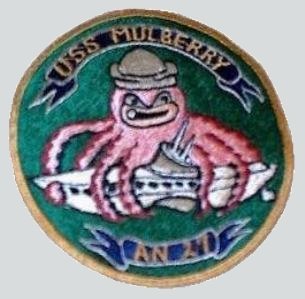 Contributed by Mike Smolinski
USS Mulberry (AN-27)
ex
USS Mulberry (YN-22) (1942 - 1944)
Mulberry (YN-22) (1941 - 1942)

---
20 June 1943 Assigned to Adak, Alaska
26 September 1943 Arrived San Diego, California
Between 23 September 1943 and 9 December 1943, Underwent repairs at Seattle, Washington, (Pier 40). Then to Naval Ammunition Depot for loading.
17 December 1943 Arrived Dutch Harbor, Unalaska Island, Aleutians.
Took on various duties until 21 July 1946, when underwent overhaul at the Puget Sound Shipyard in Seattle, Washington.
2 August 1946 Returned to Alaska. Net Tending and various duties until
4 March 1947 where she returned to Seattle, Washington for overhaul.
7 June 1947 Arrived Pearl Harbor … assigned to Hawaiian duty engaging in Harbor operations at Pearl Harbor.
19 January 1948 - Arrived Sand Francisco Naval Shipyard for overhaul.
30 July 1948 Arrived Adak, Alaska until 17 October 1948 … back to Naval Net Depot, Tiburon, California. Operated out of Tiburon and Sand Diego until 1 May 1950.
September 1949 to April 1950, The Mulberry, (through the office of Naval Research), was assigned to the California Academy of Sciences to probe out the secrets hidden in the ocean deep which lies just thirty miles out of the Golden Gate and six miles west of the Farallon Islands. Here the continental shelf, a great slab of gently sloping ocean floor, drops abruptly from less than 100 feet to 2,000 feet below sea level. The study along the 120 mile section was carried on at depths ranging from 6,000 to 1,.800 feet. Hundreds of feet of steel cable would be reeled out … at the other end was huge steel sieve like cylinder, (or cone shaped), used to dredge the ocean bottom.
81 miles Southwest of the Golden Gate were two undersea mountains. The Pioneer, rising some 8,000 feet above the ocean floor, and "Guide", rising some 5,400 feet from the ocean floor. After five trips out, another undersea mountain, (volcano), was discovered, rising some 7,020 feet from the ocean floor. It was named after the survey ship, USS Mulberry.
8 July 1950 … Departed Bremerton, Washington via Pearl Harbor to Yokosuka, Japan.
23 November 1955 … Departed Yokosuka for United States after serving 5 years, 4 months non-rotating duty in Japan.
23 December 1955 … Returned to Long Beach Naval Station, and tied up with Mind Sweepers at "pipeline pier'. Reported to the operational control of Commander Mine Force, U. S. Pacific Fleet, and based her operations from that port during which time participated in various mine exercises as a recovery vessel.
31 May to 18 August 1956 … placed in dry dock at the Long Beach Naval Shipyard for regular overhaul. Was fitted with new radar, additional air compressors for diving operations, and a single-lock decompression chamber.
29 November 1957 to 5 February 1958 … Conducted exercises off San Clemente Island and in Santa Monica Bay. With the decompression chamber installed, the ship frequently operated with EOD personnel in conjunction with mine testing and mine recovery operations. Was also involved in Underwater Missile Experiments held around St. Nicholas Island of the coast of California.
6 August - 23 October 1959, In the Naval Repair Facility, San Diego, scheduled for inactivation early in 1960.
November 1965, taken out of the pacific Reserve Fleet, San Diego California and transferred to Ecuador on the Military Assistance Program.
1 August 1978, Disposed, through the Security Assistance Program (SAP), transferred, cash sale, ex-U S Fleet Hull Foreign Military sale case number assigned.
---
This page is created and maintained by Gary P. Priolo