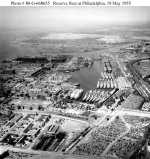 138k
Reserve Fleet Basin, Philadelphia Naval Shipyard, Pennsylvania. Photographed on 19 May 1955 with numerous cruisers, escort carriers, and auxiliaries in reserve. The nearest ship is the never-completed
Hawaii (CB-3), which lacks her previously-installed three 12" gun turrets.
The cruisers outboard of Hawaii are (in unknown order)
Honolulu (CL-48),
Columbia (CL-56),
Denver (CL-58),
Galveston (CL-93), and
Portsmouth (CL-102).
To their left are
Tranquility (AH-14),
Sanctuary (AH-17), and
Pocono (AGC-16).
Behind Hawaii (from left to right) are
Montpelier (CL-57),
Houston (CL-81),
Huntington (CL-107),
Savannah (CL-42),
Cleveland (CL-55), and
Wilkes-Barre (CL-103).
Beyond them (from left to right) are
Wichita (CA-45),
Oregon City (CA-122),
Chester (CA-27), and
New Orleans (CA-32).
The cruisers on the left side of the basin (from front to rear) are
Minneapolis (CA-36),
Tuscaloosa (CA-37),
San Francisco (CA-38),
Augusta (CA-31),
Louisville (CA-28), and
Portland (CA-33).
Among the other ships in reserve in the basin are
Fomalhaut (AE-20),
Webster (ARV-2),
Albemarle (AV-5),
Tangier (AV-8),
Pocomoke (AV-9),
Chandeleur (AV-10),
Abatan (AW-4),
Mission San Carlos (AO-120),
Prince William (CVE-31),
Anzio (CVE-57),
Block Island (CVE-106),
Palau (CVE-122), and
San Carlos (AVP-51).
Moored in the shipyard at the extreme left are
Tennessee (BB-43),
California (BB-44), and
Cabot (CVL-28).
US Navy Photo # 80-G-668655, now in the collections of the US National Archives.
Robert Hurst