Please report any broken links or trouble you might come across to the Webmaster. Please take a moment to let us know so that we can correct any problems and make your visit as enjoyable and as informative as possible.
---
NavSource Online: Service Ship Photo Archive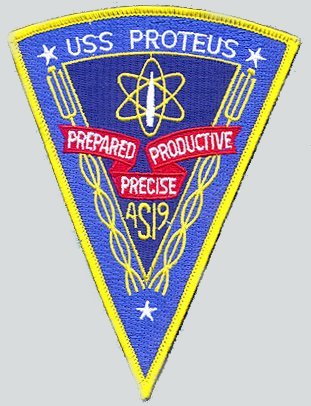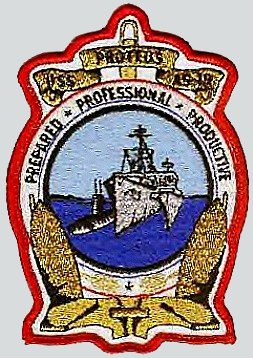 Patch at right contributed by Mike Smolinski
USS Proteus (AS-19)
Photos of her Conversion to a FBM Submarine Tender at Charleston Naval Shipyard
Submitted by Robert Hall

---
USS Proteus arrived at the yard on 15 January 1959. She was placed in dry dock #1. Beginning 8 June yard workers began cutting the ship apart. That part of the task was completed on the following day. The ship was cut apart in the dry dock in order to add a 44 ft. section. The aft section was sealed, the dry dock was flooded and the aft section floated back to make room for the new section. The bow section was flooded to hold it in place.
The new section was built in place. There were seventy compartments and spaces added while approximately 320 existing compartments and spaces were modified. Modifications included the addition of a crane to handle Polaris missiles, a 20 missile magazine, spaces to support work related to repairing nuclear reactor plants, and radiation shielding. The electric plant was increased to 15,000 kilowatts (enough power to supply the entire shipyard). The cost of the project was approximately $26 million and the job was the biggest conversion project undertaken at the yard since World War II.
Welding the new section which was made from HY80 high strength steel to the existing World War II steel was an engineering project in itself. The expansion rate of the two different metals was considerably different. The decks were painted white and the exterior welding was done in the cooler temperatures of the evening. The interior welds were done while water was misted on the hull to keep the temperature cool.
The Proteus left for sea trials on July 6, 1960. The trials were a complete success for the most part. A problem with the rudder caused a three hour delay.
Click On Image
For Full Size Image
Size
Image Description
Contributed By
/Source By
99k
USS Proteus (AS-19) moored pierside at Charleston Naval Shipyard prior to entering Drydock #1 where she will be cut in half and have a new mid-section added. The new mid-section will contain equipment, shops and gear to enable her to serve as the Navy's first FBM Submarine tender.
Robert Hall
62k
USS Proteus (AS-19) lies in drydock at Charleston cut in half to add a new mid-section that will equip her with special shops and gear to serve as a Fleet tender to the Navy's first squadron of nuclear submarines.
US Navy photo from "All Hands" magazine August 1959
Joe Radigan MACM USN Ret.
57k
USS Proteus (AS-19)'s stern section is floated away from the foreword section after being separated, 8 June 1959.
Robert Hall
37k
Aboard USS Proteus (AS-19)'s after section is checked for level by two shipyard workers.
Robert Hall
69k
USS Proteus (AS-19)'s aft section ready to be mated to her new mid-section.
Robert Hall
142k
A yard crane lowers a wing tank in place for installation in USS Proteus (AS-19)'s new mid-section.
Robert Hall
49k
One of USS Proteus (AS-19)'s twenty new missile canisters being lowered into place in the new mid-section.
Robert Hall
87k
USS Proteus (AS-19), after completion of her transformation to a FBM Submarine Tender, moored pierside at Charleston Naval Shipyard, Charleston, S.C., 8 July 1960.
Robert Hall

---

This page is created and maintained by Gary P. Priolo