Please report any broken links or trouble you might come across to the Webmaster. Please take a moment to let us know so that we can correct any problems and make your visit as enjoyable and as informative as possible.
---
NavSource Online: Service Ship Photo Archive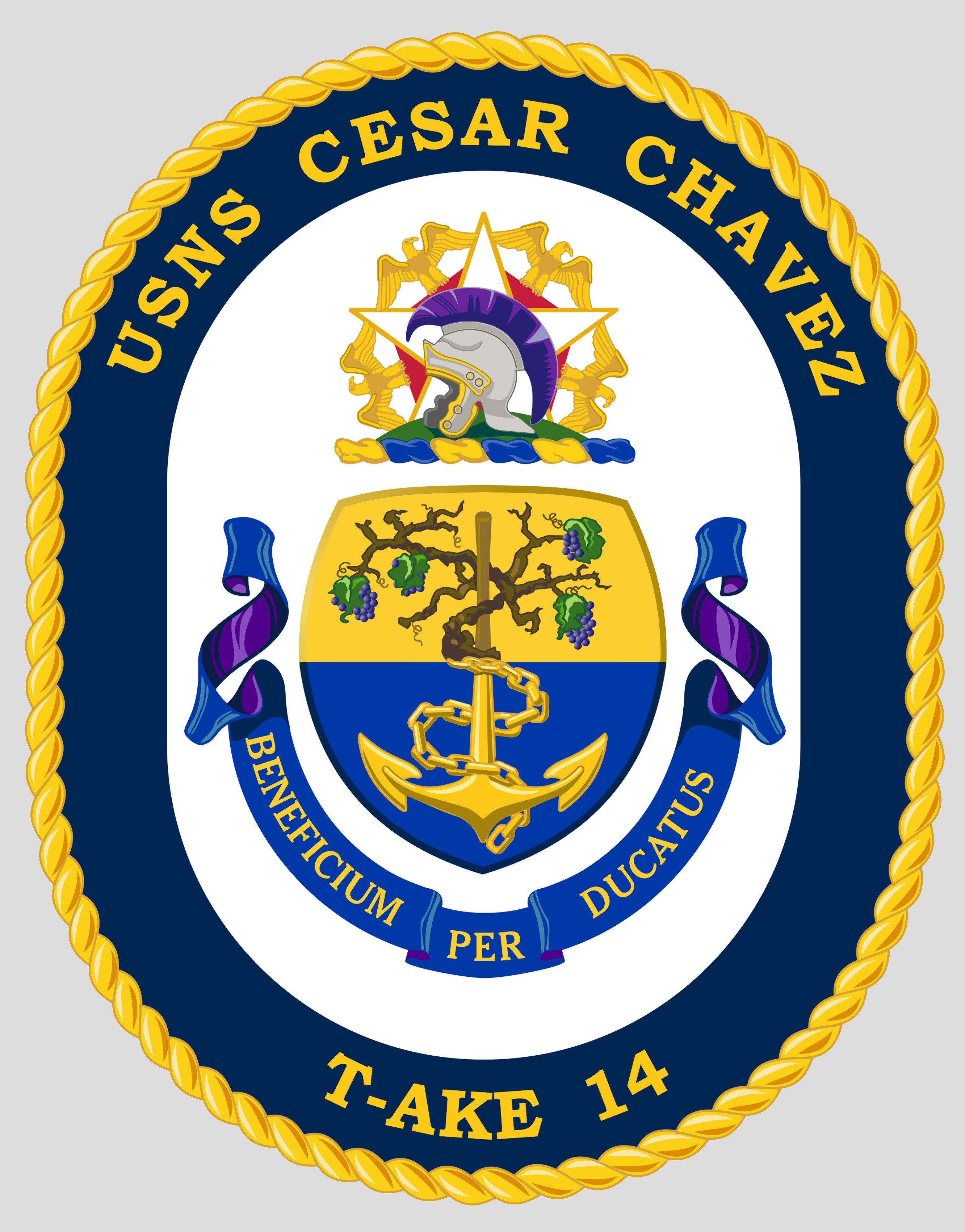 Contributed by Wolfgang Hechler
USNS Cesar Chavez (T-AKE-14)




International Radio Call Sign:
November - Charlie - Charlie - Zulu
NCCZ
---
Lewis and Clark Class Dry Cargo/Ammunition Ship:
Laid down, 10 May 2011, at General Dynamics NASSCO, San Diego, CA.
Launch and Christened, 5 May 2012
Scheduled completion date fourth quarter of 2012
Accepted by the US Navy's Military Sealift Command, 25 October 2014
---
Specifications:
Displacement 35,400 long tons (fl.)
Length 689 feet
Beam 106 feet
Draft 29.5 feet

Speed 20 kts

Range 14,000 nautical miles at 20 kts

Complement

124 CivMar
36 Military + 13 for helicopter detachment

Armament none

Cargo Capacities

Max Dry Cargo Weight 5,910 long tons
Max Dry Cargo Volume 783,000 square feet
Max Cargo Fuel Weight 2,350 long tons)

Cargo Fuel Volume 18,000 barrels (DFM: 10,500) (JP5:7,500)

Propulsion

Integrated propulsion and ship service electrical system, with generation at 6.6KV by FM/MAN B&W Diesel generators
one fixed pitch propeller
bow thruster
---
Click On Image
For Full Size Image
Size
Image Description
Source
19k

Namesake
Cesar Chavez

A photo illustration of the Military Sealift Command dry cargo and ammunition ship USNS Cesar Chavez (T-AKE 14). Chavez served in the Navy from 1944-1946 and became a civil rights activist and a leader in the American labor movement. Cesar Chavez will serve as a combat logistics force ship delivering ammunition, food, fuel and other dry cargo to U.S. and allied ships at sea.
US Navy photo illustration 110512-N-DX698-001 WASHINGTON (May 12, 2011) by Mass Communication Specialist Jay M. Chu.
Lee Wahler
1098k
Service members and civilians gather to watch the Lewis and Clark-class dry cargo ship USNS Cesar Chavez (T-AKE-14) be christened and launched at General Dynamics National Steel and Shipbuilding Company's shipyard in San Diego. The mission of the Cesar Chavez is to deliver food, ammunition, fuel and other provisions to strike groups and other naval forces at sea.
US Navy photo # 120507-N-SH505-005 SAN DIEGO (May 5, 2012) by MCSN Jasmine Sheard.
Lee Wahler
1034k
USNS Cesar Chavez (T-AKE-14) launching at General Dynamics National Steel and Shipbuilding Company's shipyard, San Diego, 5 May 2012.
US Navy photo
Lee Wahler
183k
USNS Cesar Chavez (T-AKE-14) transfers cargo with an SA-330J Puma helicopter during a replenishment-at-sea with the guided-missile destroyer USS Mason (DDG-87). Mason is deployed as part of the Harry S. Truman Carrier Strike Group supporting maritime security operations and theater security cooperation efforts in the U.S. 5th Fleet area of responsibility.
US Navy photo # 131106-N-PW661-011 RED SEA (Nov. 6, 2013) by MC2 Rob Aylward.
Lee Wahler

140403-N-CO162-110 PACIFIC OCEAN (April 3, 2014)
197k
Sailors and Military Sealift Command civilian mariners aboard submarine tender USS Frank Cable (AS-40) keep an eye on the phone and distance line during an underway replenishment USNS Cesar Chavez (T-AKE-14). This was the first underway replenishment for Frank Cable in ten years and demonstrates the ship's capability for sustained at-sea operations. Frank Cable, forward deployed to Guam, conducts maintenance and repair on submarine and surface vessels deployed in the U.S. 7th Fleet area of responsibility and is on a scheduled underway period.
US Navy photo #s
140403-N-CO162-110 PACIFIC OCEAN (April 3, 2014) by MC2 Christopher Salisbury and 140403-N-AY759-109 PACIFIC OCEAN (April 3, 2014) by MCSS Jason Morris.
Lee Wahler

140403-N-AY759-109 PACIFIC OCEAN (April 3, 2014)
255k
---
There is no DANFS history available for USNS Cesar Chavez (T-AKE-14) at NavSource
---
Crew Contact And Reunion Information
U.S. Navy Memorial Foundation - Navy Log
---
Additional Resources and Web Sites of Interest
Navy Fact File - Dry Cargo/Ammunition Ships - T-AKE
General Dynamics - NASSCO - Louis and Clark (T-AKE-1) Class Dry Cargo/Ammunition Ship Fact Sheet
---
This page is created and maintained by Gary P. Priolo


Last Updated 2 May 2014