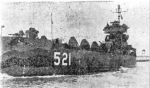 73k
LSM(R)-521 underway, Navy Day, 27 October 1945, place unknown.
Jack Donahue to the USS LSM / LSMR Association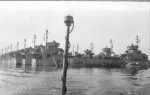 58k
Seventeen LSM(R)s at Green Cove Springs, FL. during Operation "Zipper", the process of decommissioning the fleet, commonly called "mothballing", March 1946.
From front to back:
LSM(R)-519
LSM(R)-526,
LSM(R)-527,
LSM(R)-525,
LSM(R)-524, (See Deck Log entry below)
LSM(R)-529,
LSM(R)-521,
LSM(R)-528,
LSM(R)-522,
LSM(R)-531,
LSM(R)-536,
LSM(R)-535,
LSM(R)-534,
LSM(R)-520,
LSM(R)-533,
LSM(R)-530,
LSM(R)-523,
The LSMR-524 Deck Log states during the month of March 1946
Moored in Birth Oak 31, St. Johns River Green Cove Springs. Fla. Anchorage in 14 feet of water, mud bottom with 65 fathoms of chain to bow anchor and 495 feet of cable to the stern anchor. Nested with LSM (R) type ships: 523, 530, 533, 520, 534, 535, 536, 531, 522, 528, 521, and 529, moored to our starboard numbering from inboard to outboard. LSM(R) type ships: 525, 527, 526, and 519, moored to our port numbering from inboard to outboard , on the following bearing: bridge opening 180 .5 (T), signal tower 235 (T), pt. of land 336 (T). The following machinery in operation: #1 generator, #1 evaporator, #2 fire & flushing pumps, #2 fresh water pumps, #2 refrigeration unit.
Robert Hanle to the USS LSM / LSMR Association
Log Entry submitted by Mark McDonald for his father John A. McDonald S1/c USS LSM(R)-524