Please report any broken links or trouble you might come across to the Webmaster. Please take a moment to let us know so that we can correct any problems and make your visit as enjoyable and as informative as possible.
---
NavSource Online: Amphibious Photo Archive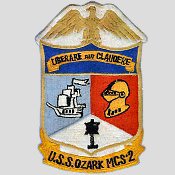 Contributed by Al Grazevich
USS Ozark (MCS-2)
ex
USS Ozark (LSV-2) (1944 - 1966)





LSV-2/International Radio Call Sign:
November - Alpha - Whiskey - Lima
NAWL




MCS-2International Radio Call Sign:
November - Delta - Bravo - Tango
NDBT
---
Awards, Citations and Campaign Ribbons

Catskill Class Minelayer:
Laid down, 12 July 1941, at Williamette Iron and Steel Corp, Portland, OR. as Mine Layer CM-7
Launched, 15 June 1942
Redesignated Transport AP-107, 1 May 1943
Redesignated Landing Ship Vehicle LSV-2, 21 April 1944
Commissioned USS Ozark (LSV-2), 23 September 1944, CAPT. Frederick P. Williams in command
During World War II Ozark was assigned to the Asiatic-Pacific Theater and participated in the following campaigns:
Campaign and Dates
Campaign and Dates
Luzon operation
Lingayen Gulf landings, 9 January 1945
Okinawa Gunto operation
Assault and occupation of Okinawa Gunto, 1 to 10 April 1945
Iwo Jima operation
Assault and occupation of Iwo Jima, 19 to 27 February 1945
Following World War II USS Ozark was assigned to Occupation service in the Far East from 2 to 7 September 1945
Decommissioned, 25 June 1946, at Orange, TX.
Laid up in the Atlantic Reserve Fleet, Texas Group, Beaumont, TX., 17 August 1960
Redesignated Mine Countermeasures Support Ship MCS-2, 18 October 1956
Struck from the Naval Register, 1 September 1961
Reinstated on the Naval Register, 1 October 1963
Converted to a Mine Countermeasure Support Ship under the Navy 1963 Shipbuilding and Conversion Program at Norfolk Shipbuilding, Norfolk, VA.
Recommissioned, USS Ozark (MCS-2), 24 June 1966
Decommissioned, date unknown'
Transferred to the Maritime Administration (MARAD) for lay up in the National Defense Reserve Fleet, James River Group, 17 November 1970
Permanent transfer to MARAD, 1 September 1971
Loaded to the US Air Force, 7 October 1975
Final Disposition, sunk unintentionally by a Maverick missile in 1981 in the Gulf of Mexico. The missile entered the starboard side of the ship 13 feet above the waterline and the delayed fuse ignited the warhead above the first deck. A 2 ft hole in the hull caused the sinking
Ozark earned three battle stars for World War II service in addition to the Philippine Republic Presidential Unit Citation
---
Specifications
Displacement 5,875 t.(lt), 9,040 t.(fl)
Length 451' 4"
Beam 60' 2"
Draft 20'
Speed 20.3 kts.

Armament (LSV Configuration)

two single 5"/38 cal duel purpose gun mounts
four twin 40mm AA gun mounts
twenty single 20mm AA gun mounts

LSV Total Accommodation

Officers 114
Enlisted 450

Boats

LSV Configuration - thirty-one DUKWS plus LCVPs
MCS Configuration - twenty 36' MSLs

Aircraft two helicopters (MCS Configuration)

Fuel Capacities

NSFO 12,025 Bbls
Diesel 750 Bbls

Propulsion

two General Electric geared turbines
double General Electric Main Reduction Gears
four turbo-drive 500Kw 450V A.C. Ship's Service Generators
four Combustion Engineering D-type boilers, 400psi 700&deg
two propellers, 11,000shp
---
Click On Image
For Full Size Image
Size
Image Description
Source
USS Ozark (LSV-2)

72k
Ozark (LSV-2) underway near her builders yard, Willamette Iron & Steel Corp., Portland, OR., 16 September 1944. Her two superfiring 5"/38 gun mounts were removed before she left the shipyard in early October.
US National Archives, RG-19-LCM, photo # 19-N-76631, a US Navy Bureau of Ships photo now in the collections of the US National Archives.
Mike Green
38k
USS Ozark (LSV-2) underway, circa 1944-1945, location unknown. Her camouflage is Measure 31 Design 15L
Laurence Talbott USN crew member
and the James F Justin Online Museum
Oral History Collection
USS Ozark (MCS-2)

44k
USS Ozark (MCS-2) underway circa 1967, location unknown
US Navy photos
28k
79k
USS Ozark (MCS-2) underway date and location unknown
Richard Miller BMCS USNR Ret.
108k
149k
USS Ozark (MCS-2) twelve hours before sinking. The ship was unintentionally sunk with a Maverick missile launched from an F-4 "Phantom" from Eglin AFB in 1981. The missile's warhead entered on her starboard side approximately 13 feet above the waterline, went through 2 decks and exploded above the hull leaving a hole approximately 3 feet in diameter in her hull. The hole in the bottom of the ship wasn't noticed until the next day when Air Force personnel and Hughes Missile Systems Co. engineers entered the ship for damage assessment. By this time, she was listing at 16 degrees and all personnel were ordered off the ship. The wreck currently lies upright and intact in approximately 330 feet of water, 28 to 30 miles due south of Destin, FL.
Wikemedia Commons, Gordon Starr, photographer, with photo use permission.
Mike Green
126k
Starboard side view of entry hole in the hull of ex-USS Ozark (MCS-2) milliseconds after impact.
Wikemedia Commons, U.S. Air Force photo, Photo No. Unknown.
Mike Green
---
USS Ozark (LSV-2 / MCS-2)
Dictionary of American Naval Fighting Ships (DANFS)
---
Commanding Officers

01
CAPT. Williams Frederick Paul
23 September 1944 - ?
02
CAPT. Pstrak, Theodore Wesley
1 June 1946 - 29 June 1946
Decommissioned
29 June 1946 - 24 June 1966
03
CAPT. Little, Charles Eugene
24 June 1966 - July 1967
Courtesy Wolfgang Hechler and Ron Reeves
---
Crew Contact And Reunion Information
U.S. Navy Memorial Foundation - Navy Log
---
Additional Resources and Web Sites of Interest
Association of Minemen
Naval Minewarfare Association
---
This page created by Gary P. Priolo and maintained by Joe Radigan


Last Updated 27 February 2015