Please report any broken links or trouble you might come across to the Webmaster. Please take a moment to let us know so that we can correct any problems and make your visit as enjoyable and as informative as possible.
---
Navsource Online: Littoral Warship Photo Archive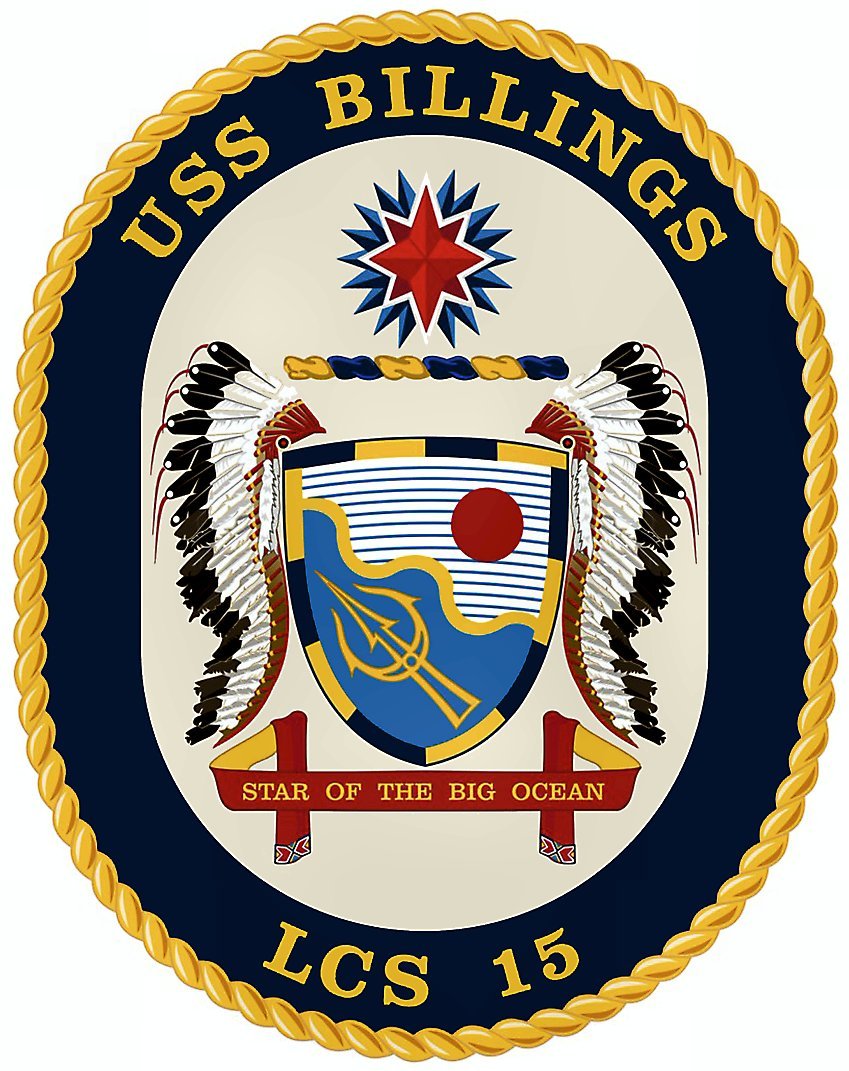 Ship's emblem courtesy of
Wolfgang Hechler

Billings (LCS 15)
---
Specifications - LCS Littoral Combat Ship - Freedom Class (Variant 1, Flight 0, first generation):
Hull Type: Semi-planing Monohull
Displacement: 2135 tons (light), 2862 tons (full) Dead Weight: 727 tons
Length: 324 (wl), 378.9' (oa)
Beam: 43' (wl), 57' (extreme)
Draft: 13' (navigational), 14' (draft limit)
Propulsion: Two Rolls-Royce MT30 36MW gas turbines, FM Colt-Pielstick 16PA6B STC diesel engines driving four Rolls-Royce waterjets
Auxiliary Power: Four Isotta Fraschini Model V1708 ship service diesel generator sets
Speed: 45 kts
Armament: BAE Systems Land and Armaments Mk110 57mm naval gun system
Combat Management System: Lockheed Martin open architecture COMBATSS-21
Electronics: EADS TRS-3D C-band radar (air / surface surveillance, weapon assignment)
Decoy System: Soft-Kill Weapon System (SKWS) decoy launcher from Terma A/S of Denmark
Complement: 26
---
Billings (LCS 15) Building and Operational Data:
04 March 2013: Contract Awarded to Lockheed Martin Corp.
06 June 2013: Secretary of the Navy Ray Mabus announced LCS 15 will be named USS Billings
02 November 2015: Keel laid at Marinette Marine Corp. shipyard; keel authenticated by Mrs. Sharla Tester, wife of Montana Sen. Jon Tester

Note:
1.) The contract option awarded to Lockheed Martin Corporation is managed by Lockheed Martin's Maritime Systems and Sensors division in Moorestown, N.J. The Lockheed Martin team includes: Marinette Marine shipyard, Bollinger Shipyards, Gibbs and Cox naval architects, Izar of Spain and Blohm & Voss naval shipbuilders.

2.) The contract option awarded to General Dynamics is managed by Bath Iron Works at Bath ME. The major members of General Dynamics team are: Austal USA, based in Mobile AL; BAE Systems, Rockville MD; Maritime Applied Physics Corporation, Baltimore MD; CAE Marine Systems, Leesburg VA; Northrop Grumman Electronic Systems, Baltimore MD; General Dynamics Armament and Technical Products, Burlington VT; General Dynamics Electric Boat, Groton CT; General Dynamics Advanced Information Systems, Washington DC; and General Dynamics Canada, Ottawa, Ontario.
---
Click On Image
For Full Size Image
Size
Image Description
Contributed
By And/Or Copyright
172k
27 May 2004: Washington, D.C. - The U.S. Navy announced today that Lockheed Martin Corporation - Maritime Systems & Sensors Division, Moorestown, N.J., will be one of two defense contracting teams awarded contract options for final system design with options for detail design and construction of up to two Flight 0 Littoral Combat Ships (LCS). The LCS is an entirely new breed of U.S. Navy warship. A fast, agile, and networked surface combatant, LCS's modular, focused-mission design will provide Combatant Commanders the required warfighting capabilities and operational flexibility to ensure maritime dominance and access for the joint force. LCS will operate with focused-mission packages that deploy manned and unmanned vehicles to execute missions including, Special Operations Forces (SOF) support, high-speed transit, Maritime Interdiction Operations (MIO), Intelligence, Surveillance and Reconnaissance (ISR), and Anti-Terrorism/Force Protection (AT/FP). (Artist concept provided to the U.S. Navy courtesy of Lockheed Martin Corporation, Photo #040527-O-0000L-003, from the Navy News Stand)
Navsource
259k
02 September 2015: Billings, Mont. - Secretary of the Navy (SECNAV) Ray Mabus delivers remarks at a dual ship-naming ceremony for the Navy's newest Littoral Combat Ship, the future USS Billings (LCS 15) and future Virginia-class attack submarine, USS Montana (SSN 794), at Metra Park Rimrock Auto Arena. Mabus thanked the people of Montana for their support and contributions to the Navy and discussed the special bond that exists between a state and its namesake vessel. (U.S. Navy photo #150902-N-AC887-001 by MCC Sam Shavers, from the Navy Newstand)
259k
03 November 2015: Marinette, Wis. - A welder authenticates the keel by welding the initials of the ship's sponsor, Mrs. Sharla D. Tester, onto the keel plate of the U.S. Navy's fifteenth Littoral Combat Ship (LCS), the future USS Billings (LCS 15), in a ceremony held at Fincantieri Marinette Marine in Marinette, Wisconsin. The Keel Laying is the formal recognition of the start of the ship and module construction process. (U.S. Navy photo #151103-N-XX501-014 by Lockheed Martin, from the Navy Newstand)
---
There is no DANFS History currently available for Billings (LCS 15) at Navsource
---
Crew Contact And Reunion Information
none
---
Additional Resources and Web Sites of Interest
---
This page created on 07 June 2013, and is maintained by Mike Smolinski


by Paul R. Yarnall, All Rights Reserved.
Page Last Updated: 16 June 2017