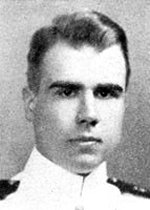 9k
Robert Scott Whitman, Jr. was born on 01 January 1916 at Johnson City, N.Y. and was appointed a midshipman on 24 August 1935. He graduated from the Naval Academy with the Class of 1939. After sea duty in the heavy cruiser USS Quincy (CA 39) from 26 June 1939 to 01 February 1941, Whitman underwent heavier-than-air instruction at the Naval Air Station at Pensacola, Fla. He won his wings there and then received further instruction at the Transition Training Squadron, Pacific Fleet, before he reported to Patrol Squadron (VP) 44 on 04 November 1941. He remained with VP-44 into the spring and early summer of 1942. With the reinforcement of Midway Atoll in the face of an impending Japanese thrust, VP-44 was dispatched to that key island base. During the first few days of June 1942, the PBY's based at Midway flew long patrols over the trackless ocean, searching for signs of enemy shipping. Then, on 03 June, came the first surface contact.

One of the searchers on patrol that morning. Whitman's plane was the third to spot the enemy ships and at 0925 radioed a report calling attention to the "main body." After sending back a second message amplifying the data contained in his report of the initial sighting, Whitman brought his plane back to Midway in accordance with instructions. The following day, 04 June 1942, at 0715, his PBY-5A Catalina was again airborne; he reported that the aircraft was being "opposed by two enemy observation planes." That proved to be the last word heard from Whitman's aircraft, as the enemy planes shot it down in flames. Records of what happened later are sketchy, but it appears that about half of the plane's crew was lost on 04 June; six survivors, including the badly wounded Ensign Jack H. Camp, USNR, were picked up by a search PBY on 06 June. Camp later died at 0203 on the 7th. After the battle of Midway Patrol Squadron 44 returned to Pearl Harbor on 09 Jun 1942. Lt.(jg) Whitman was awarded the Purple Heart. His remains were unrecoverable.

The family of Robert Scott Whitman received a commemoration from President Roosevelt. It reads:
"In grateful memory of Robert Scott Whitman, Jr., United States Navy, who died in the service of his country at Midway Islands, 5 June 1943 (Presumed). He stands in the unbroken line of patriots who have dared to die that freedom might live, and grow, and increase its blessings. Freedom lives, and through it, he lives – in a way that humbles the undertakings of most men. (signed), Franklin D Roosevelt, President of the United States of America"

USS Whitman (DE 24) (1943-1945) was the first ship named in his honor.

(Photo courtesy of Dickinson College, Carlisle, Pa.
Bill Gonyo
Downey, Cal.

Assoc. Researcher
Navsource