Please Report Any Broken Links Or Trouble You Might Come Across To The Webmaster
Please Take A Moment To Let Us Know So That We Can Correct Any Problems And Make Your Visit As Enjoyable And As Informative As Possible.
---
Navsource Online: Destroyer Escort Photo Archive
USS James E. Craig (DE 201)





Flag Hoist / Radio Call Sign:
N - F - C - Q
---
Awards, Citations and Campaign Ribbons

Specifications:
Class: Buckley
Type: TE (turbine-electric drive, 3" guns)
Displacement: 1400 tons (light), 1740 tons (full)
Length: 300' (wl), 306' (oa)
Beam: 36' 9" (extreme)
Draft: 10' 6" (draft limit)
Propulsion: 2 "D" Express boilers, G.E. turbines with electric drive, 12000 shp, 2 screws
Speed: 24 kts
Range: 6,000 nm @ 12 knots
Armament: 3 x 3"/50 Mk22 (1x3), 1 twin 40mm Mk1 AA, 8 x 20mm Mk 4 AA, 3 x 21" Mk15 TT (3x1), 1 Hedgehog Projector Mk10 (144 rounds), 8 Mk6 depth charge projectors, 2 Mk9 depth charge tracks
Complement: 15 / 198
---
James E. Craig (DE 201) Building and Operational Data:
15 April 1943: Keel laid by the Charleston Navy Yard, Charleston, S.C.
22 July 1943: Launched and christened, sponsored by Mrs. J. E. Craig, widow of Lieutenant Commander Craig
01 November 1943: Commissioned, Lcdr. Hampton M. Ericson in command
02 July 1946: Decommissioned at San Diego, Cal. after 2 years and 8 months of service, having steamed 108,00 miles
27 June 1946: Inactivation completed at San Diego, Cal., assigned to Submarine Group Two, San Diego Group, Pacific Reserve Fleet
30 June 1968: Struck from the NVR
February 1969: Sunk as target off San Clemente Island, California
---
Click On Image
For Full Size Image
Size
Image Description
Contributed
By And/Or Copyright
47k
James Edwin Craig was born in Jacksonville, Fla. on 29 October 1901. He was appointed to the Naval Academy 03 July 1918. After graduation in 1922, he saw almost continuous sea duty until early 1929 when he received aviation training at the Pensacola Naval Air Station. As an aviator, he served at Coco Solo, C.Z., and on board Wright, Arizona, and Yorktown. He attained the rank of Lieutenant Commander in 1937 and commanded Torpedo Squadron 5 in 1938. In March 1939 he assumed command of USS Conyngham (DD 371). Two years later he became Damage Control Officer and First Lieutenant aboard Pennsylvania. Lieutenant Commander Craig was killed in action during the Japanese surprise attack on Pearl Harbor 7 December 1941.

USS James E. Craig (DE 201) (1943-1946) was the first ship to be named in his honor.

(Photo courtesy of the U.S. Naval Academy, from the U.S. Naval Academy Yearbook; The Lucky Bag, Class of 1922.)
Bill Gonyo
Downey, Cal.

Assoc. Researcher
Navsource
123k
22 July 1943: Charleston, S.C. - USS James E. Craig in the process of being launched
Tom Lane
17k
undated wartime image
Paul Emery Richardson
---
James E. Craig
Memorabilia
Launch Program
Cover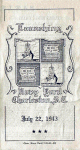 Courtesy of
Jon Burdett
Postal Cover,
Launch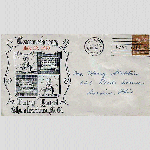 Courtesy of
Jon Burdett
---
James E. Craig History
View the USS James E. Craig (DE 201) DANFS history entry located on the Naval History and Heritage Command web site.
---
James E. Craig's Commanding Officers
Thanks to Wolfgang Hechler & Ron Reeves
Dates of Command
Commanding Officers
1.) 01 Nov. 1943 - 09 May 1944
Lcdr. Hampton Maturin Ericsson (Comm. CO)
2.) 09 May 1944 - 05 Nov. 1945
Lcdr. Edward Fiske Andrews, USNR (New Haven, Conn.)
Diary Gap
3.) 07 Jan. 1946 - 03 Apr. 1946
Lcdr. George A. Peek, Jr., USNR 
4.) 01 May 1946 - 02 Jul. 1946
(unsigned muster)
---
Crew Contact And Reunion Information
---
Contact Name: Mrs. Wanda M. Easton
Address: Diamond IL 60416
City/State: Diamond IL 60416
Phone: (815) 634-0844
E-mail: Mrs. W. Easton
---
Note About Contacts
Contact information is compiled from various sources over a period of time and may, or may not, be correct. Every effort has
been made to list the newest contact. However, our entry is only as good as the latest information that's been sent to us. We list
only a contact for the ship if one has been sent to us. We do NOT have crew lists, rosters, or deck logs available. Please see the
Frequently Asked Questions section on NavSource's Main Page for that information.
---
Additional Resources
---
Tin Can Sailors
The U.S. Navy Memorial
Destroyer Escort Sailors Association
The Destroyer Escort Historical Museum
The Destroyer History Foundation
Tin Can Sailors Shipmate Registry - USS James E. Craig
---

Comments, Suggestions, E-mail: Webmaster.



This Page Created And Maintained By Mike Smolinski



by Paul R. Yarnall, All Rights Reserved.
Page Last Updated: 04 June 2017