110226902
263k
The Palisade (AM-270) was built by the Gulf Shipbuilding Co., Chickasaw, AL, a few miles upstream of the Port of Mobile.
Here in August 1917, after the United States entered World War I, U.S. Steel established Chickasaw Shipbuilding. The yard closed after World War I but was reopened in 1940 by Waterman Steamship Corp. as Gulf Shipbuilding.
Insert photos courtesy of catalog.archives.gov & catalog.archives.gov
Photo courtesy of destroyerhistory.org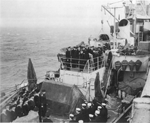 110227002
263k
Rear Admiral Popov speaks aboard an Admirable-class minesweeper during the ship's transfer ceremony, probably on 21 or 22 May 1945.
United States Navy photo via National Archives - Scanned from Russell, Richard A., Project Hula: Secret Soviet-American Cooperation in the War Against Japan, Washington, D.C.: Naval Historical Center, 1997, ISBN 0-945274-35-1, page 21. Caption information from same source., Public Domain, wikimedia.org