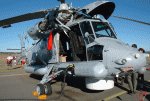 205k
The SH-2 Seasprite is a multi-mission helicopter featuring dual General Electric T700 engines, which give the aircraft true single engine capability throughout any mission configuration and profile. Standard mission equipment in the US Navy configuration includes: the AN/UYS-503 acoustic data processor and a state-of-the-art sonobuoy processor that incorporates the best features of any Undersea Warfare (USW) equipment in the world today.

Equipment of the SH-2G includes an AQS-18A dipping sonar, an ARR-84 sonobuoy receiver, AQS magnetic anomaly detector, LN-66 radar and AKT-22 data link. Also, a 600 kg rescue hoist can be installed. Small arms mountings for guns and 2.75 inch rockets are available. Tactical data from the radar, Electronic Support Measures (ESM), acoustic processors, and Magnetic Anomaly Detector (MAD) are integrated through the MIL-STD 1553B data bus and displayed on the AN/ASN-150 tactical navigation set. This allows the crew to function simultaneously in a multi-mission battle space scenario including USW, Anti-Surface Warfare (ASuW), Anti-Ship Surveillance and Targeting (ASST), as well as utility functions such as search and rescue, vertical replenishment, and medical evacuation.

The maximum gross weight of the aircraft—13,500 pounds—gives this medium weight helicopter the unique ability to operate from the smallest combatants yet carry payloads that enable diverse mission loads and extended times on station. Options include: a dipping sonar (offered in the Egyptian configuration), Forward Looking Infra-Red (FLIR), missile systems, and helicopter self-protection equipment such as jammers, missile warning equipment, and chaff systems. The US Navy incorporated Magic Lantern, a laser-based mine detection system, in 1996.

A product of Kaman Aerospace Corporation of Bloomfield, CT, the SH-2 SeaSprite was originally developed in the mid-1950s as a shipboard utility helicopter for the Navy. Utilizing a unique blade flap design on the main rotors, aerodynamic action of the flaps allows the pilot to fly without the aid of hydraulic assistance. The original SH-2 Seasprite took off on 2 July 1959, and the US Navy over the years ordered various variants. In October 1972, the SH-2D LAMPS Mk I helicopter was accepted for Fleet usage.

By the late 1980's, the SH-60F was developed to begin replacing the aging SH-3 helicopter. The SH-60F included an improved dipping sonar system and coupled it to the airframe of the successful SH-60B LAMPS Mk III helicopter. The SH-60F helicopter provided inner zone protection of carrier battle groups. It extended and increased shipboard sensor and weapon capabilities against several types of enemy threats, including submarines of all types, surface ships, and patrol craft that may be armed with anti-ship missiles. Additionally, a standardized helicopter airframe for both LAMPS and inner zone protection missions yielded significant logistical savings. The final production procurement of the SH-2F was in FY86. The SH-2F was equipped with search radar, electronic support measures, magnetic anomaly detectors and an acoustic data link. The helicopter also carried active and passive sonobuoys. On 06 February 1992, Helicopter Anti-Submarine Squadron Light 37 (HSL-37) became the only U.S. Navy helicopter squadron to transition from the SH-2F Seasprite (LAMPS MK I) to the SH-60B Seahawk (LAMPS MK III). The squadron operated as a LAMPS MK I/III composite until 01 October 1993, at which time it completed the transition to the SH-60B.

A major upgrade to the SH-2F LAMPS I aircraft, the SH-2G affords state-of-the-art warfighting capabilities to ships unable to operate the SH-60B Seahawk. Planned improvements in avionics and drive train will significantly increase mission effectiveness, range, and endurance. The SH-2G is configured specifically to respond to the Light Airborne Multi-Purpose System (LAMPS) requirement of the United States Navy. The LAMPS concept extends the search and attack capabilities of carrier and convoy escort vessels over the horizon through the use of radar/ESM equipped helicopters.

Primary missions of the SH-2G are anti-submarine warfare (ASW)and anti-ship surveillance and targeting (ASST). Secondary missions include search and rescue, vertical replenishment, medical evacuation, communications relay, personnel transfer,surveillance and reconnaissance, post-attack damage assessment, and naval gunfire spotting. Armament systems consist of two search stores systems (sonobuoy's and marine location marker's), an external weapons/stores system for external fuel tanks or torpedoes, and a countermeasures dispensing system.

Work on the SH-2G began in the 1980s, and an engine testbed for the T700 engines, which replace the T58, flew in April 1985. A prototype with full avionics fit followed on 28 December 1989. First new production SG-2G was accepted into service with the US Navy Reserve Squadron HSL-84 at NAS North Island (San Diego) on 25 February 1993. The Naval Air Reserve operates 16 Super Seasprites. Eight each are assigned to HSL-84 at NAS North Island, CA, and HSL-94 at NAS Willow Grove, PA.

Helicopter Antisubmarine Squadron Light (HSL) 94, a reserve unit based at Naval Air Station Joint Reserve Base, Willow Grove, Pa., SH-2G aircraft are unique because of a new mine hunting capability called Magic Lantern. The Magic Lantern system is contained in a "pod" on the right side of the aircraft. Magic Lantern is a laser-based electro-optic system that's designed to detect mines at depths greater than the deepest draft of any vessel the U.S. Navy puts to sea. Magic Lantern uses a blue-green laser and six cameras that take pictures simultaneously at six different depths. A mine may be detected if the laser light is reflected or if shadows are detected at lower depths. A black spot appears to the operator on the digital imagery, meaning that the shadow was caused by some object above it. The object imaged -- whether by reflected light off the object or from the shadow -- may be a fish, or a mine, and that's where the next phase comes in. A computer filters out all contacts which aren't mine-like objects. Magic Lantern has mechanisms in its collecting phase and dissemination phase that are designed to take into account how dirty the water is, which is called the "k factor." Magic Lantern's technology greatly reduces the chance that a mine-hunting ship conducting towing operations will strike a mine. It will also offer the small and large combatants their own mine-hunting capability.
Photographs & text courtesy of Pieter Bakels.