NavSource Naval History
HMS Charger / USS Charger (AVG-30)
(ex-BAVG-4; later ACV-30 and CVE-30)
Special Photo Feature
The Edward L. Walger Photo Collection
---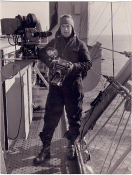 Ed Walger with camera
(click on image for full size picture)
One of the most interesting parts of this project is that every once and a while, some very special images or, as in this case, a rich collection of special images is shared with us.
Edward L. Walger was a US Navy Photographer's Mate during World War 2. He survived the sinking of the USS Tasker H. Bliss (AP-42) and was later assigned to the USS Charger. We are fortunate that he was there: his photographs, of very remarkable quality, on one hand capture a glimpse of "daily life" aboard an escort carrier during the war; on the other, they vividly illustrate the hazards the ships' and the air crews had to confront and endure.
We wish to thank Ed's daughters, Barbara Walger and Deborah Burgoon, for having preserved these photographs and for sharing them with us. Thank you very much, Barbara. Thank you very much, Deborah.
---
USS Charger (BAVG-4/AVG-30/ACV-30/CVE-30)
The Edward L. Walger Photo Collection


USS Charger Page

NavSource Photo Archives Main Page

---
Please remember every old shoe box stored in the attic could hold a potential treasure chest of history. Once thrown away these snap shots of history are lost forever.
---
Comments, Suggestions or Image submissions, E-mail Carrier Information
Problems and site related matters, E-mail Webmaster
This page was created and is maintained by Fabio Peña


Last update: 26 July 2003