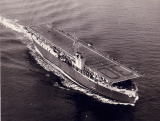 112k
USS Charger underway in 1943. For most of her career she was camouflaged in Measure 22, the graded system. Measure 22, introduced in June 1942, was intended for use in areas where bright weather and fair visibility predominated.
Hull, from boot-topping to the lowest point of the main deck edge, was painted navy blue; the upper edge of this band was parallel to the horizon. Vertical surfaces above this blue band were painted haze gray. Flight deck was stained deck blue.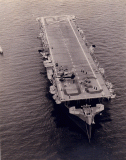 125k
USS Charger anchored in Hampton Roads, 1944.
The island was built out over the side of the ship, to entirely clear the flight deck, and was not supported by the hull or the hangar side, thus requiring dedicated supports (one of them clearly visible under the island structure). Charger was armed with a single 5"/51 gun, aft, and two single 3"/50s forward (visible here); a light battery of .50-cal machine guns was initially planned, but, as shown, 20-mm machine cannon were mounted instead.
The "X" superimposed on the ship's hull number, aft, indicated that the flight deck was not usable for landings.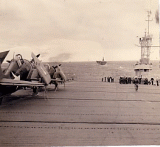 18k
Pitching; USS Ranger (CV-4) ahead.
This photo was probably taken in late 1942, while Ranger underwent training in Chesapeake Bay (note discless-star national insignia, as used from May 1942 to June 1943, on plane closest to camera).